Our lives are tied to places; all the significant things we do occur in a particular space and time, that is, in a place.

Places embody our memories and feelings; they become unique because we -individually or collectively- make them unique.

We invite you to share with us your experiences with the places where you live or have lived.

There are two ways to participate:


Experiences (113)
14/06/21
Community haven
@thesummeroffice
The Bondi Icebergs is a much, photographed iconic place. The pool was built in the late 1930's so local swimmers and life savers could maintain their fitness during the winter months – hence the name. Much has been written about swimming pools being great equalizers in terms of their appeal to all ages, of all shapes and sizes, and social classes, as well as being captivating sites for people watching. For me, The Icebergs is a place of solace, a time for clearing the mind while swimming, a time for quiet and reflection while watching the surf, the changing life on the beach in the distance. It holds a sense of being together while simultaneously being in a bubble of solitude.
It is inspiring to see people, at least in their 70s, still swimming throughout the year, and this display of stoicism and is one of the reasons I chose to move to the area. The Icebergs is deeply embedded within the community, as well as welcoming to those from afar. It's a social place with its club membership, and races held every Sunday throughout Winter, as well as a bustling community venue. A free walkway affords spectators a closer view, while an entry fee is required for the pool, but still I see it as a public space reflected and used by so many - a locus of community.
-33.895225037727, 151.27492277627
community
happiness
solace
#mappingplacescontest2021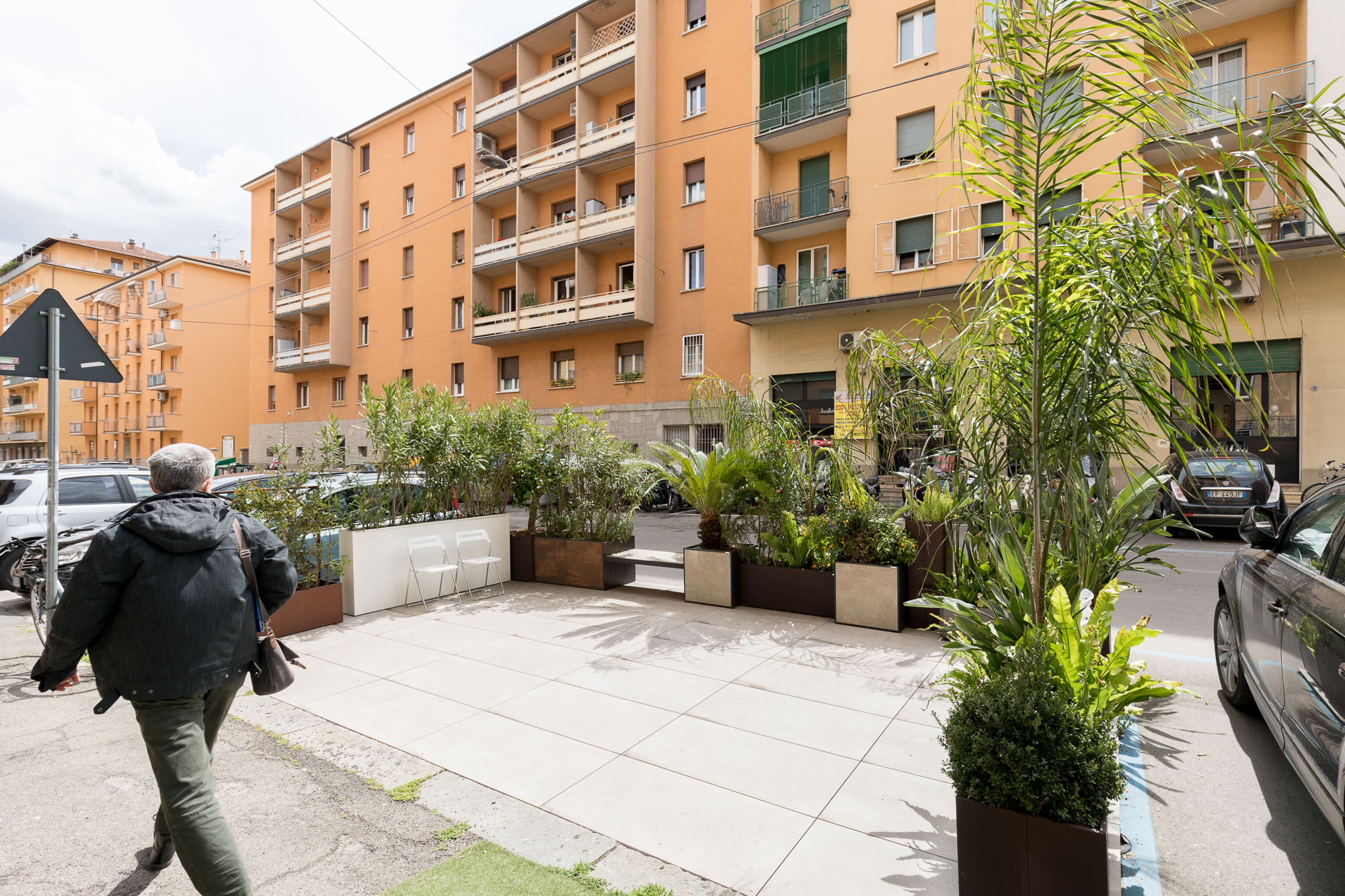 14/06/21
Parklet - a space for people
Luisa Bravo
The Parklet in Bologna is a space for people, it is a combination of human-oriented design with nature-based solutions. It is a pleasant and unexpected opporunity to enjoy the street as a real public space, in between a long line of cars. It hosts daily activities of the neighbourhood, for family, kids, elderly, small events and temporary art installations from local residents. Very attractive and with a unique atmosphere.
44.490855804905, 11.313643083665
community
space for people
sustainable mobility
#mappingplacescontest2021
14/06/21
parkaleidoscope
Alba Baro Vaquero
I have always live near my city´s park. It is a park that unfolds along the riverbank, on a long walk made of pink and grey tiles on the high zone, and sand, brushes and giant trees on the low one.
A park is a peculiar place from which to observe a city. Since I was a little child I watch the passerby from my window and think about it as a kaleidoscope, through which the city reveals itself in its most anomalies shapes and most intensive colors.
In the park the city and its inhabitants dress up (dresses printed with flowers and phosphorescent sport-wear), they play at being what they are not, and at the same time (thanks to these masks) they undress, they move and allow themselves to breath in a way that they are no allow to do it on the sidewalks and urbanized streets. They seem to be disoriented or lost, uncomfortable due to the absence of traffic noise and the rowdy singing of birds.
Since I was a child, I also sometimes became a walker (the always ephemeral inhabitant of a park). There was once when I got lost in the park. In the middle of a tantrum I started running furiously. When I realized that I was alone I started to cry. Now I think that my tears were also caused by a subtle emotion: I was feeling at the brink of a possible adventure, as those lonely children who star in the tales of witches and ogres.
This photo was taken during the 2020´s pandemic, when all the country was confined. During most than a month the park remained closed, fenced off by police ribbons (as if a crime has been committed). Then, we were allowed to go out just for hour. During those days, from my window, I observed this couple sitting in the same bank, observing, in turn together in silence the park still deserted and savage, as is after years (maybe a entire life) of absence they have found again. And I, after all this time (my entire life), in a certain way, I found my-self reflected in them.
41.3907, 4.4343
#mappingplacescontest2021
14/06/21
Home Sweet Home
Pooya
A place is where you live.
35.318446, 33.258405
art
culture
energy
Home
idenitity
#mappingplacescontest2021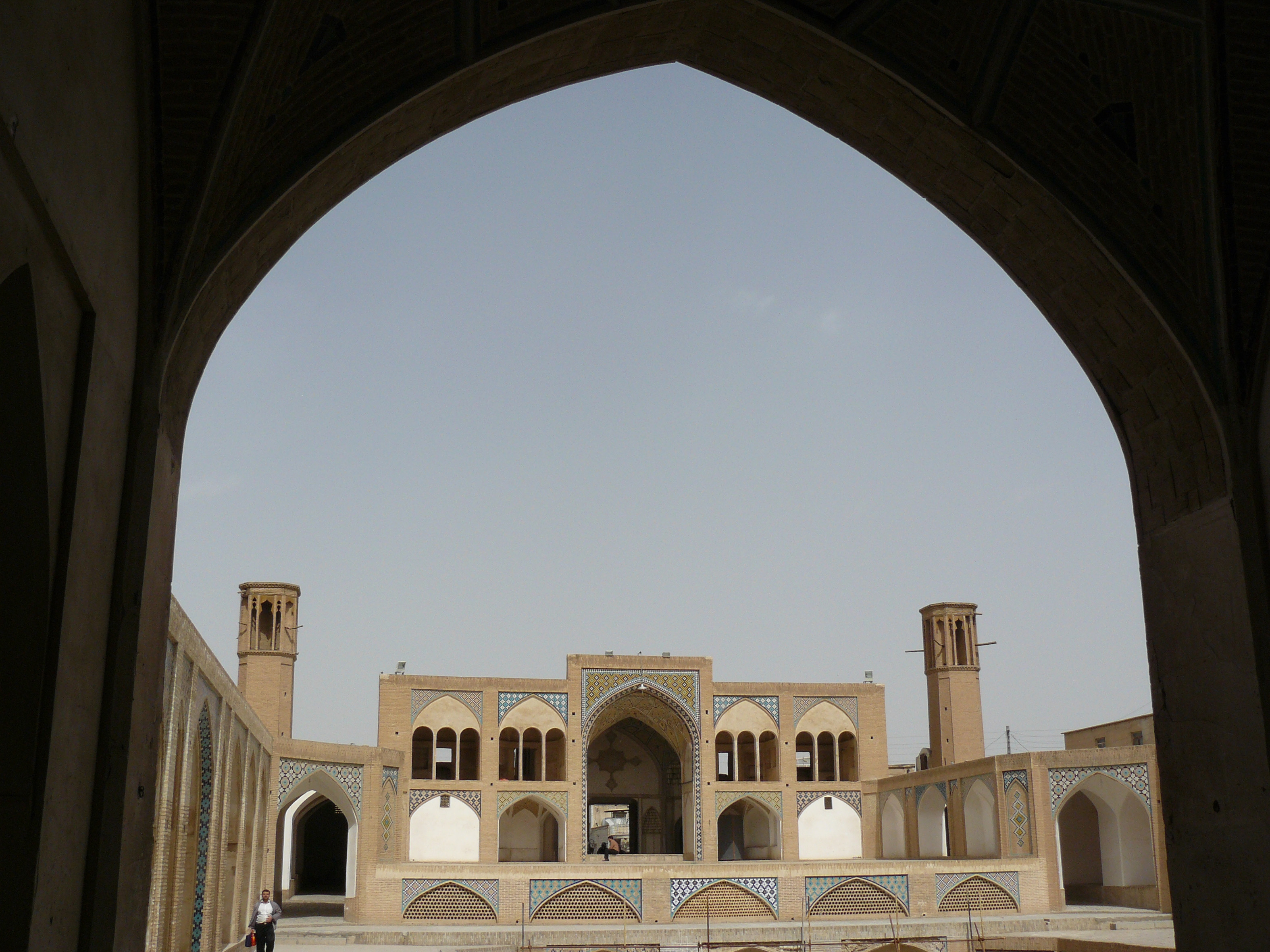 14/06/21
Through history
Pooya
33.97687, 51.430102
art
built environment
culture
#mappingplacescontest2021
14/06/21
Ghost City
Pooya
Signboards, arrows and so on are not always leading you to the destination. A place definition may change by passing times.
35.106477, 33.932738
childhood
culture
destruction
history
nostalgia
#mappingplacescontest2021
14/06/21
The road of life
Quantum
Experience with the place
That day was superb, the Sun was radiant and the water of that small beach moved slowly, the peace of that place could almost be touched.
Behind me, the love of my life at that moment was waiting, hugging me while I took the picture. I have never felt as loved as that time.
The road continues, and I can't stop. Halfway there, some small clouds alert me that obstacles will appear, and it is impossible for me to spend a few seconds contemplating the sobriety of the frozen mountains in the background, I think of the hardness of being there but I am able to feel the solitude of those mountains .
Today, right now, I am at the top of one of those mountains and I allow myself the luxury of looking back to remember that day, when I was being hugged by her.
I look around, I know, I'm alone, she left years ago.
Now I look under my feet: 'I am very high!'
It has taken me so long to get here, I have had to overcome many obstacles, but I have succeeded.
I feel happy to have reached the top of the mountain, I feel strong and proud of myself. It is time to look ahead, I remember that I cannot stop on this vital path, but as I go down the mountain I can see in the distance a small beach.. I don't know what I will find there, not even when I will arrive, maybe someone will hug me again like her that day, maybe that will never happen again.
But I don't care what will happen, now I understand the life is just an ordered set of moments, and I am going to live all of them, because they are so fleeting ...
Brief explanation of the text
The contrast of the beauty of a small beach with the sobriety of the frozen mountains in the background is not just a combination that evokes peace, love and inspiration ... this image represents the road of life.
Life is made up of good and not so good moments, this image represents for me the contrast between those very different moments, it reminds me that we have to live them all because life never stops and that in the brevity of those moments there is always a lesson that we can learn.
57.4, 6.18
#mappingplacescontest2021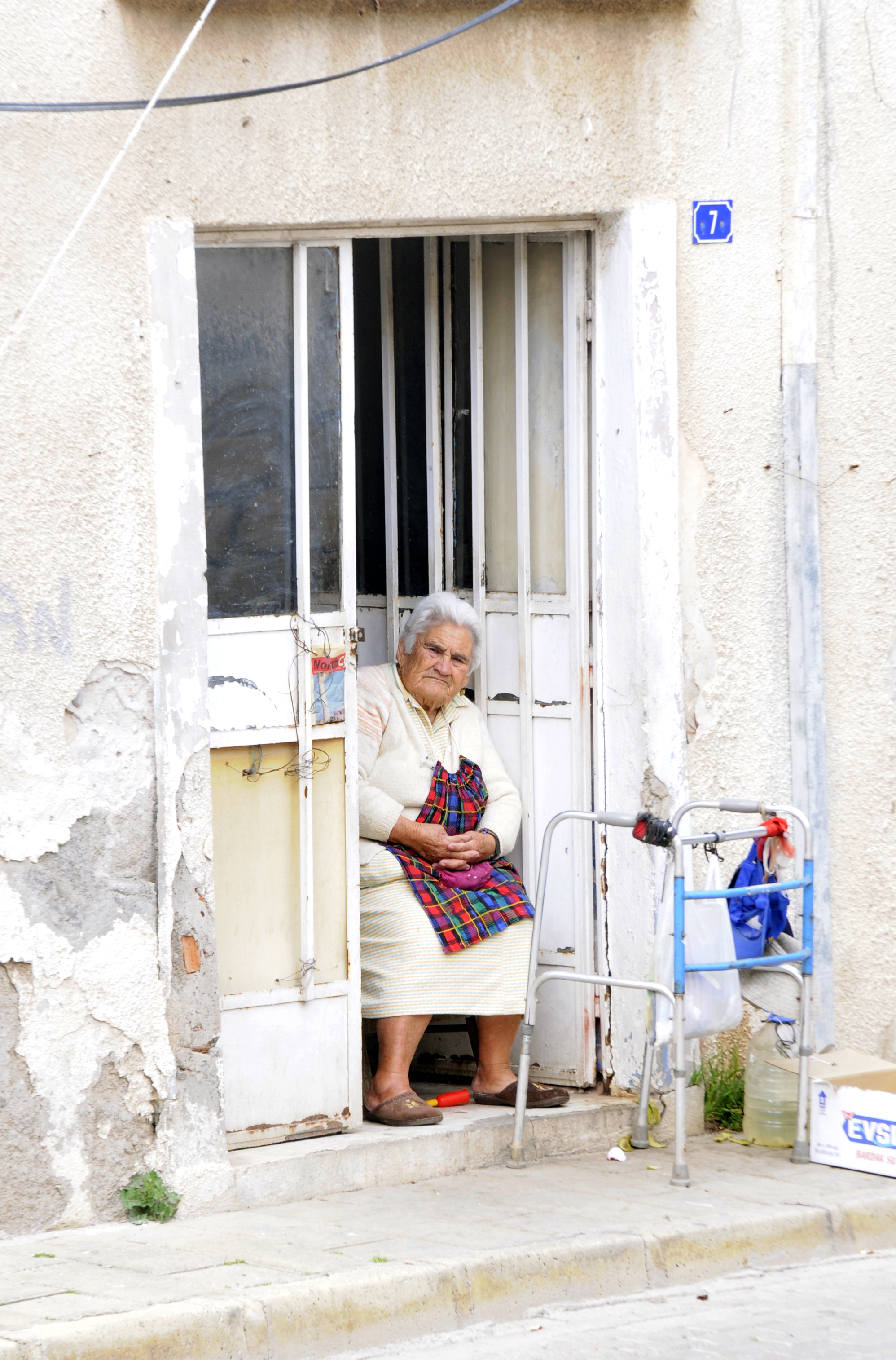 14/06/21
Tradition Life of Cyprus
Pooya
A place only can be defined with its users.
35.12082, 33.9427
calm
culture
grandma
Home
peace
#mappingplacescontest2021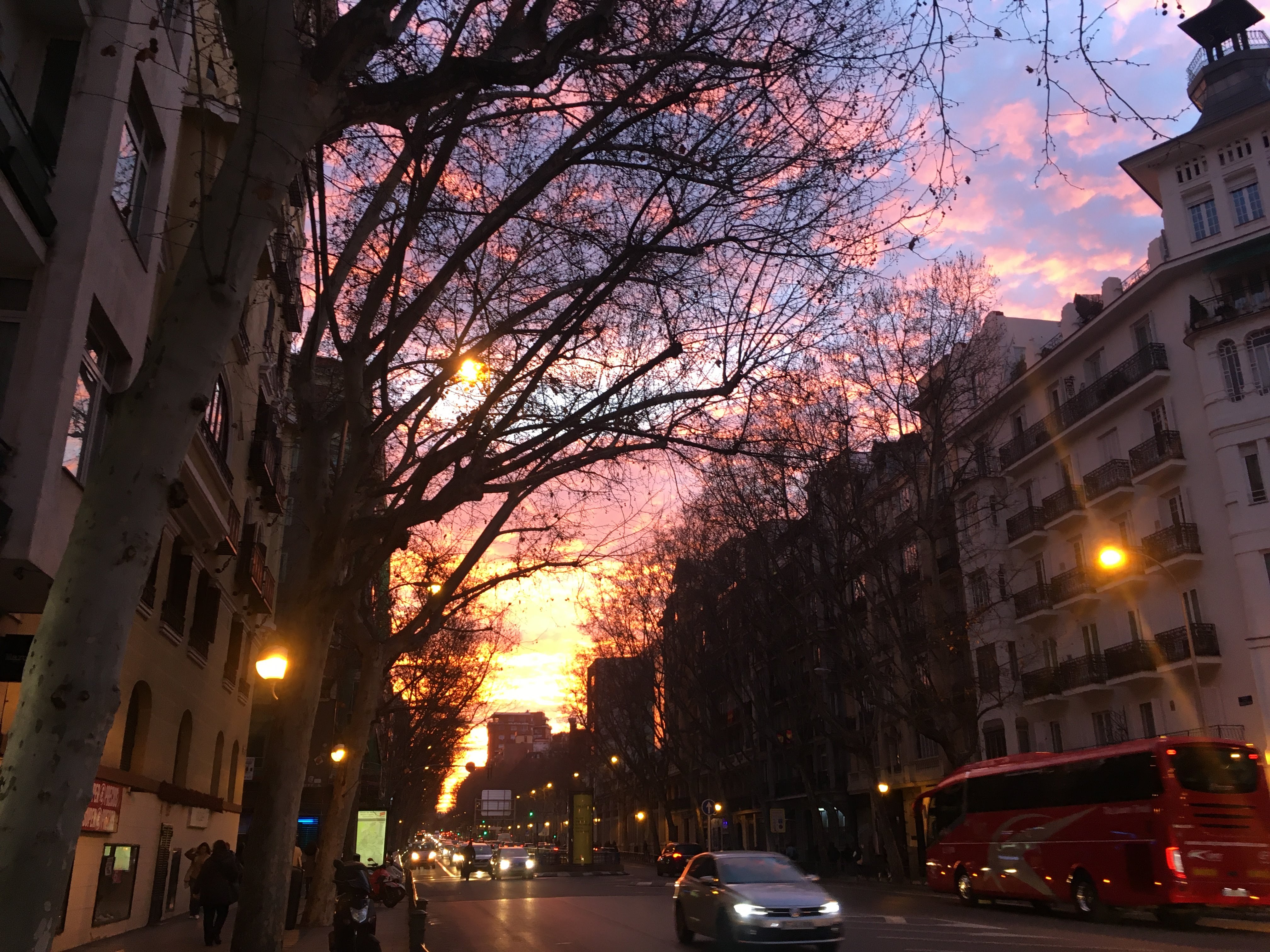 14/06/21
Good morning Madrid
Alejandra Rivera
Monday, 8:22am. I go out to the streets and it is evident how the pace of the city has awakened already: the streets are full with people in their work attires, suits and dresses, and parents walking their children to school. There are various people who wake up early to get intoxicated, a few nurses with their white attires sits in the step of their hospital entrance to smoke their cigarettes.
The city is waking up, some already at full pace, some buildings just opening their eyes with their particular sound of running metal blinds: rahh…. rahh…. rahh… most residents are able to accomplish the opening it with three pullings of the cord. People in the phone talking to other awaken people on the other side, about the frenetic rhythm of life: the groceries they need to do, the architecture project they are working on, what the boss said, the meeting of this afternoon, or talking to their loved ones with a smile on their face. The rhythm is constant, fast, contagious. It is hard to find frustrated faces, they just do what they have to do, preoccupied with making it on time, don't arriving late, and fulfilling their commitments for this busy urban morning.
40.428461675143, -3.7255506224753
morning
rythm of life
traffic
waking up
walking
#mappingplacescontest2021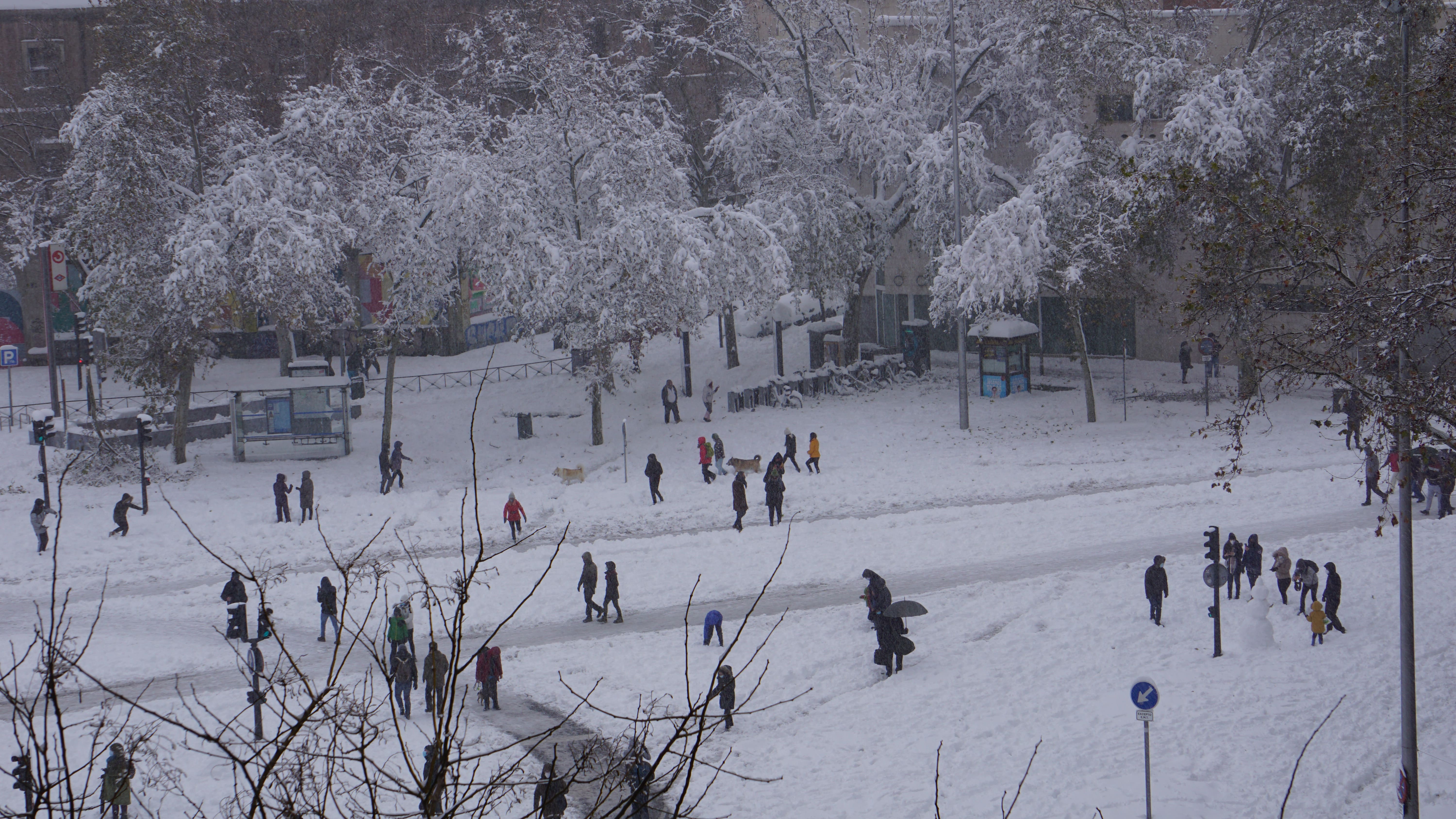 14/06/21
Happiness
Paloma Sigüenza Pizarro
I took that pictutre because it is the first time in 22 years that living in that place that i can feel the happiness of the people. Normally it is usually full of cars and it is impossible to walk through it. The photograph was taken from my balcony in Madrid this winter in January.
40.40968055, -3.7016444264132
#mappingplacescontest2021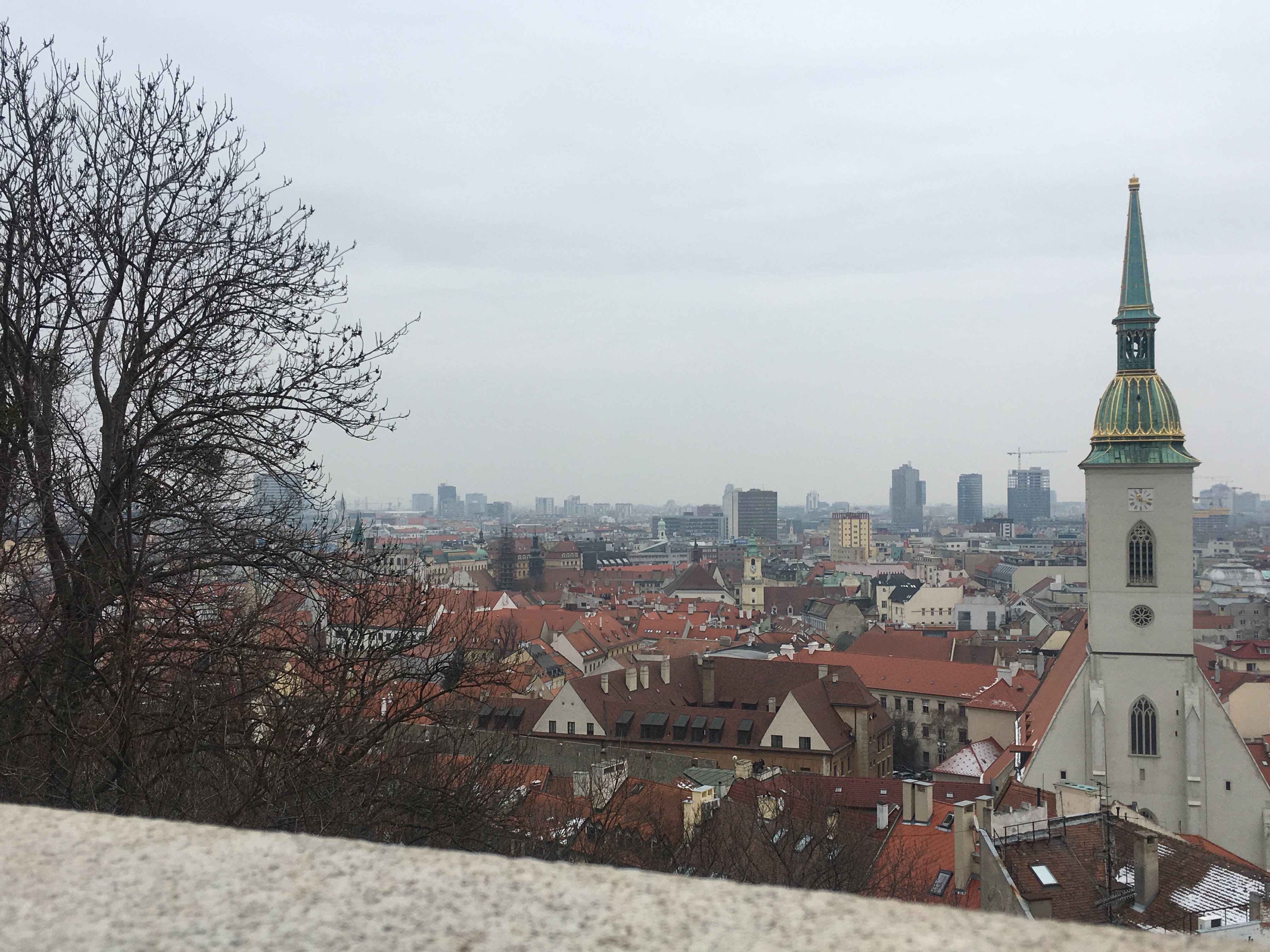 14/06/21
Bratislava: a place of heavy air
Alejandra Rivera
Dirty, gray and full of graffiti tags, Bratislava's post-soviet look carries an air of nostalgia and suffering which is not cleaned nor relieved yet. Architecture is a mix of 1970s to present buildings. Some modernist such as the inverted pyramid of the radio station, all the way back to medieval structures still incrusted within the city reminding us that even though Slovakia is a relatively new constituted country, its physical environment has a much longer history.
Like in other small European towns, the castles, government buildings or palaces -the elite- is literally above the people, in the highest hill or the highest part of the city like if overseeing the people… sometimes protecting them, sometimes controlling them.
One breathes heavy air in a city that still carries in the soul the weight of Nazi atrocities. It is common to find metal plaques around the city in memory of persons or families that were sent to concentration camps. There is one metal plaque of an artist called Adolf Frankl (ironically an Adolf), who, with some non-Jewish Slovaks, was arrested on September 28, 1944. Following a stay in the concentration camp in Sered, Slovakia, he was later deported to the extermination camp Auschwitz-Birkenau. Luckily, he was liberated and he survived. After his liberation he depicted his experiences in a collection of paintings and drawings called appropriately "Visions from the inferno". The plaque reads: "through my works I've created a memorial for all nations of the world. No one, regardless of religion, race, or political conviction, should ever again suffer such -or similar- atrocities". The Frankl family expresses their heartfelt gratitude to all who helped them and others, to survive the Holocaust.
I stopped to think at this outlook, from this place overseeing Bratislava, trying to image the scenes. Many buildings I saw, they keep constructing, keep progressing on the march of civilization… oh how very uncivilized -I thought- we still are as human beings who kill its own kind.
48.142568476849, 17.109386210776
heavy air
Holocaust
nostalgia
suffering
the weight of the past
#mappingplacescontest2021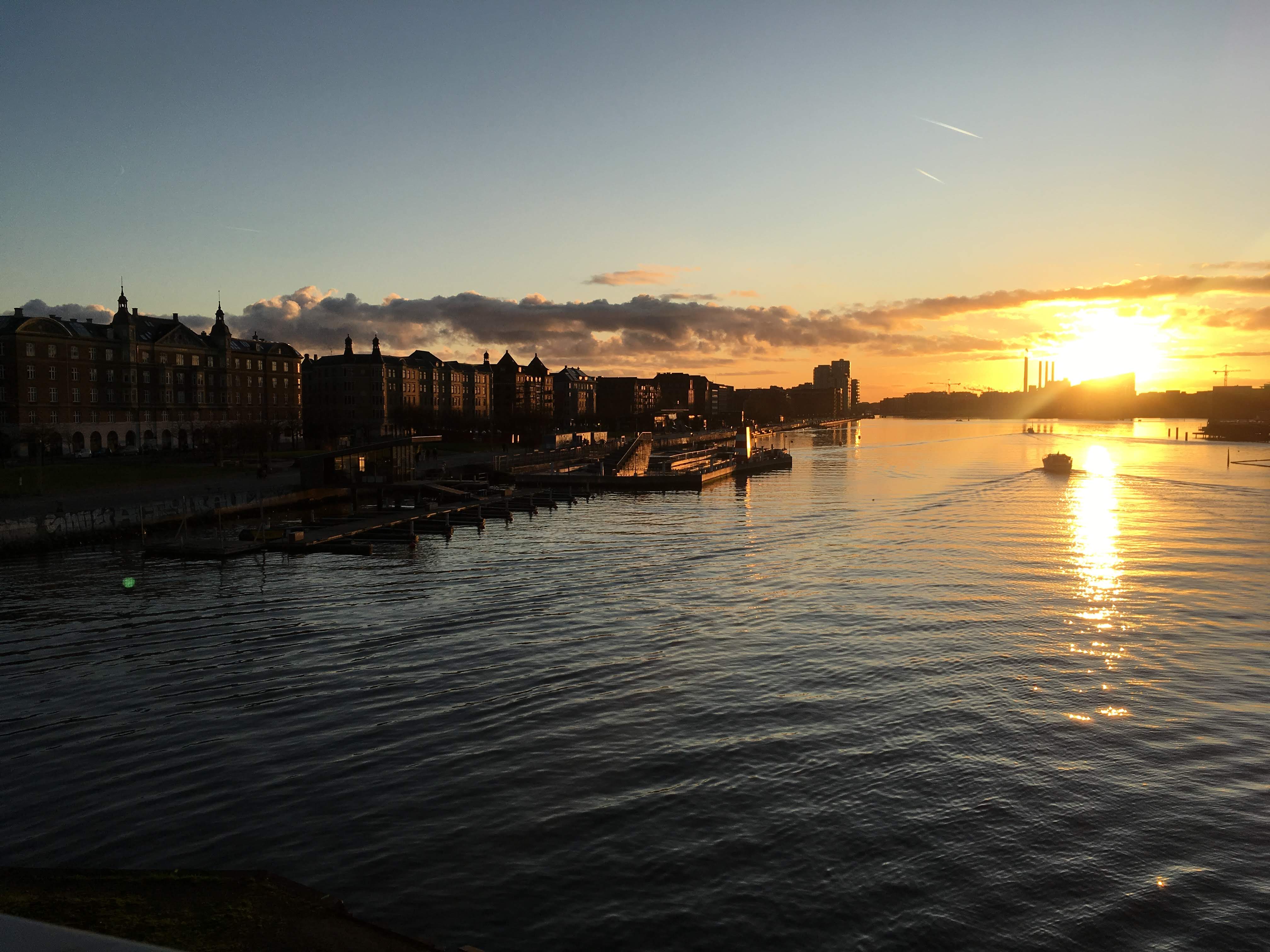 14/06/21
Sunset in Copenhagen
Alejandra Rivera
Mystical element is the sun
ardent and hot like only himself
sometimes cloudy, rainy and doubtful
sometimes strong, firm and secure
Orange, yellow or light blue
whatever you want to be
how and when you want to
no questions, no doubts about yourself
Just wanting to want to be
to grow, to believe
to live and feel and laugh
to sometimes cry, but always rise
Shy, alone, unique being
furious and fearful
how could it be
Alone, tender, alive, he is red
the slow world passes at his feet
without grudges nor fears
no doubts, no rush, no breeze
only him
Soon I dream, I live, I believe
to go beyond to a future thing
a dream and a feeling, and a laugh
here and there he has to come
Sun:
even in your absence you leave light,
your peace, your place, your solitude
even in your absence you are present
with hot brushstrokes captured in steam
Calm, smooth, intact water down below
with no worries, no memories to flow
fluid it dances and elapses here and there
being, seeing, hearing, going where?
Colored mist that attracts, what do you hide?
captivates, embraces, overwhelms
the secrets of heaven
ephemeral, agile, soft as the wind
Furtive, fleeing time that escapes at birth
where have you gone? where have you gone?
at the beginning or escaped suddenly to the end?
55.692732625218, 12.572879542116
poem
sun
sunset
time
water
#mappingplacescontest2021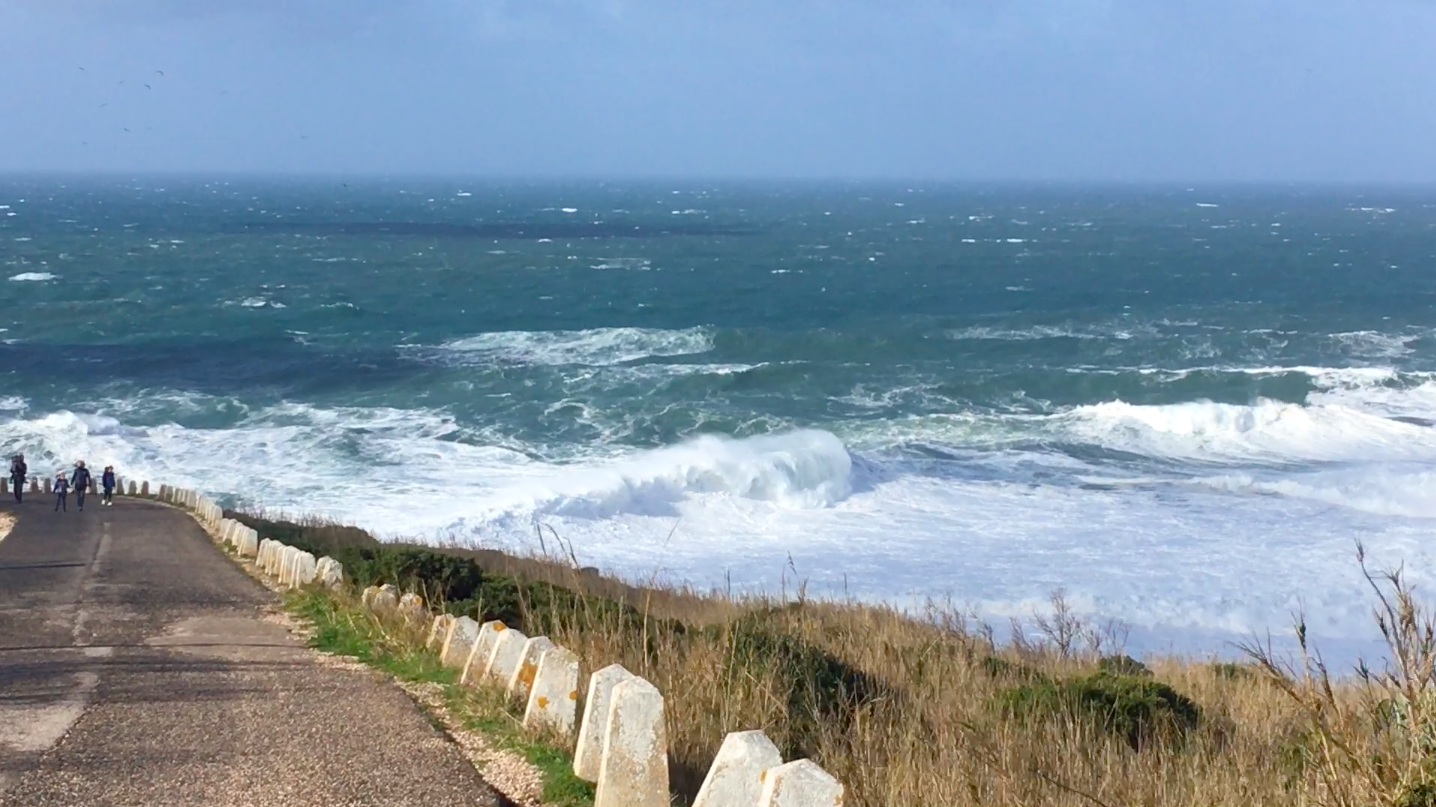 14/06/21
The largest waves in the world: Nazaré, Portugal
Alejandra Rivera
I have never seen such power, such energy and vitality in the ocean as in Nazaré, Portugal. Each strong wave, large and noisy is a reminder that this planet is alive and active. Almost flown with the wind, I immerse in a landscape of high energy. Everything around me is naturally moving: the ocean, the wind, birds flying, trees and grass try desperately to hold on to earth. I feel part of this movement, I jump and I am dragged by the wind. I feel alive. There is power all around us, and power within us, everything we know, see, hear and feel is energy. These waves, this landscape is a gift and it is only a small window to all of earth's wonders. It is our responsibility to respect, coexist and protect this planet, our own, one and only beautiful home.
39.613590470992, -9.085289113915
energy
movement
nature
strength
waves
#mappingplacescontest2021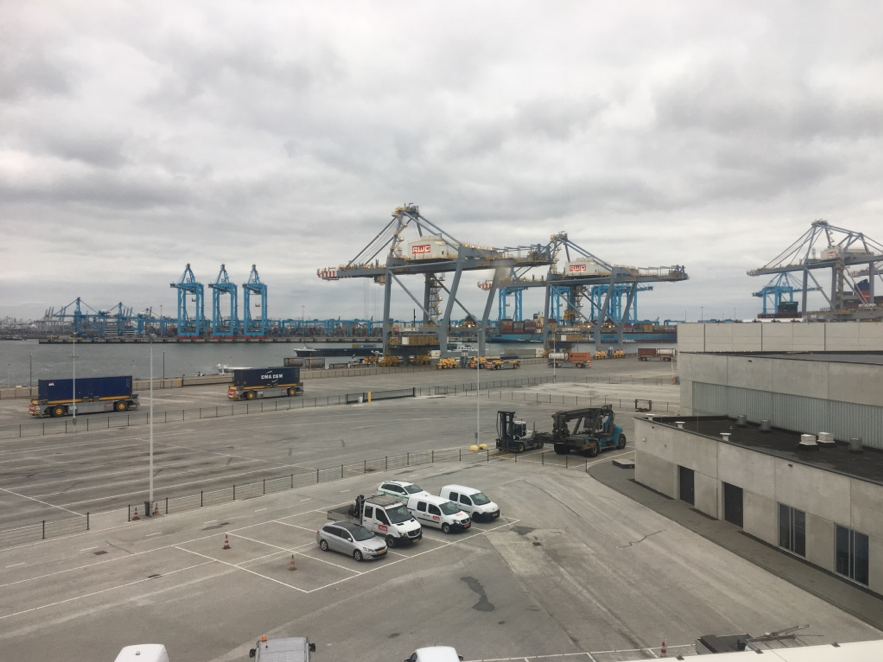 14/06/21
The Production of Urban Space under Capitalism: As seen through the lens of an urbanist at the Rotterdam World Gateway Container Port Terminal
Alejandra Rivera
Rotterdam Port is the largest in Europe and the ninth in the world. It extends over a length of 42 km with nine terminals dedicated to various uses and industries. On December 2017, I was able to have a guided visit to the impressive Port of Rotterdam. This picture was taken from the office building of Terminal # 9 (Rotterdam World Gateway – RWG) during cargo loading operations of a barge working with two gantry cranes (middle of the picture).
RWG is a "fully electrical terminal with a high degree of automation" (RWG). The two containers on the left are being carried by two of the 59 Automated Guided Vehicles (AGVs) at RWG. AGVs work with no driver nor remote control, but are electric vehicles with specific commands and utilize sensors to navigate their surroundings. Also, the gantry cranes are operated remotely from the office building I was standing on. These electric tools contribute to keep the container terminal surprisingly organized, clean, and quiet.
This picture captures the concept of David Harvey's Theory of Urbanization under Capitalism. First, the Spatial Fix is an injection of capital into the built environment, either recycling buildings or constructing new ones. RWG represents an investment in high-technology infrastructure in the urban environment, and it has an impact in society by creating employment and propelling the local, regional and international economy. The spatial fix also serves, or is a direct reflection of, the technology fix.
Technology Fix is the reinvestment of surplus capital in new and improved productive capacities, i.e. in new sectors, products, processes or tools creating innovation and new rounds of economic growth. The AGVs and long-distance operated cranes are investments in innovative operational processes to increase terminal productivity. Automation allows faster loading and discharging of containers in and out of vessels, decreases the risk of errors, increases customer satisfaction and reduces operational costs. Also, by not having any stevedores, RWG reduces safety hazards for employees and liability for the terminal.
RWG is also an asset in itself, this is the Financial Fix. The total investment in this terminal has been approximately 700 million euros (RWG). It is the most technologically advanced, efficient, and therefore, the most expensive terminal in Rotterdam. RWG extracts 'rents' from expensive fees charged to vessel operators and freight forwarders, and is also a potential for capital gains, as it gains value due to its high degree of automation, efficiency, good quality service, and acquired reputation among customers and vendors.
This shows that uneven urban development is structural, not accidental. It follows different patterns of investment and disinvestments which, depending on profitability, produce different space configurations. The spatial fix, RWG in this case, implies immobilization of large amounts of capital into the container terminal, which is expected to have capital gains, but can also devalue and eventually be destroyed and replaced. This is yet another example of David Harvey's famous observation that "Capitalism never solves its crises problems, it just moves them around geographically".
51.945335088569, 4.1462187709063
built environment
capitalism
Production of Urban Space
Urbanization
#mappingplacescontest2021
14/06/21
Before COVID hit us
Andy
This photo of a street in Barcelona was made by me once when I went with my friends partying before quarantine and before COVID hit us. This is the reason why it transmits me good vibes and good memories. One week after this day the quarantine started and everything went down. The place is near Catalunya square, and I made the photo because the amazing sky that we were seeing. If you asked me how I would describe this experience with three words I would describe it as funny, because we were laughing all the time, as euphoric, because the exciting moment, and as happy because I was feeling really happy.
41.3871712, 2.1681741
#mappingplacescontest2021
14/06/21
My favourite person
Gemma Jimenez
In this place, is the first time that I saw my brother, it was at this moment my life changed but now, he is my favourite person and the most important in my life. I will always remember this moment because it was a new beginning.
41.381389, 2.126111
#mappingplacescontest2021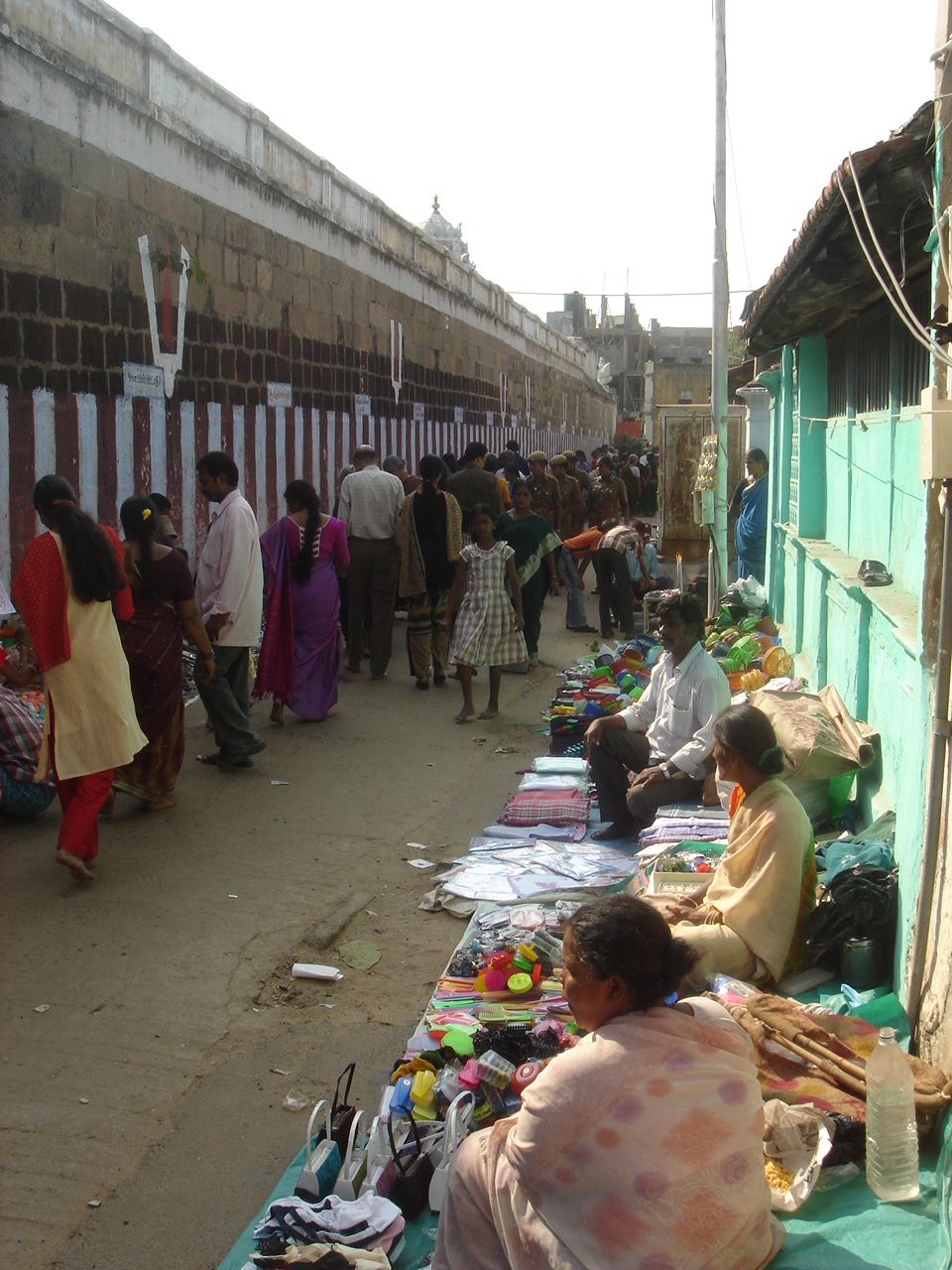 14/06/21
Power of 'Place'
Lakshmi Priya
The image is set against the massive compound wall of the 8th century Sri Parthasarathy temple complex dedicated to Lord Krishna located at Tiruvellikeni, Chennai. Deriving its name from the holy tank, Tiruvellikeni remains subconsciously indissociable with the temple context.
The image captures a scene of the weekly market held along the streets bordering the temple complex. The market is a major attraction amongst the local people as it offers a variety of things catering to all age groups, from toys to household utensils at a reasonable price. Apart from this, the market is especially popular for its additional entertainment such as balloon shooting, 'robot' astrology and handicraft making, adding more vibrancy to the overall experiences of the market.
Interestingly the mind's eye needs to delve deeper into the multiple layers embedded within the scene to comprehend the underlying connotations of peoples' lived experiences of the marketplace. Amidst all these 'visible' aspects of the market, a significant feature that blends perfectly with the colourful and lively ambience so as to transform itself almost into an 'invisible', is the temple's compound wall. Humbly playing a perfect backdrop for the shops arranged along its entire length, it firmly connects people with the context at various levels. Functionally its physical continuity creates a sense of direction and movement for people amidst the busy and crowded settings of the market environment. In its immediate context the temple's compound wall partly painted (red and white) below symbolising auspiciousness and its natural colour and texture on the top evoking a strong sense of past, plays a passively active role in reassuring the cultural identity of people. In the larger context, the temple itself acts as a metaphor for continuity in time, subconsciously providing the required sense of stability and security amidst the rapid changes of modern society.
Linked strongly to the temple context, the tangible aspects of the marketplace, people, objects and colours interpenetrate and superimposes onto one other, creating a strong sense of identity both at an individual and collective level. There exists a momentous transactional relationship between people and the place, where people identify themselves with the place and in turn, the place reciprocates in reassuring their identity physically, symbolically and metaphorically thereby firmly anchoring people to their lives. This great ability of place to 'orient' people amidst the rapid changes of modern society is a panacea for the present era of alienation. Remarkably, the wall not only acts as a physical backdrop for the market but unconsciously 'situates' people in their everyday living, establishing a profound and meaningful relationship with the physical world –the very essence of human existence.
The market scene epitomises the richness of intangible aspects of places rendering the meaning to our tangible experiences in everyday life, asserting the extraordinary power of 'place'.
13.0827, 80.2707
culture
everyday
idenitity
people
place
#aplacemappingLH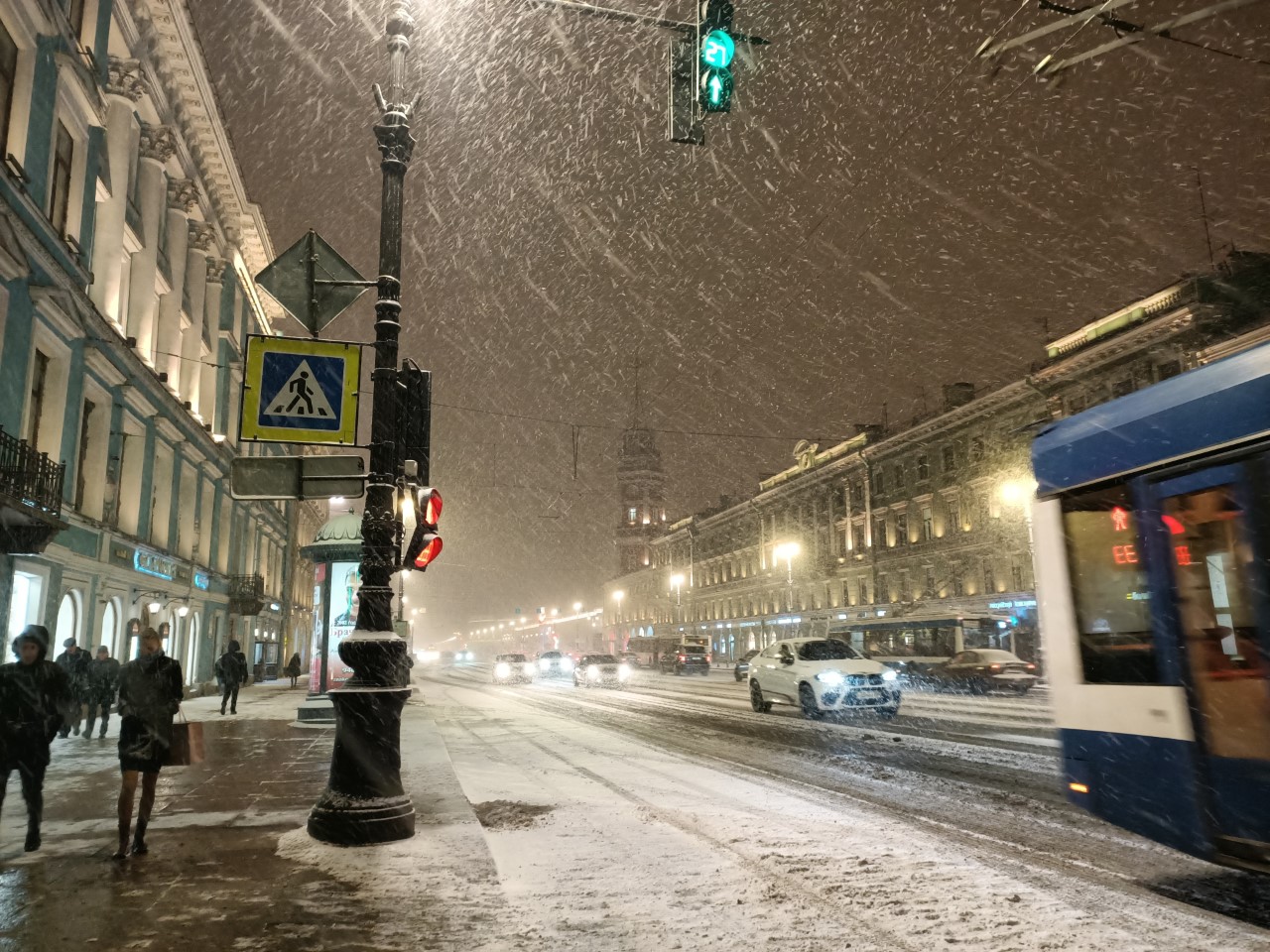 14/06/21
From Russia with Love
Carla
A little over a year ago and in the middle of winter, I arrived in this wonderful city. When I was still in my country, Spain, I remember that people were surprised when I told them that I was going to study in such a stereotypical country for them. I didn't mind, I was leaving my country just to live emotions and to wise up in a foreign country where I didn't even speak the language and English is not widely used. And I have no regrets.
Spending a semester in St. Petersburg has been one of the best life experiences I've ever had. I could live situations that I wouldn't have been able to live in any other country and to open my mind much more. At first I accepted the residence offered by the university thinking that I'd only spend the first few nights. I didn't like the conditions of the building and the idea of sharing a room, but as soon as I spent the first night, it was clear to me that this was my place.
I took this picture on my second night, it was in the afternoon and the heavy snowfall that began to fall gave me the excuse to propose to my roommate from Korea to go out to see the snowy center. From that moment on, we became friends and had a great time in Russia.
59.935422, 30.326784
Exchange Student
Nevsky Avenue
World Citizen
#mappingplacescontest2021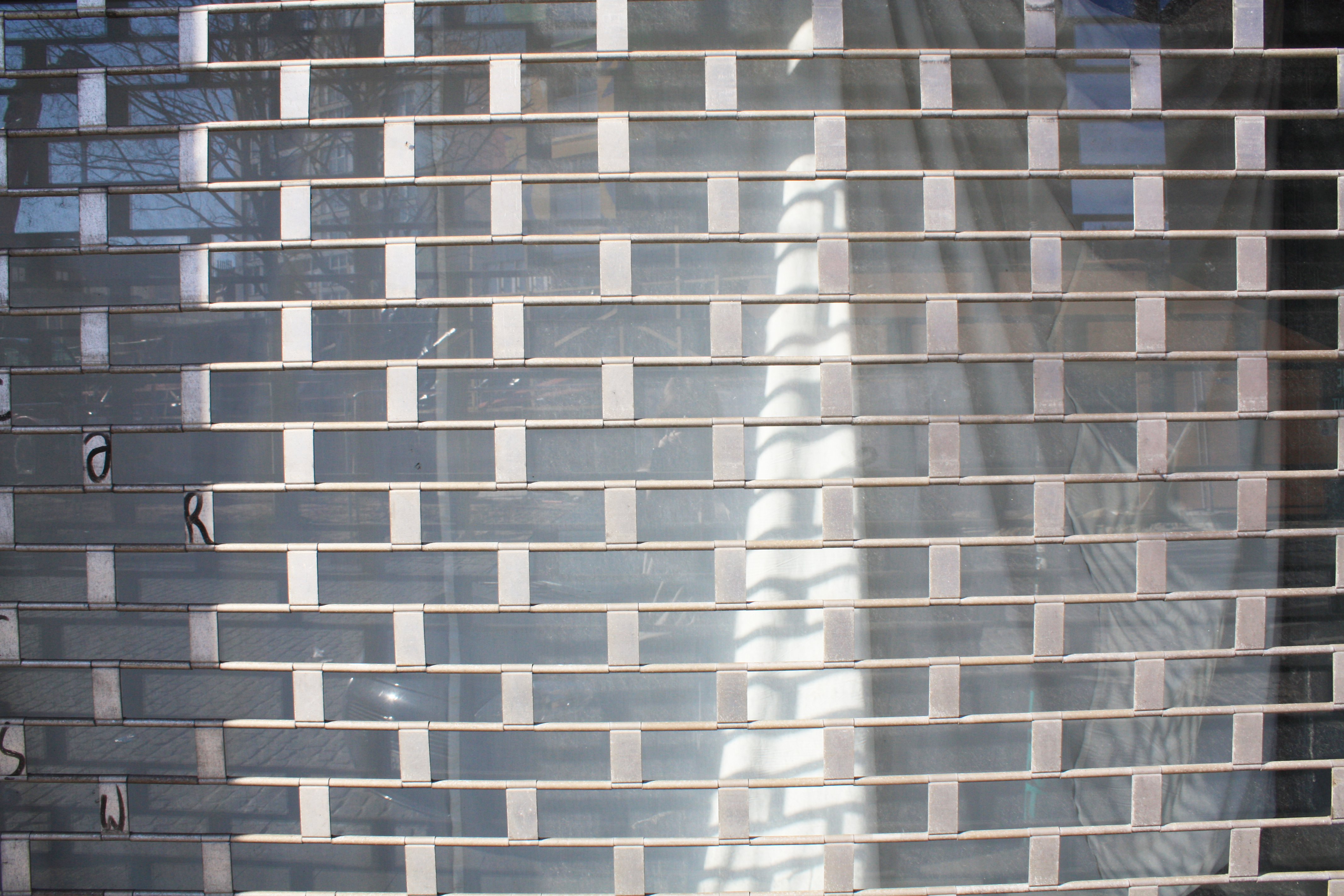 13/06/21
Vacant window No.1
Ugne Neveckaite
If you might be walking down the Rue des Brigittines in Brussels and seeing wired windows with white curtains, this might be Chapelle's vacant train station. Humble by its looks, invisible to the eye of an occasional passer-by, these layers are telling a story of a Jonction's monumental infrastructure, once planned as a "public dream" and now quietly unused. Sidelined by graffiti, covered with curtains, it reflects the truth of today but nonetheless invites to imagine what might be hiding under the wrinkles of the past.
50.84121, 4.34864
#mappingplacescontest2021
12/06/21
feeling of past and present in one moment
NIUOSHA
i'm interior architect student in the north of cyprus. most of the time i'm walking around historical ruins in the city. in this view we passed near the st George of the Latins (the remains of one of the earliest churches in famagusta) and in one moment i had strange feeling . it was as if all the energy was there. i though for a moment what had happened here , what people have lived here . and once i came back to the present and saw in what calm and good weather i'm passing by this historic ruins with my best friend (my dog) and i quickly felt the past and present in one moment.
35.126723, 33.942906
calm
dog
emblematic buildings
history
memories
#aplacemappingLH
12/06/21
Waiting
Andrew Stiff
Much of Ho Chi Minh City is made up of a network of Alleyways, called Hems. These city spaces act as playground, market and shared extensions to the home. This picture captures a rare moment of peace in these normally busy spaces. The red chair, waits to be occupied as the owner goes in search of coffee.
10.453744, 106.42288
#mappingplacescontest2021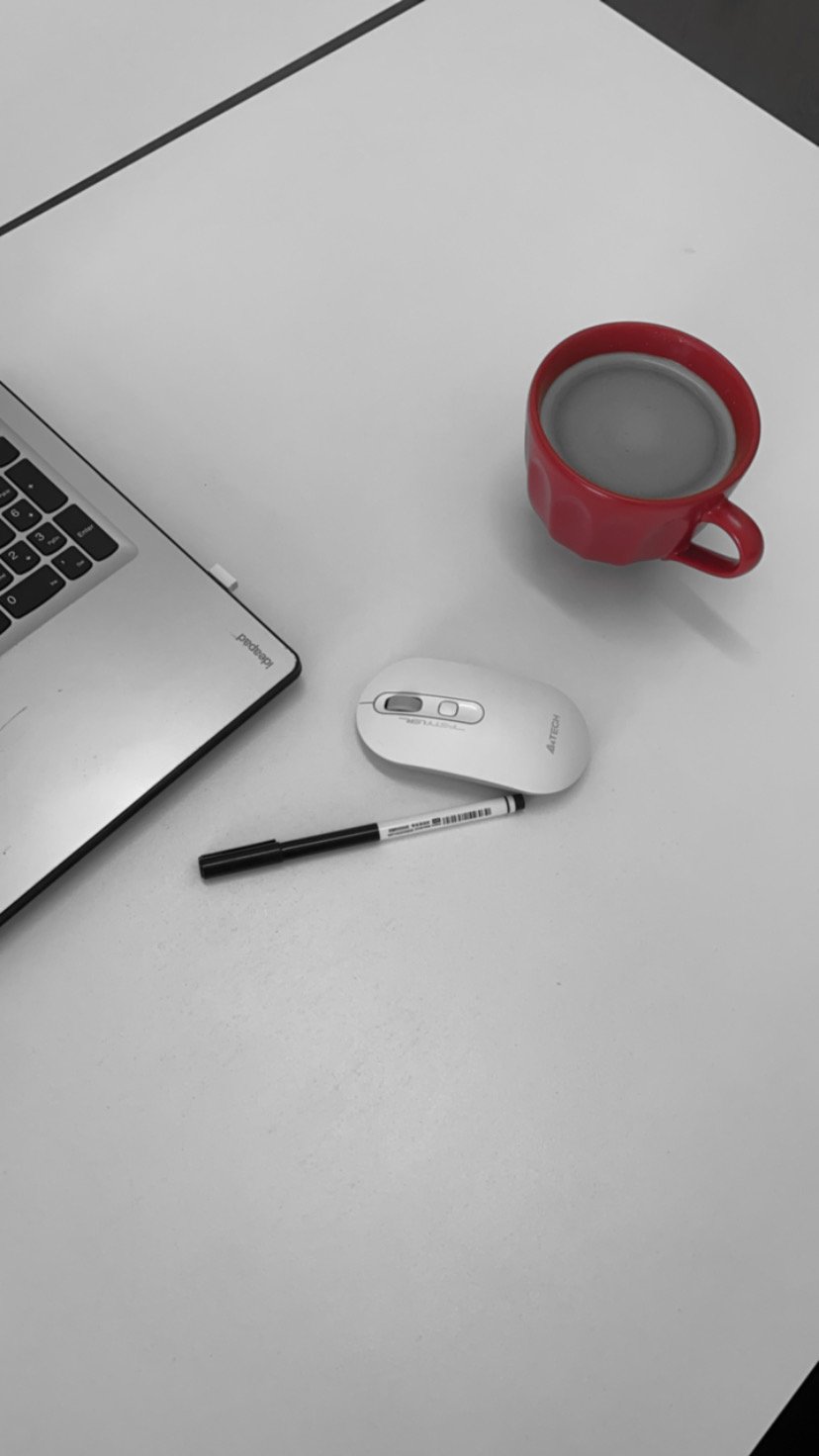 10/06/21
Online Stalemate
Erhan
We have been in our homes for over a year. We work online, at least we try to work. This photo actually shows that how I have spent the last year. While looking at the screen at the desk... The objects that I touch the most are a keyboard, mouse, pen and cup. I don't even want to see them anymore. This process has taught me how much we humans need each other. I realized how positive the effect of even seeing a smile is. Despite this, we still continue to treat each other badly, I guess, even if people live through the worst disasters, they cannot learn to value, love and respect each other.
35.333332, 33.8666632
#mappingplacescontest2021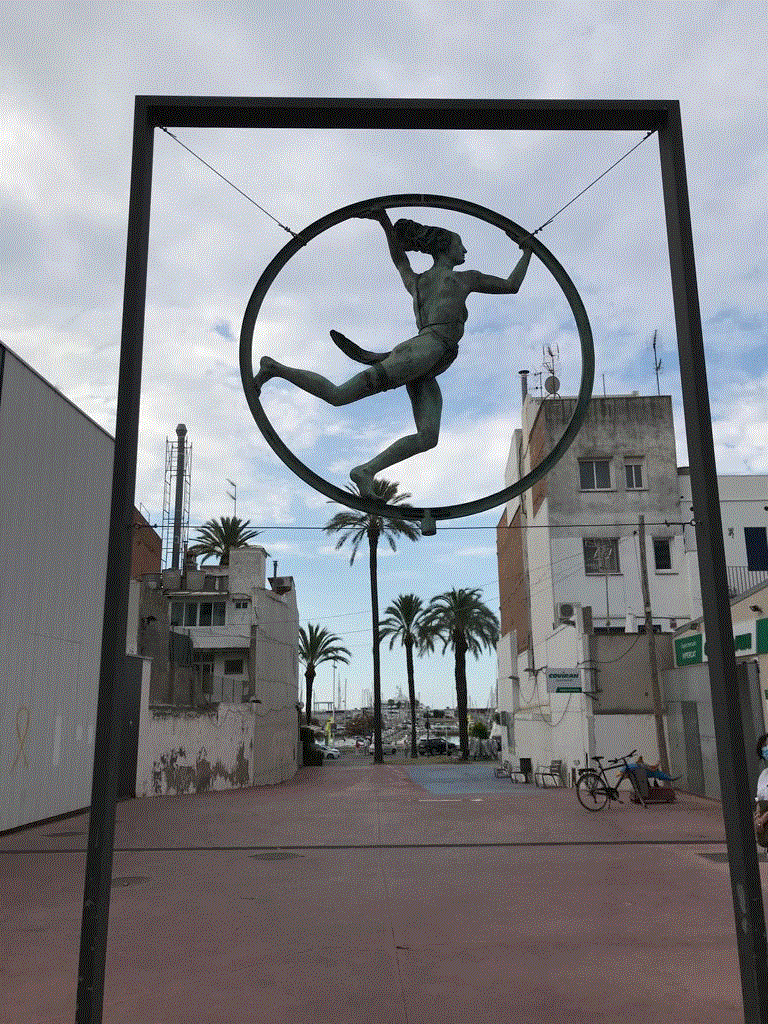 09/06/21
Ariadna en el Cercle
patunikos
Patrimoni Vilanova i la Geltrú
Autor: ôscar Estruga i Andreu (2007)
Material: bronze
41.204737634436, 1.6839337269935
art
creativity
culture
emblematic buildings
#mappingplacescontest2021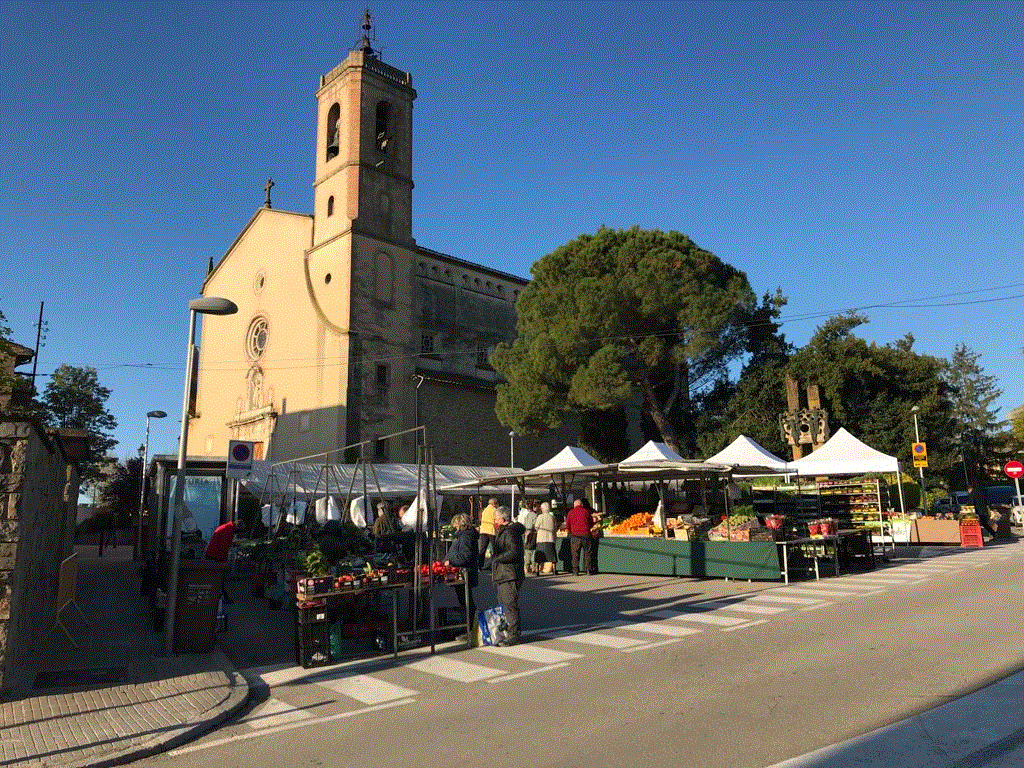 09/06/21
street market
patunikos
every Friday there is a fresh produce market
41.850298022787, 2.2272549226975
community
culture
market
public space
#mappingplacescontest2021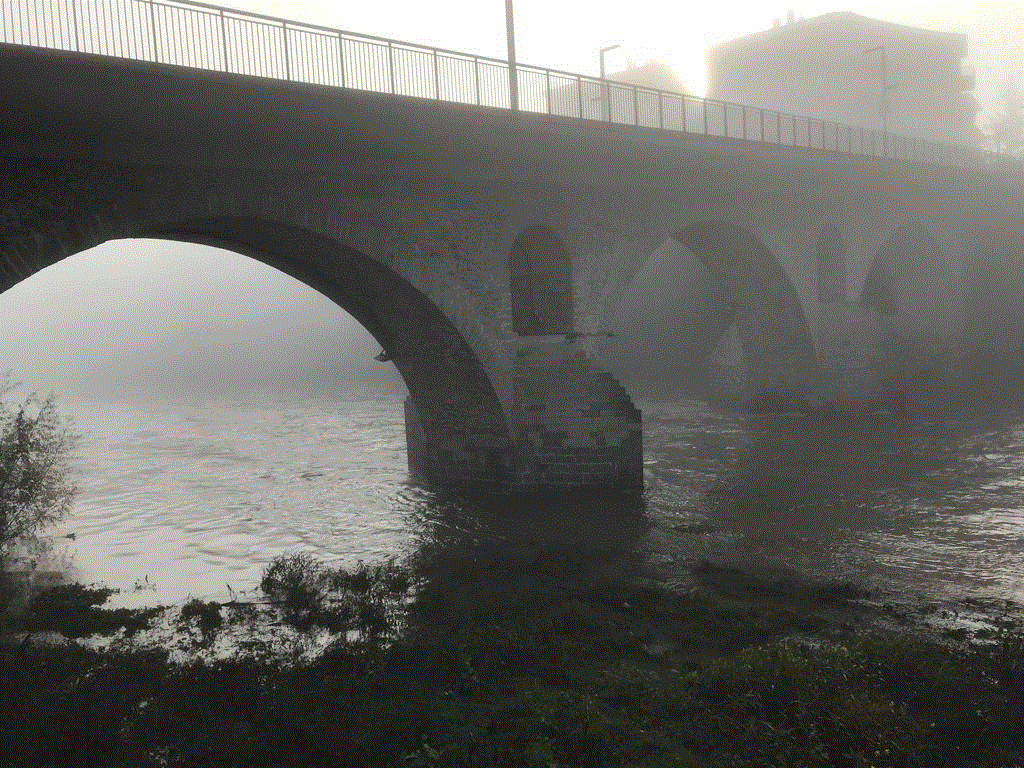 09/06/21
water bridges
patunikos
41.997119829198, 2.2858572268867
#mappingplacescontest2021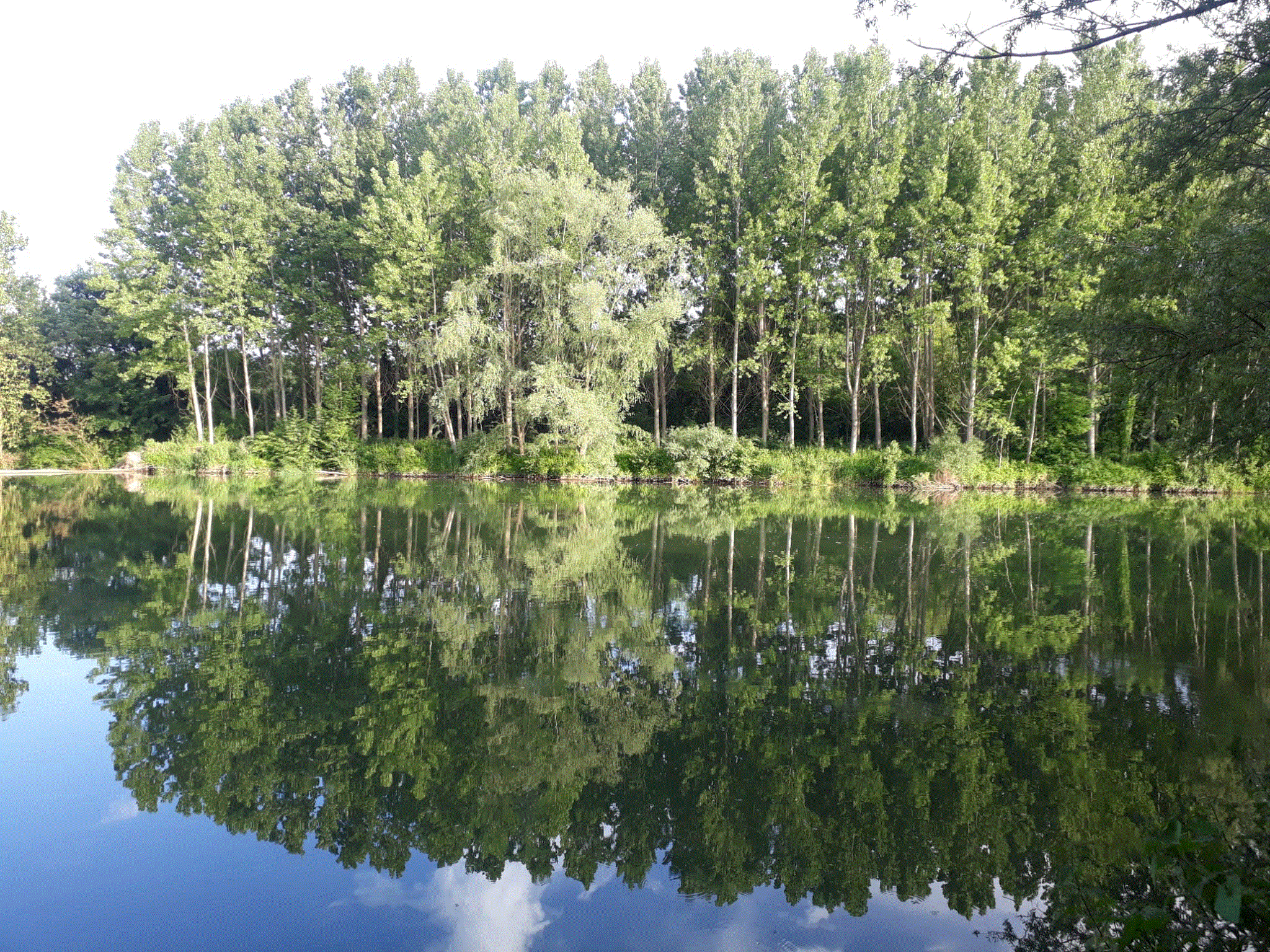 09/06/21
on the river
patunikos
This river, located at the north-eastern end of Catalonia, begins its course in the Pyrenees and, after traveling 208 km and covering a basin area of ​​3,010 km2, flows into the Mediterranean Sea. The route allows you to discover the legacy that the river has left on its banks, symbols of the dynamism of its people. And it also allows you to discover a changing landscape: high alpine mountain, medium mountain, agricultural, coastal, urban, riparian and wetlands.
41.996021809591, 2.2642554991309
calm
nature
panoramic views
peace
#mappingplacescontest2021
08/06/21
The Squatter dreams
Suruchi Didolkar
Squatters are often considered the filth of our cities. These are a group of underprivileged dispossessed families who migrated to urban areas in search of livelihoods. One such Squatter housing in Mumbai where the adjoining neighbourhood depends on them for daily help like maids, clerks, watchman, tiffin services, etc. As they provide the help, their living conditions are always neglected. Living on the encroached lands along sewage lines bearing erratic climatic battles like floods, fires and serious health disorders, leaves behind the only dream of normal city life and an end to their miseries...
19.0788, 72.8264
anthropocene
community
Dreams
fear
squatters
#mappingplacescontest2021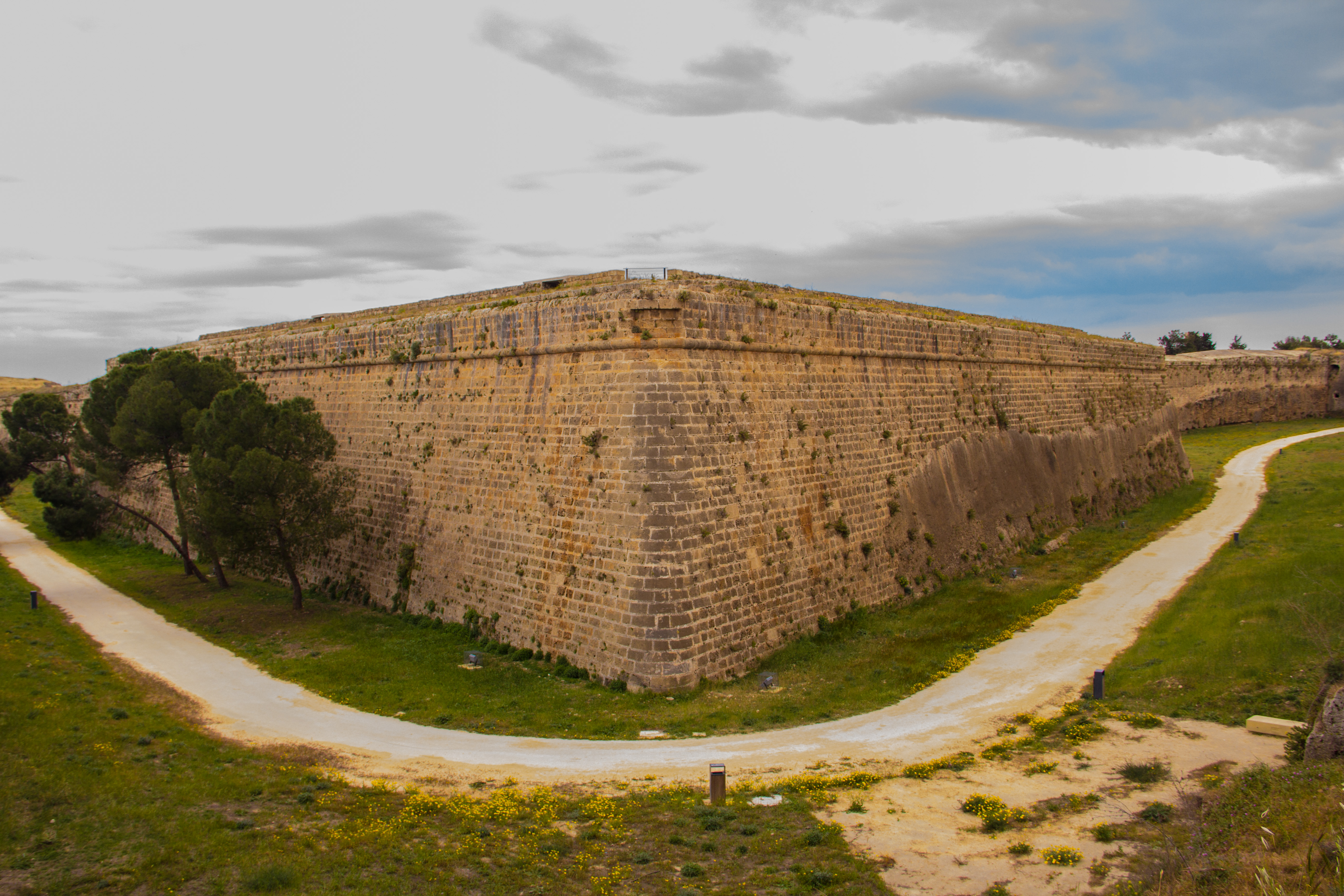 08/06/21
Mindful unraveling scene
Yakub
This is an experience in which i would love to share with everyone, especially the ones that would love to find themselves in places where they will meditate, feel the nature, the clear and cool breeze, and still have an interesting wonderful sight. This is a place where i personally use to go and sit and meditate and charge up my mind, the place is so peaceful and exquisite, which being there gives me an experience new to the one prior to my last visit. It is the Famagusta Walled City, which is also known as the Famagusta Castle.
I wouldn't want to say there are no negative experience in this places, because all the times i found myself there i only try to focus on the positive thoughts about the place, but that doesn't mean everything is perfect about the place especially regarding how some of the parts of this amazing historic heritage is neglected and being deteriorated, while authorities responsible for overseeing this place do little about making sure the historic aesthetical values are preserved and maintained.
35.128176, 33.934962
aesthetics
happiness
Heritage
history
nature
#heritage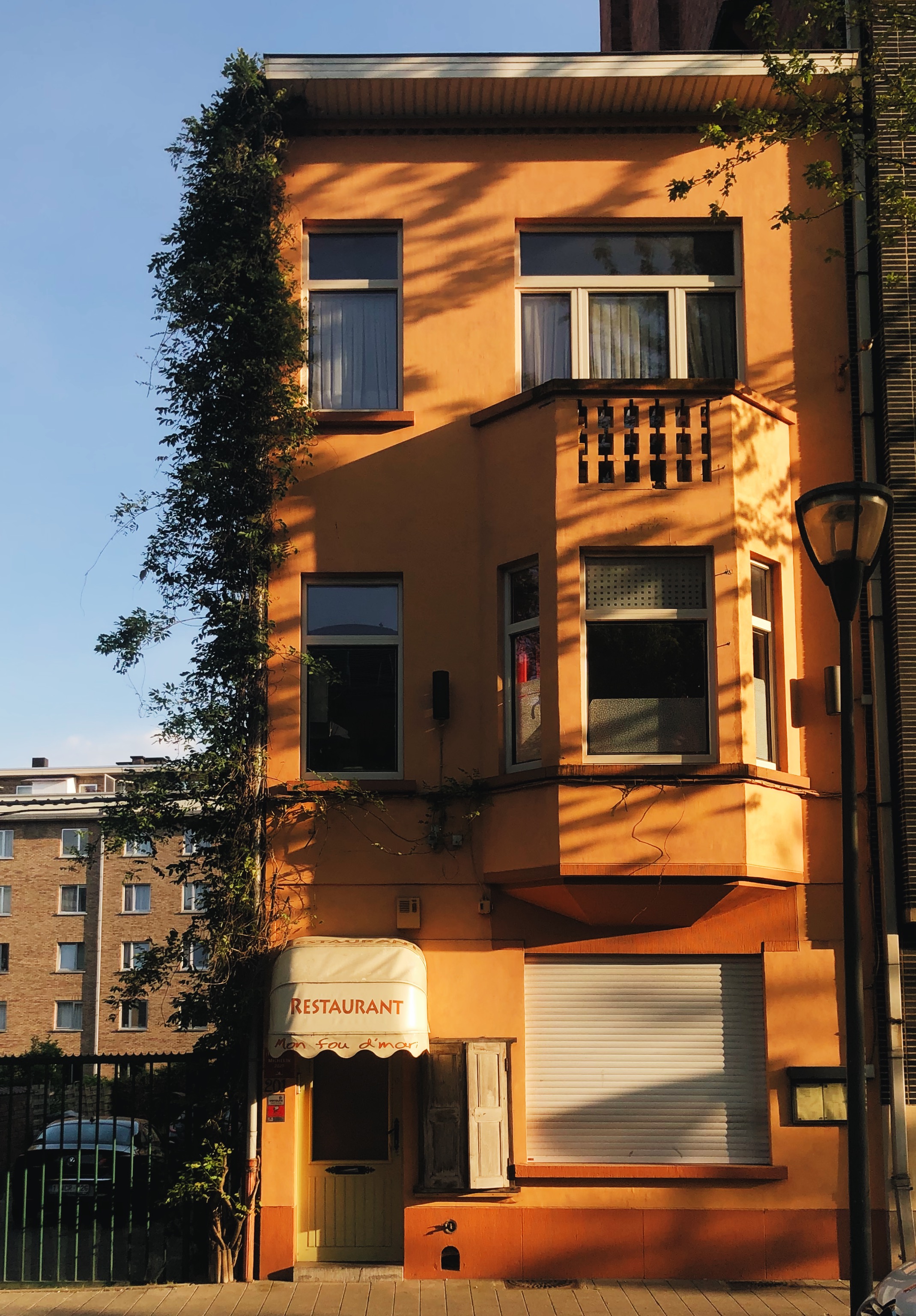 06/06/21
Mon Fou d'Amour
Tea Tannouri
When COVID hit, I had to move from where I lived since I couldn't afford rent anymore, so after staying at this new place I needed to discover the new area, the small Mediterranean in me was always looking for a raise of sunlight in something that would remind me of home, in this ghostlike town that the area became due to the pandemic and there it was! Warm, colorful and orange!
200, 200
Home
Love
Mediterranean
sun
warmth
#mappingplacescontest2021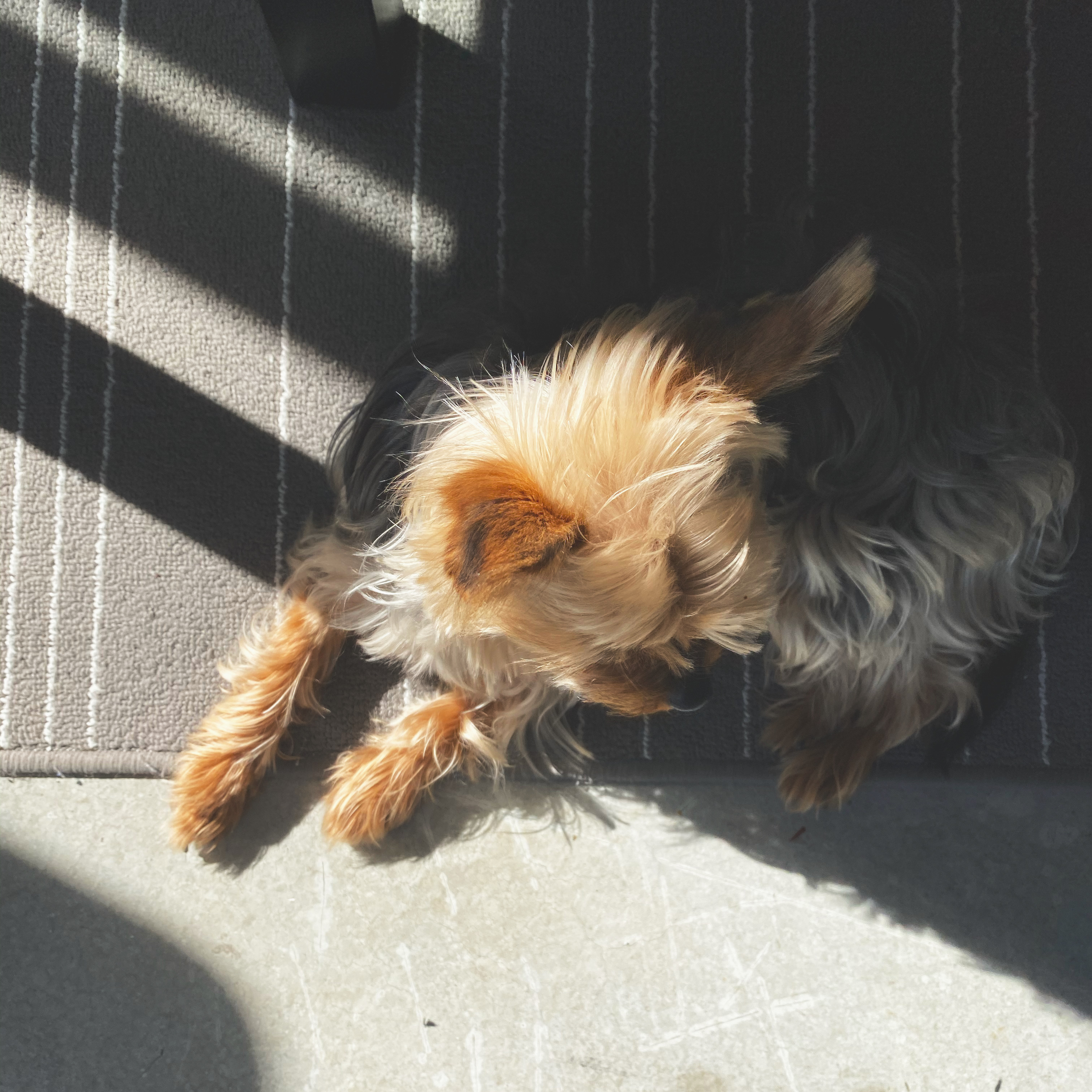 05/06/21
Small things to love
Fintheyorkie
Are great things necessary to love?
Sometimes the smallest things are not enough to light the fire of love in your heart?
Proof that we shouldn't expect big things for love. Seeing her sunbathing in her corner every morning when I wake up makes it more meaningful to wake up every morning. You can't even imagine how full of love this tiny creature is. The little thing that shines with love in my house of concrete that surrounds me. I say small because it's really small. With this little one, he taught me that in order to love, one should not have expectations. We must love to love by accepting all our differences, our diversity, we must bring out love from a tiny glimmer without expecting big things because this world needs love.
35.17531, 33.3642
dog
Home
Love
smallthings
#aplacemappingLH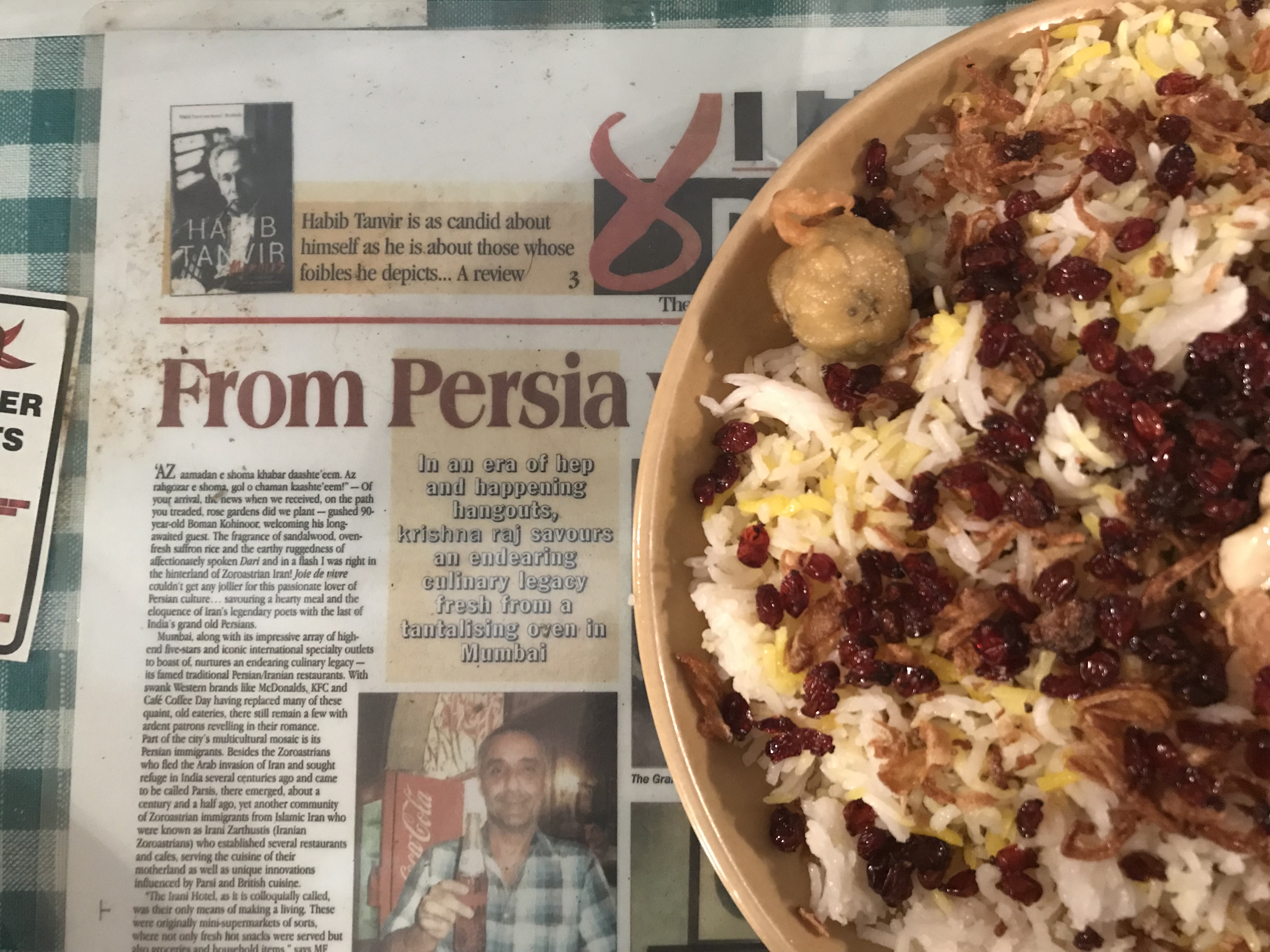 05/06/21
Culture, Spaces & People
Daksh Jain
The browns of the walls have grown pale and peel. The wooden drawers are the cash register. The lone chandelier, dusting peeling paintwork and ceiling fans that whirr above the chattering crowd with life-sized cutouts of the Duke and Duchess of Cambridge smiling down at visitors from the dining room's slightly slanting balcony, amongst all this pageantry, Welcome to Britannia & Co in Ballard Estate, Mumbai. One of the many Iranian/Parsi cafes in Mumbai, it is one of the most revered space to learn the cultural extravaganza of Parsi community. This place is a phenomenon of cultural capital that has been exported from a foreign land, brought to this land by a settler community and yet it has ingrained itself in the rhizomatic layers of the city. These cafes, with their magnificently faded, time-capsule dining rooms and speciality dishes, are a gloriously eccentric part of the fabric of Mumbai. They are democratic and inclusive places, where people of all backgrounds, classes and sexes meet to indulge in conversations, cuisine and langauage that forms the crux of intangible cultural heritage of the city.
While I sip my Irani chai(tea) with Maska-bun and wholesome Berry Pulao, I wonder how a smaller space like this has been a witness to mutilitudes of stories, emotions and cultural transactions over a century and has formed a cultural niche in the identity and imageability of the city.
18.93437, 72.840303
community
cuisine
culture
people
spaces
#mappingplacescontest2021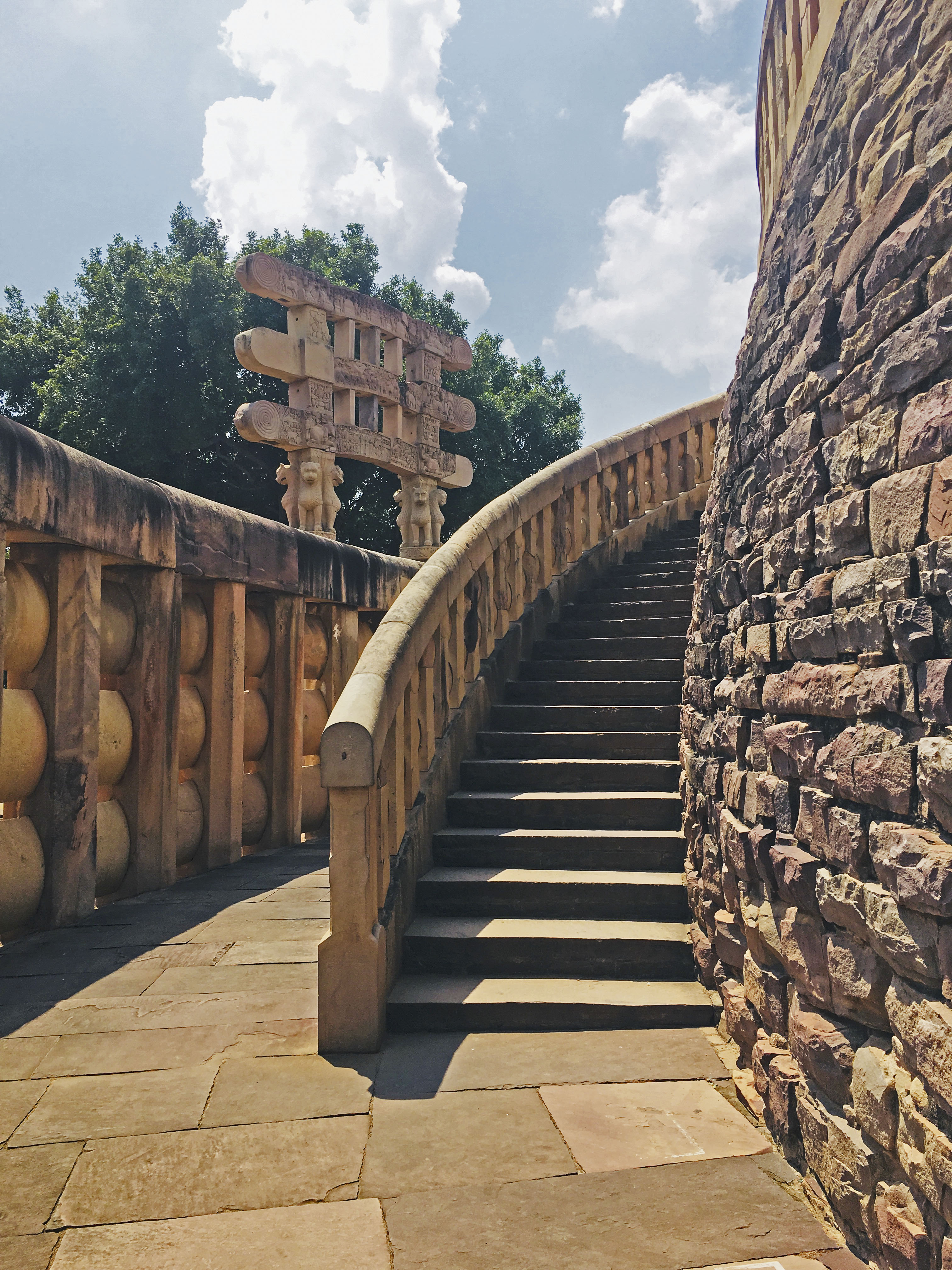 03/06/21
Path to Nirvana
Suruchi Didolkar
Sanchi Stupa in Madhya Pradesh, India is one of the oldest Rockcut stupas. I was on a study trip when I happened to visit this place. It carries a lot of sanctity, calmness and tranquility that one would wish to run away from their daily chaos. The architectural details in the stupas resemble the Eightfold principles leading to liberation in the form of 'Nirvana'. The carvings, monasteries and lush gardens of Sanchi Stupa have been designated as the World Heritage site by UNESCO and thus it truly catches the eye where one can experience enticing natural beauty.
23.481, 77.7399
calm
enlightenment
happiness
nature
tranquil
#mappingplacescontest2021
03/06/21
Panoramic Views - De Madrid al cielo
Marie Poulain
When your city is beautiful and you can enjoy its view from an also beautiful and emblematic building, after it had been closed for years... you can't but feel grateful.
Seeing Madrid from the 26th floor of the Edificio España building was the perfect alternative this year to celebrate San Isidro, patron saint of Madrid. Festivities were cancelled because of the restrictions due to the pandemic, but when you see Madrid from up there... boy, it looks like there is no virus around! People walking down the streets are so small... all you see is Madrid's magnificent architecture, the wonderful green shades of its parks in the spring, and the unique blue color of its sky...
Here we say "De Madrid al cielo" (From Madrid, right to the sky), and this was as close as we could get to a walk on the clouds over beautiful Madrid.
40.42408325186, -3.7111338736416
emblematic buildings
madrid
panoramic views
#mappingplacescontest2021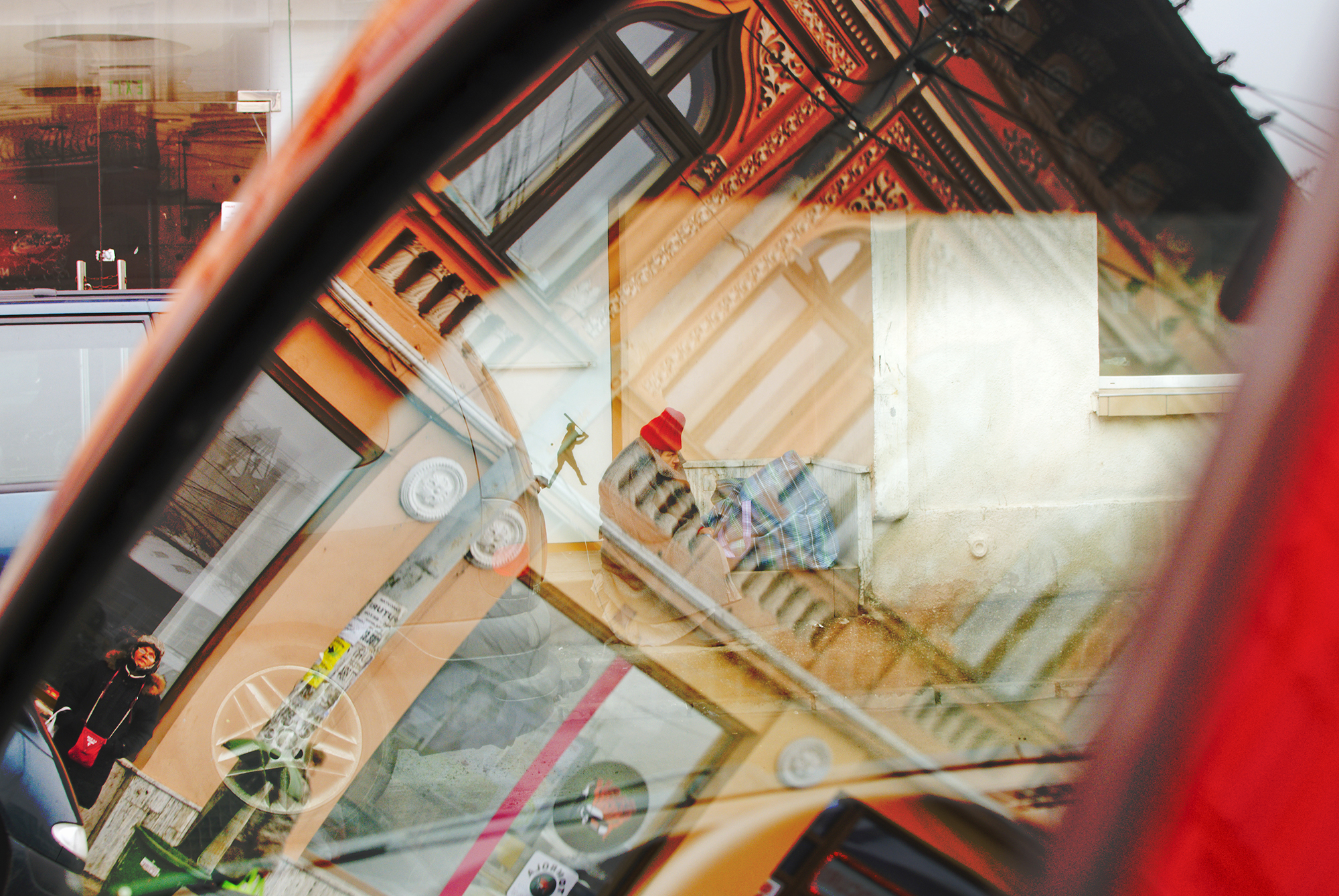 02/06/21
In-Betweenness
Madalina
No. 18 Haralambie Botescu Street, Bucharest, Romania, January 2011. I was documenting the destruction of one of the most famous and picturesque heritage sites from Bucharest when I saw an old beggar sitting on the porch of a sports betting store. The 19th century building, originally an old inn with passages with, was due to be demolished as it stood in the way of a new city boulevard. This eventually happened two years after I took this photo, despite being a protected site.
44.445808146756, 26.081357166581
community
destruction
in-betweenness
#mappingplacescontest2021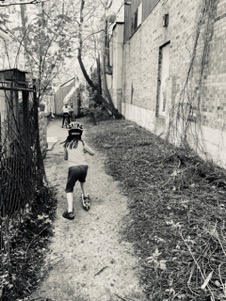 02/06/21
Montreal's Back Alleys
Nathalie
Montreal's alleys are fantastic public spaces, that the City and its citizens started to recognize some years ago. They are extraordinary spaces of privacy, creativity and freedom, cherished by many parents... and children.
45.539393244396, -73.58706822107
Alleys
childhood
creativity
intimacy
#mappingplacescontest2021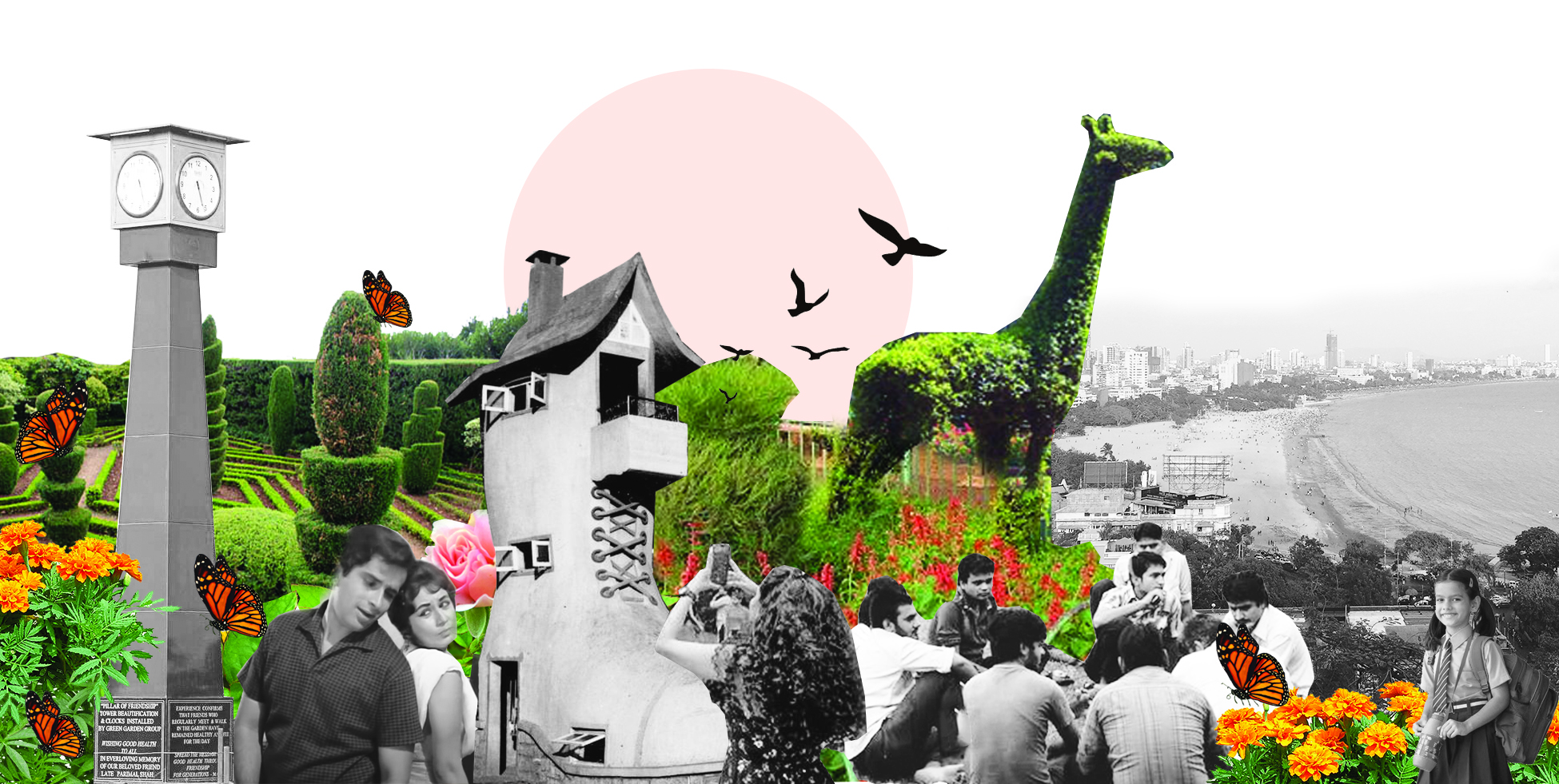 02/06/21
Capturing the socio-ecological memory
Suruchi Didolkar
'Urban gardens' are a plethora of socio-cultural, historical and environmental learning, that allows varied observant assert the sense of 'the right to the city' or reclaim an 'urban commons'. One such urban garden uniquely hanging upon a historical water reservoir on Malabar Hill has been a source of solace and wonder for all. Beautifully designed by Ulhas Ghapokar in 1881 and dedicated to Sir Pherozshah Mehta, it is narrated to have been built over one of Bombay's main water reservoirs to protect it from getting polluted by the nearby towers of silence. The garden is a manifestaton of a positive energy welcoming diverse group of visitors who see their interests towards fostering 'civic ecological sense' and 'social associations' with the flora-fauna and history in the city.
19.076, 72.8777
calm
good time
nature
positivenergy
public space
#mappingplacescontest2021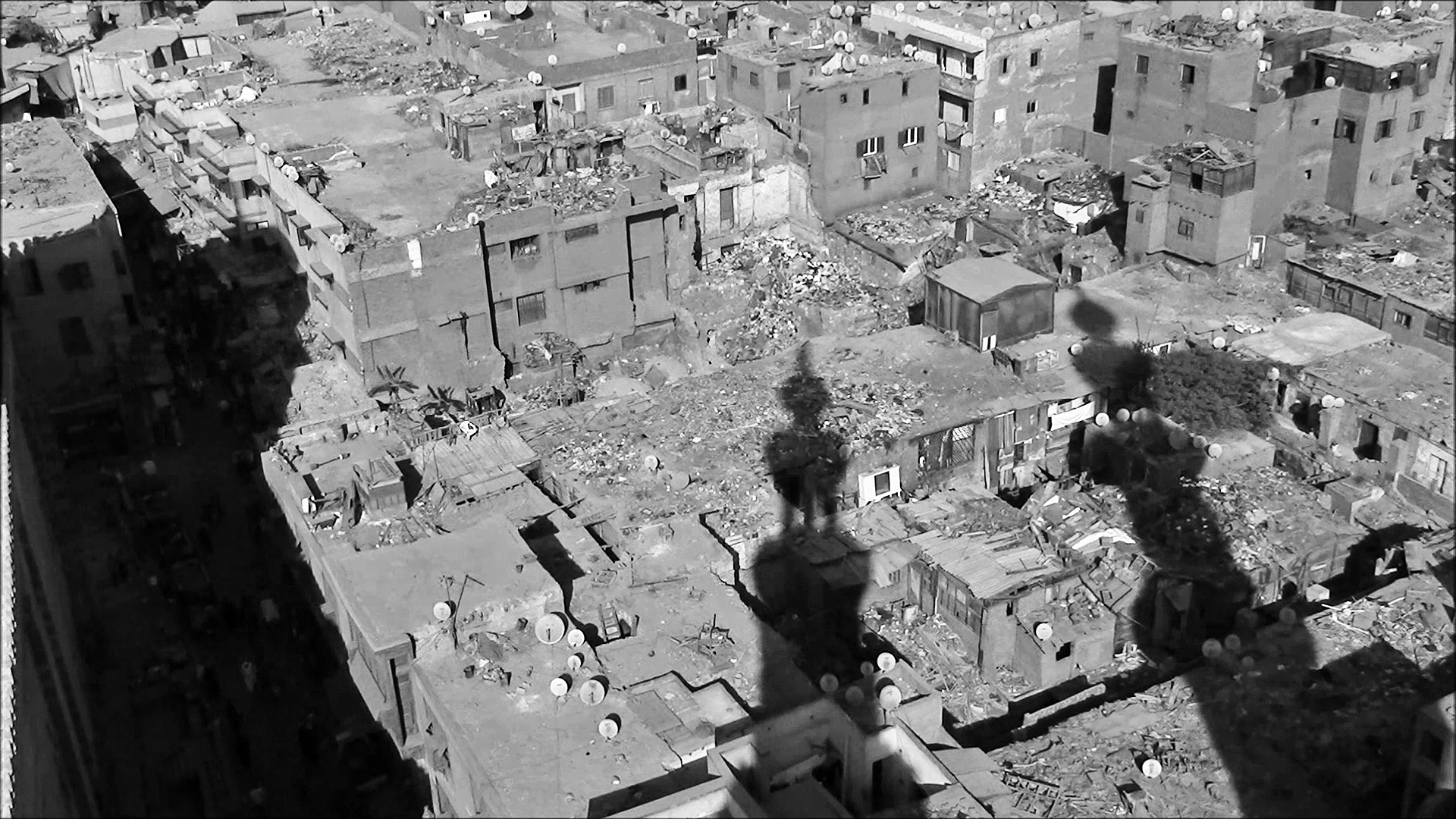 02/06/21
Spirituality descending upon Simplicity
Taher Abdel-Ghani
In Old Cairo, I went up one of the minarets that overlooks a narrow traditional commercial street that cuts through the hustle and bustle of the area. It was shortly past noon, and the sun projected the shadows of the minarets onto the rooftops of small informal houses. Upon seeing this, I came to realize the clash of tradition with contemporary methodologies in how our cities are shaped. We, products of contemporary products, do not see or buy or even comprehend genuineness any longer. We follow the national agenda of globalization. On the other hand, local inhabitants are the ones who resist the foreign market. Their resilience defines their identity. They create their own economy and city. Their spirit beautifies their simplicity.
31.2357, 30.0444
community
history
public space
Wonder
#mappingplacescontest2021
27/05/21
The unknown
Marina Papadaki
The beach has always been one of my mom's favorite places. This place was the last place I went with my mother before I moved to another country, so far from her... I remember that I reflected a lot on all the uncertainties and challenges I would face as a foreigner, away from all the people I love and everything I was used to. Today, two years later, when I close my eyes, I still remember that place, my mother and the feeling I felt that day.

-4.1523838043213, -38.111595153809
beach
memories
mother
unknown
#mappingplacescontest2021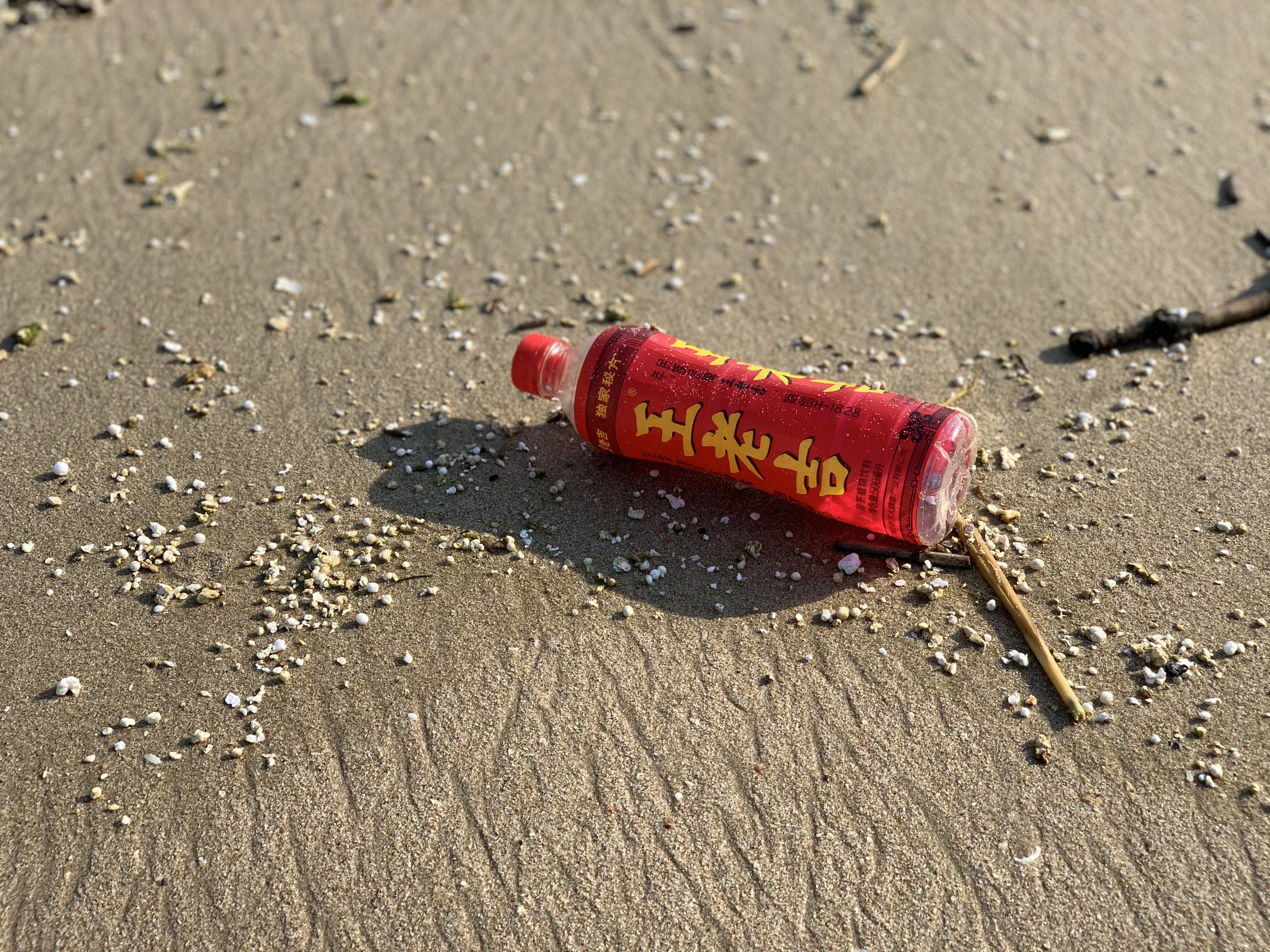 25/05/21
Connected
PeiChin CHIANG
One bottle from China showed on an island apart from China, there is still the same life experience connected by the ocean.
26.151111, 119.927222
#mappingplacescontest2021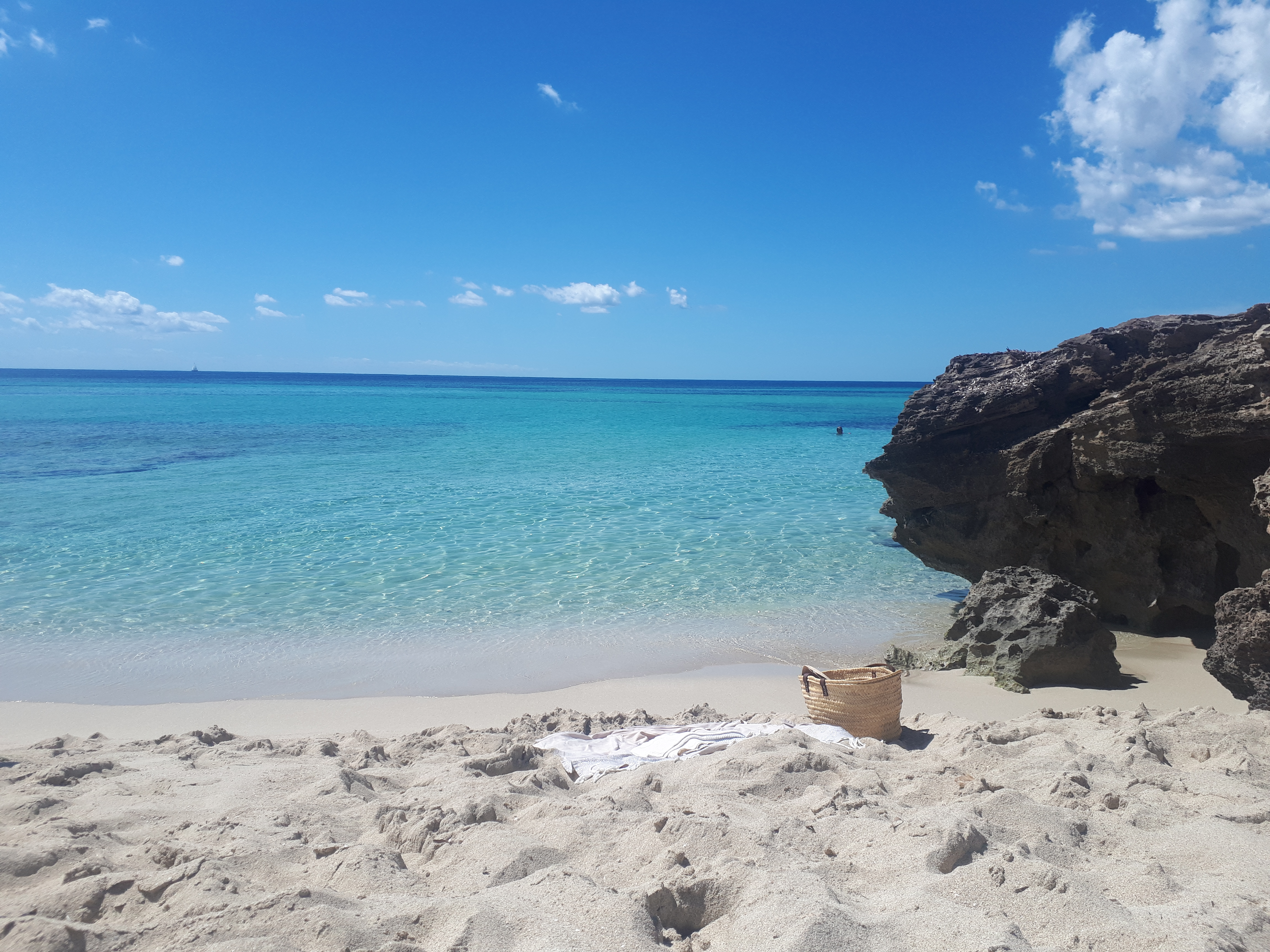 18/05/21
Relax
Judith Bertocchi
No hay mejor sensación que estar en casa. En casa, entendiendo aquel lugar dónde te sientes protegido, cargado de energía positiva, saludable. Allá dónde escuchas y sientes. Allá dónde eres feliz.
38.683091, 1.472662
calm
healthy
nature
positivenergy
sea
#mappingplacescontest2021
13/05/21
A relaxing place
vero
Living in Tokyo, otherwise nicknames as a concrete jungle, it is a blessing to ba able to enjoy outoodr natural environments like this. This is just a short walk from my house and it is a special place that makes living in a megacity a great experience.
35.719719319895, 139.74439613066
nature
public space
serenity
#greenplace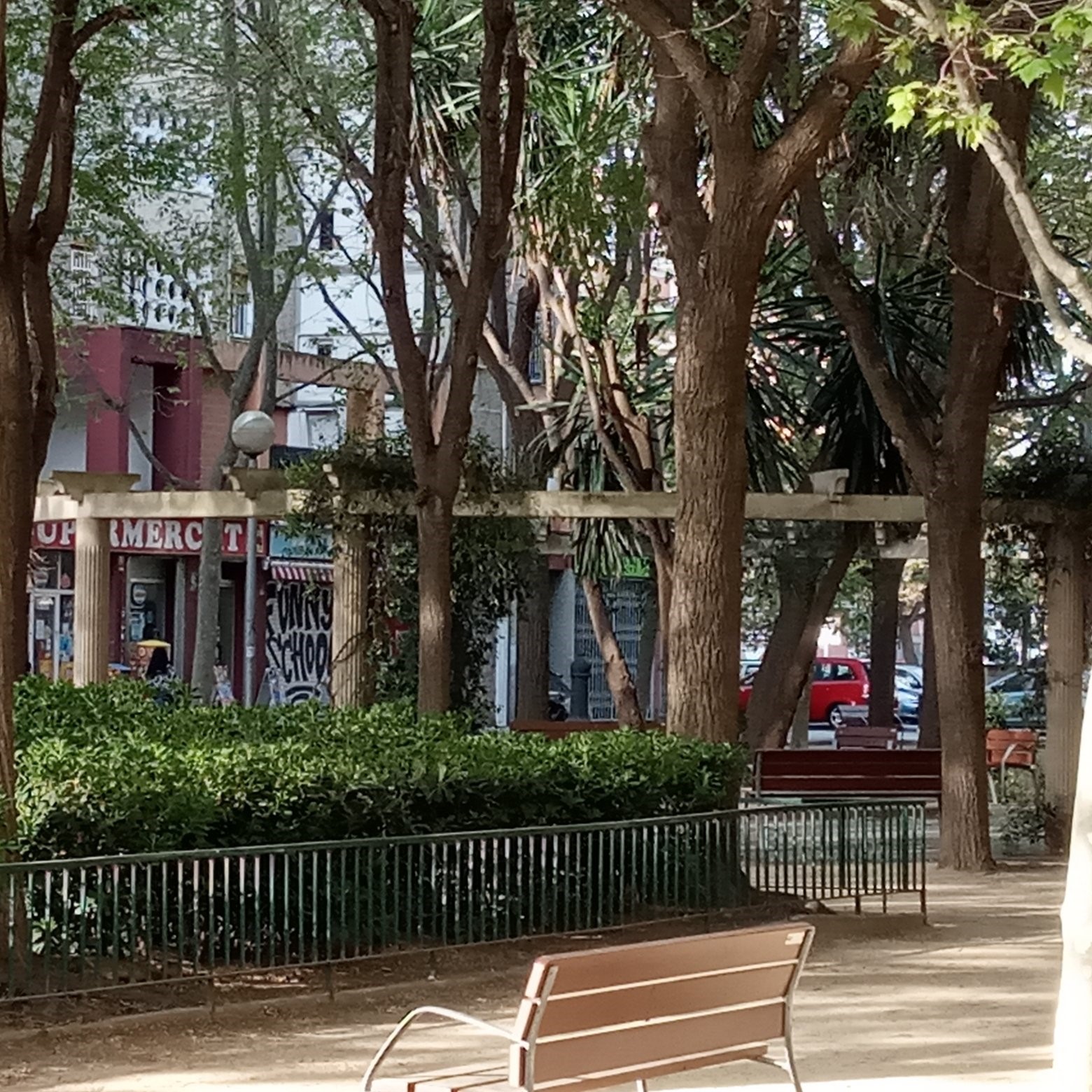 25/04/21
"La mini rotonda"
Sara
Aquest lloc està just a baix de casa meva i a part es on vaig pasar la meva infancia jugant amb els meus amics i amigues.
41.34822, 2.11159
25/04/21
Estàtua de Bellvitge
Eli
Aquesta estatua mai m'agradat perquè és rar i no trobo sentit que estigui al mig d'un parc.
41.348899450599, 2.1110772968742
25/04/21
parc
Karima
Aquest lloc no m'agrada perquè ho té brut i quedaria més preciós si el netegen
41.34822, 2.11159
25/04/21
parc bellvitge
Karima
he triat aquest lloc perquè és molt tranquil i amb els aniversari és guay.També amb els nens es diverteixen o per sortir una mica amb els teus amics o amb la família
41.34822, 2.11159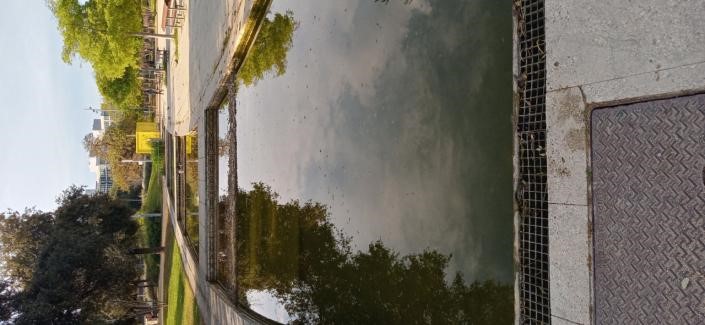 25/04/21
estanc
Pau
No m'agrada molt aquest estanc perquè no esta gaire ben cuidat i queda una mica lleig
41.348336, 2.111353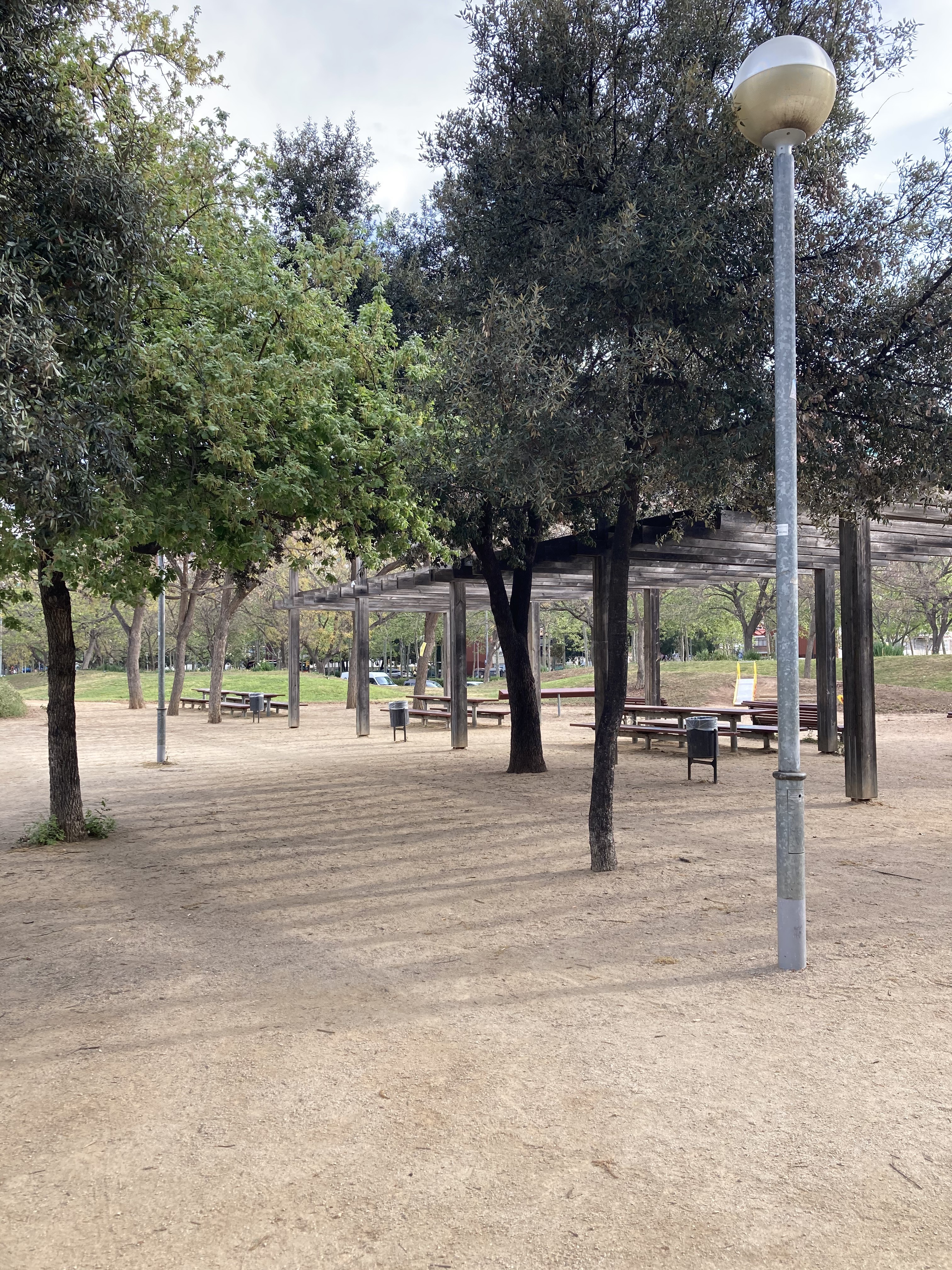 25/04/21
'Chiringuito del parque'
Laia C.
Vaig celebrar la majoria dels aniversaris amb els meus amics, també vaig conèixer a molta gent i perquè és un lloc natural i molt bonic.
41.348676849108, 2.1113596396019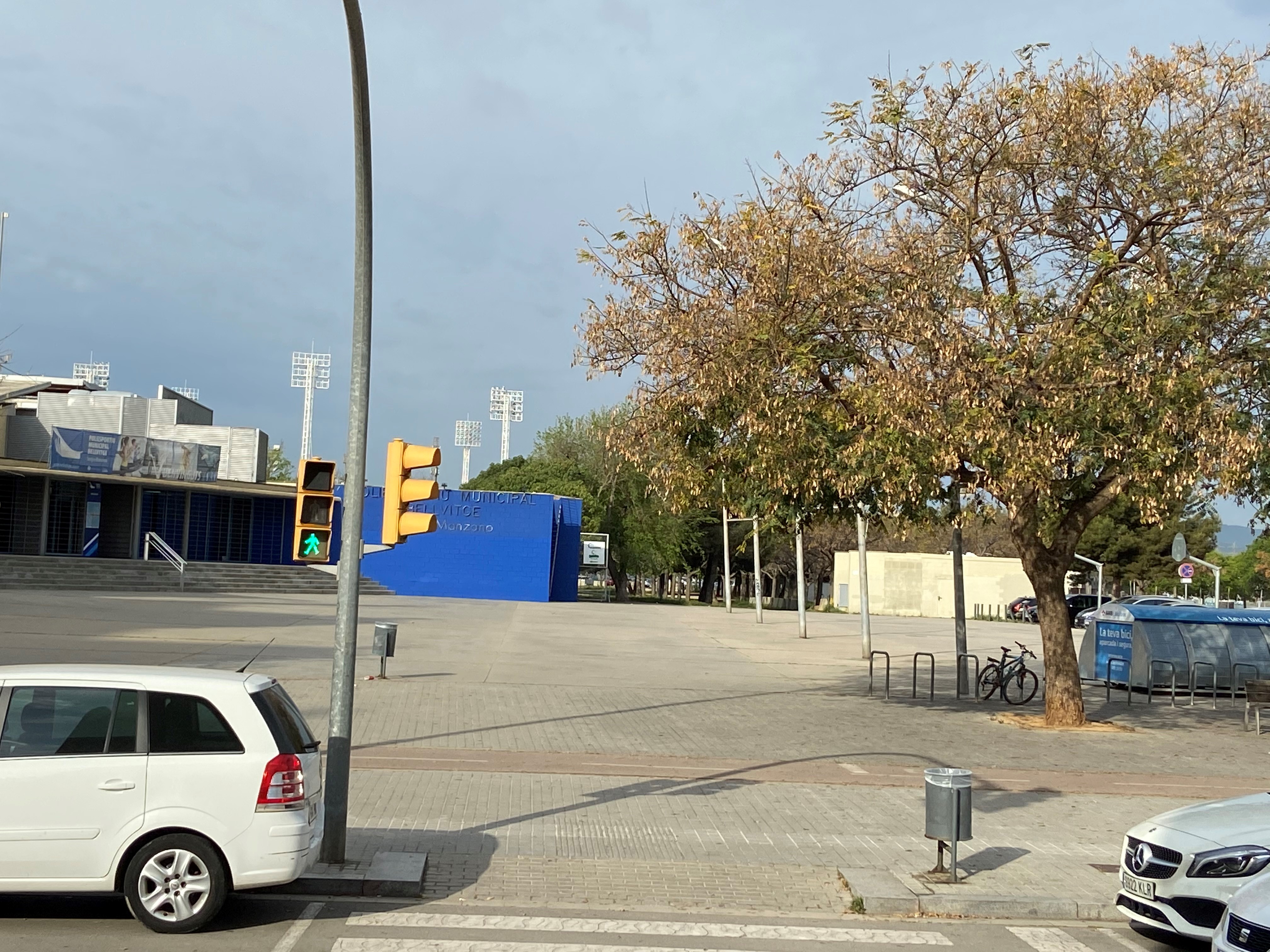 25/04/21
Bellsport
Astrid
Aquí tinc experiències positives perquè quan quedo amb les meves amigues vinc aquí i m'ho passo molt bé.
41.348194, 2.105889
25/04/21
Parque nuevo
Angela Gil
El parque nuevo es un sitio donde todos hemos ido algún vez de pequeños, pero seguramente nos habremos caído miles de veces.
41.348382638053, 2.1109566327602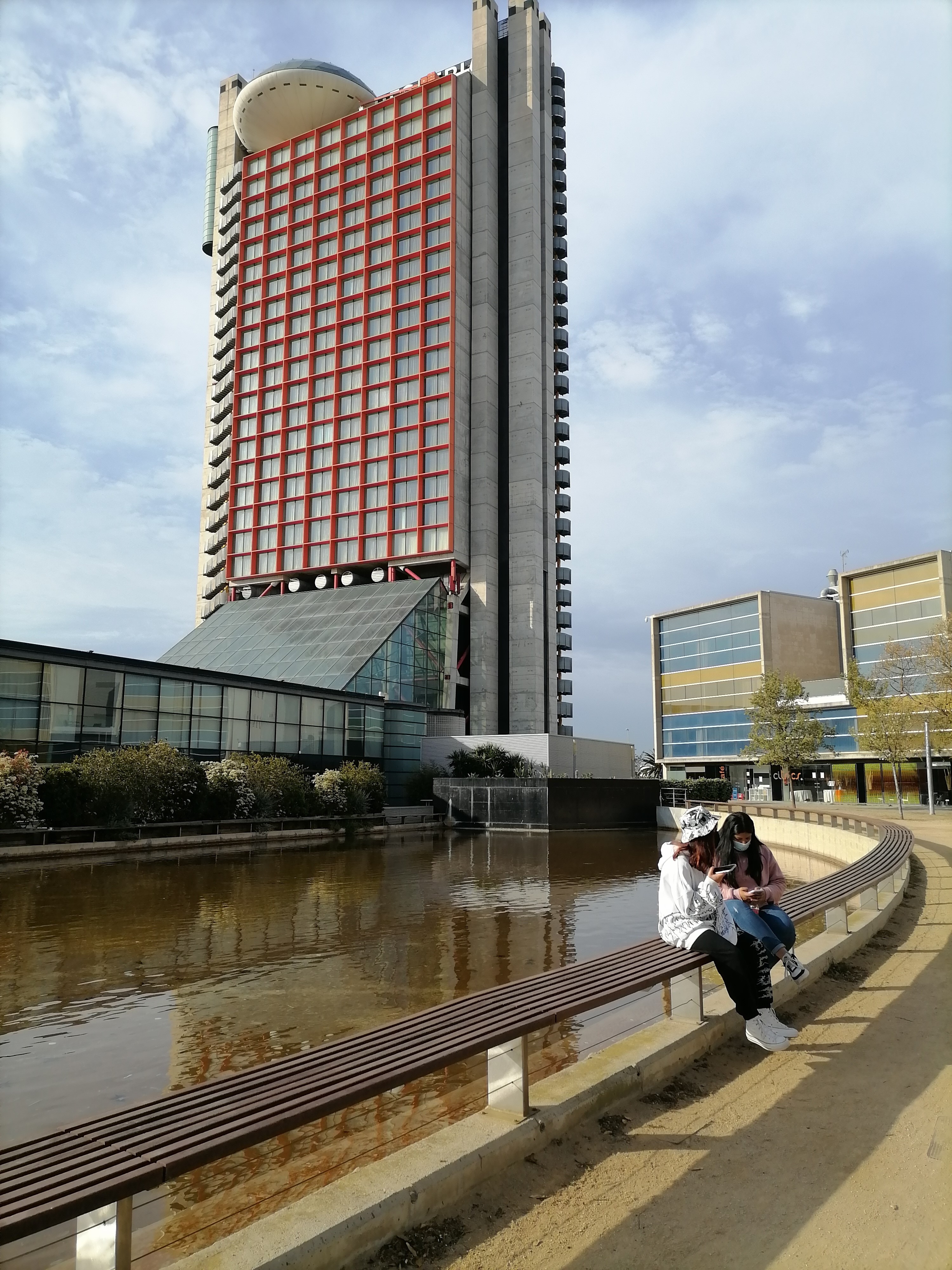 25/04/21
Passeig de l'Hesperia/Paseo del Hesperia
Lucianne C.
Es un lloc molt tanquil al que pots anar a relaxarte , si tens fills pots deixar als nen al parque del costat i sentarte al bancs de la foto.
41.347, 2.108472
25/04/21
Plaça d'arbres
Víctor L.
Aquesta plaça em sembla bastant lletja ja que hi ha molt poca llum i no fan res perquè sigui més bonica, a part de que està mal situada i té molt mal públic.
41.350775, 2.106071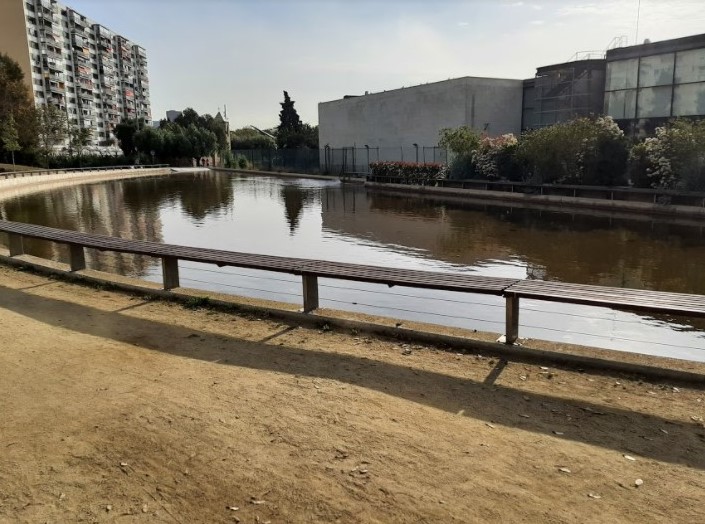 25/04/21
Llac al parc de Bellvitge
Víctor L.
Aquest lloc em sembla molt bonic ja que fa que el parc aporti moltes coses, et pots relaxar i per últim fa una bona estètica.
41.346885, 2.10866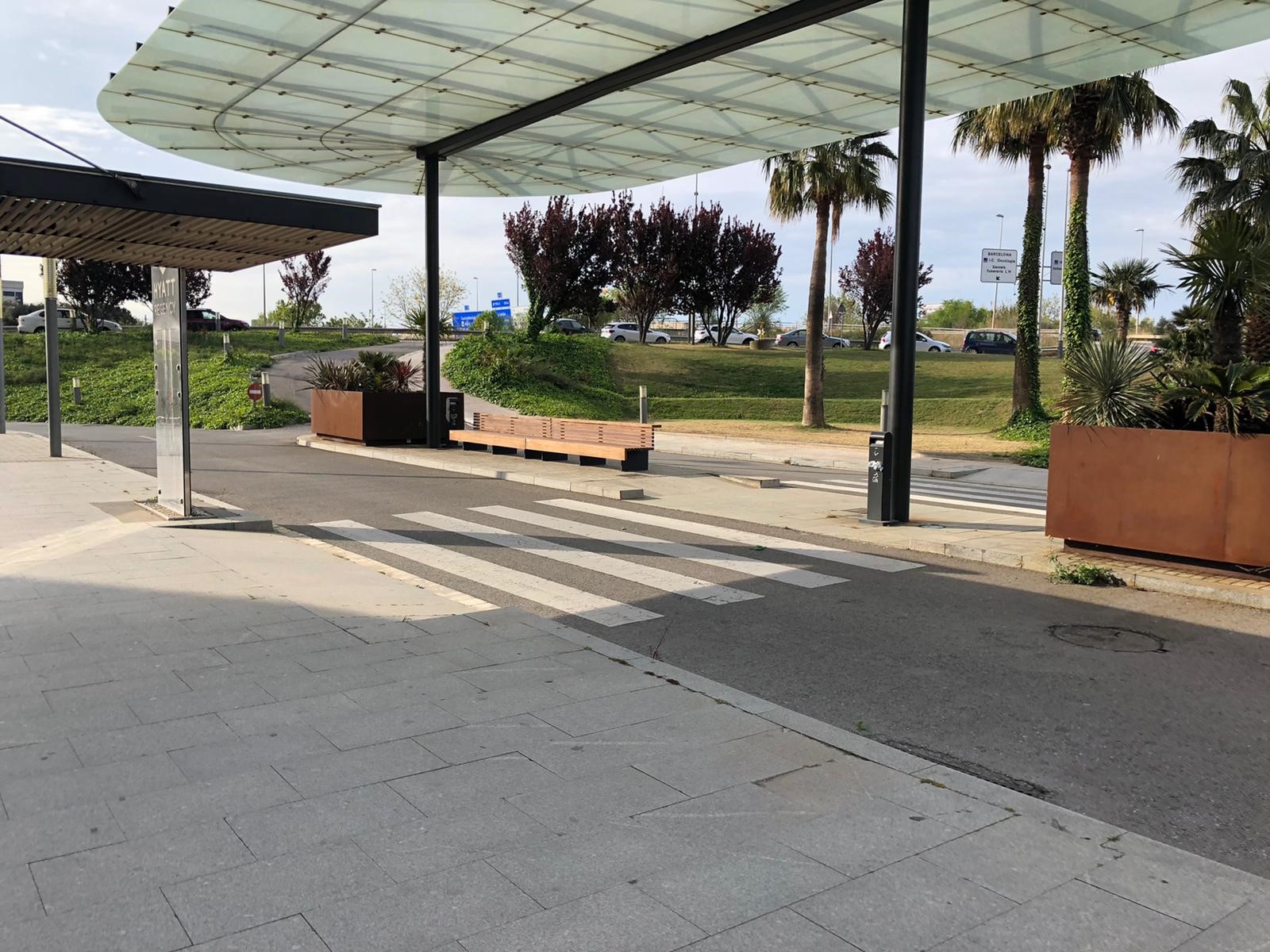 25/04/21
Banc de l'Hesperia
Ismael
Lloc de quedades d'amics.
41.346222, 2.107194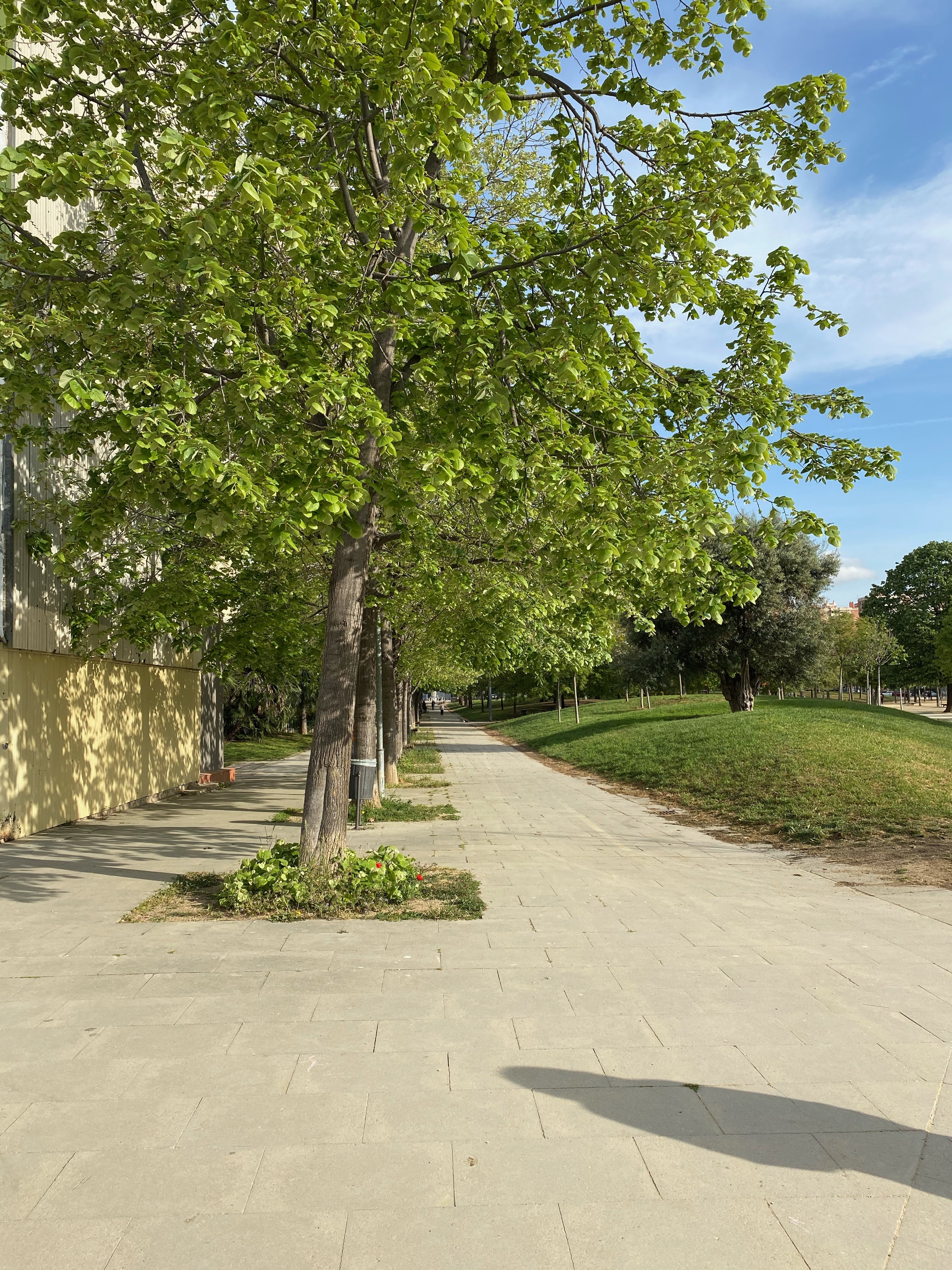 25/04/21
Parc de Bellvitge
Lucía Moya
Per la tarda /nit no és un lloc molt segur per anar sol o amb un grup reduït ja que solen robar a aquella zona.
41.347889, 2.11075
concern
insecurity
robbery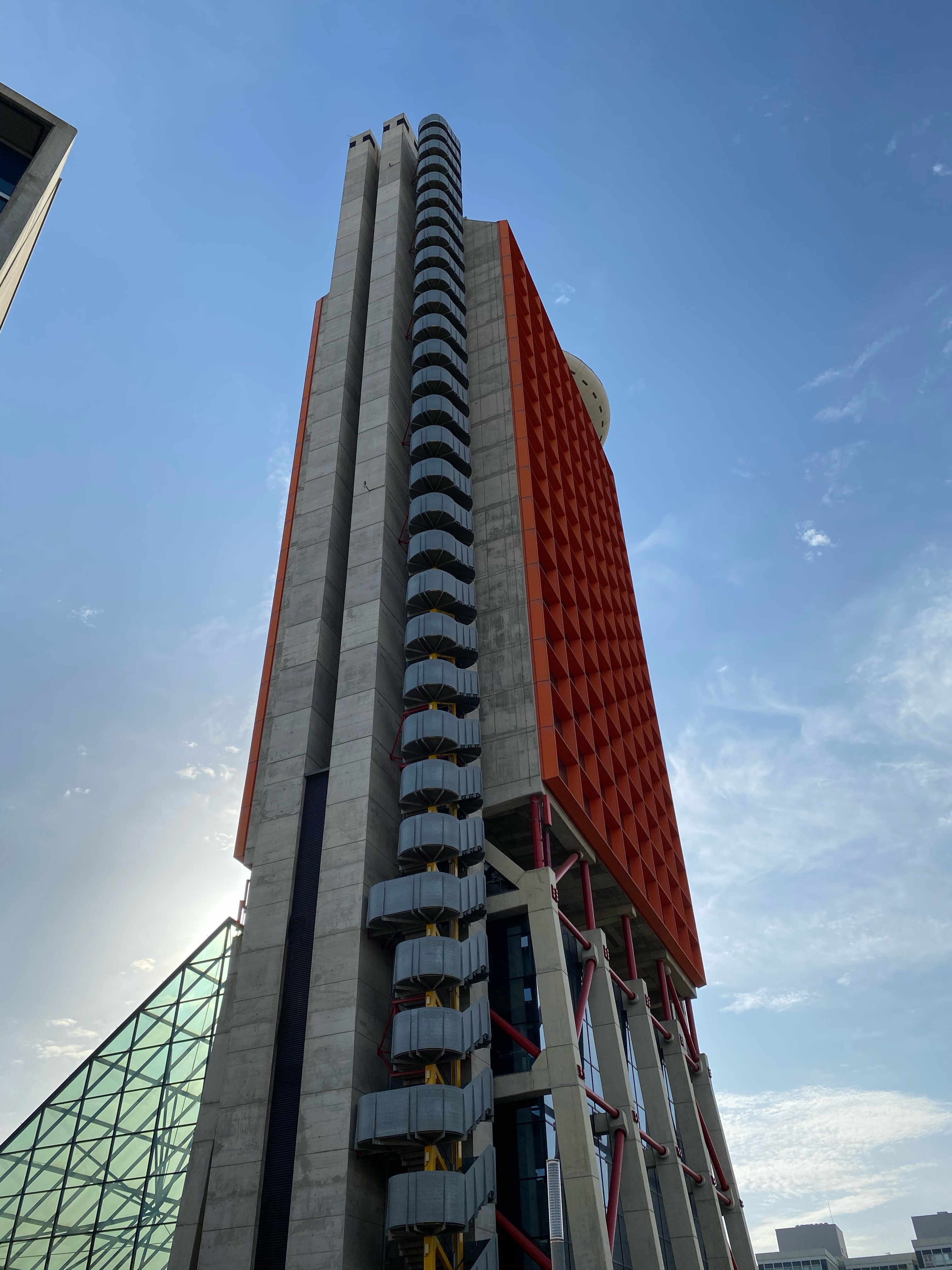 25/04/21
Hesperia
Lucía Moya
Els meus amics i jo hem passat per aquella zona un parell de vegades, l'edifici és bonic però no és una zona que solem transitar.
41.346389, 2.108389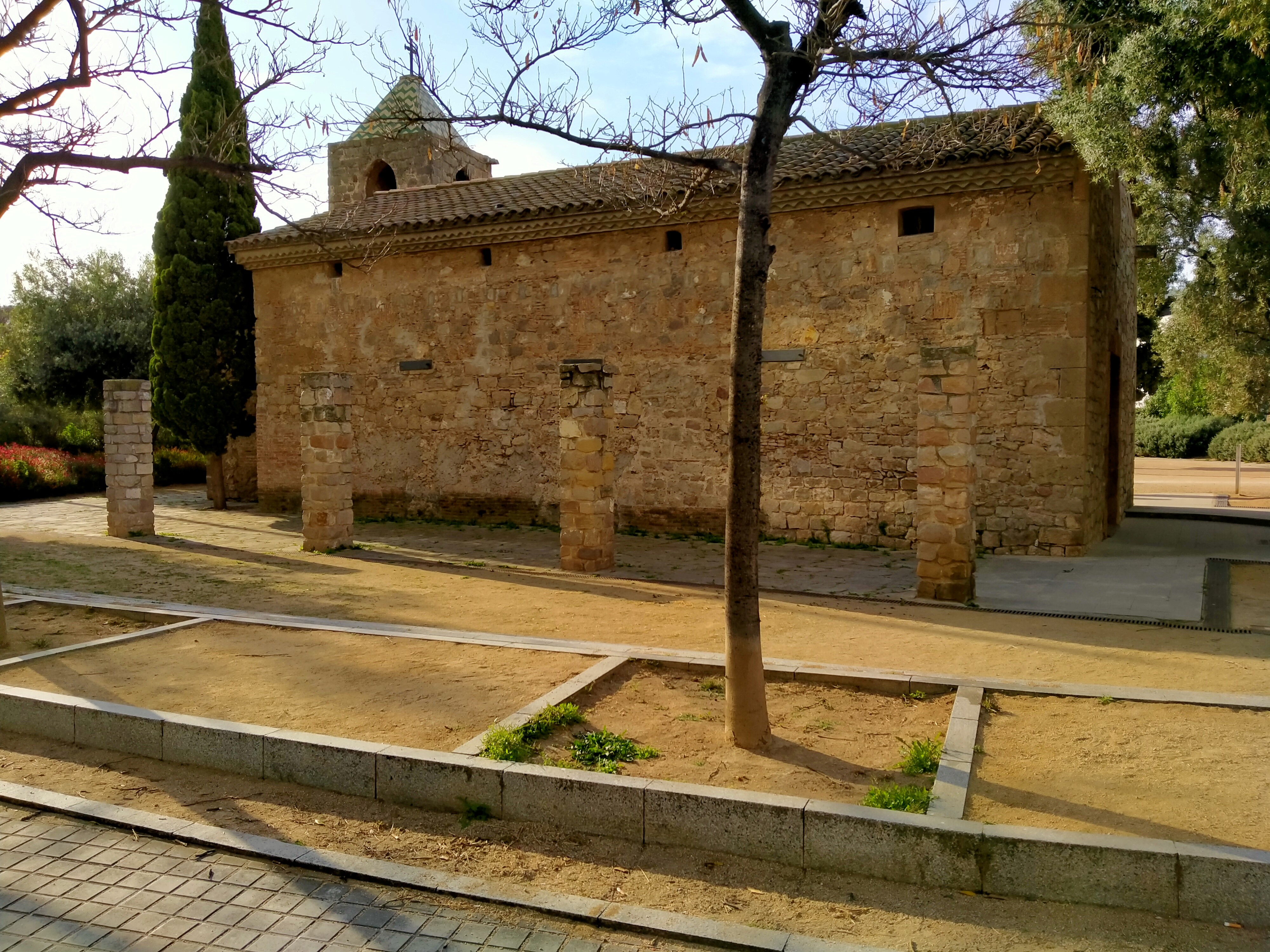 25/04/21
Ermita Sta Mª de Bellvitge
Nico
És el lloc on es van casar els meus tiets i anys després es van separar, i a sobre de petit sempre em donava por.
Ho veig com un símbol que ens recorda el passat i que hem d'avançar.
41.347583, 2.109583
#mappingplacescontest2021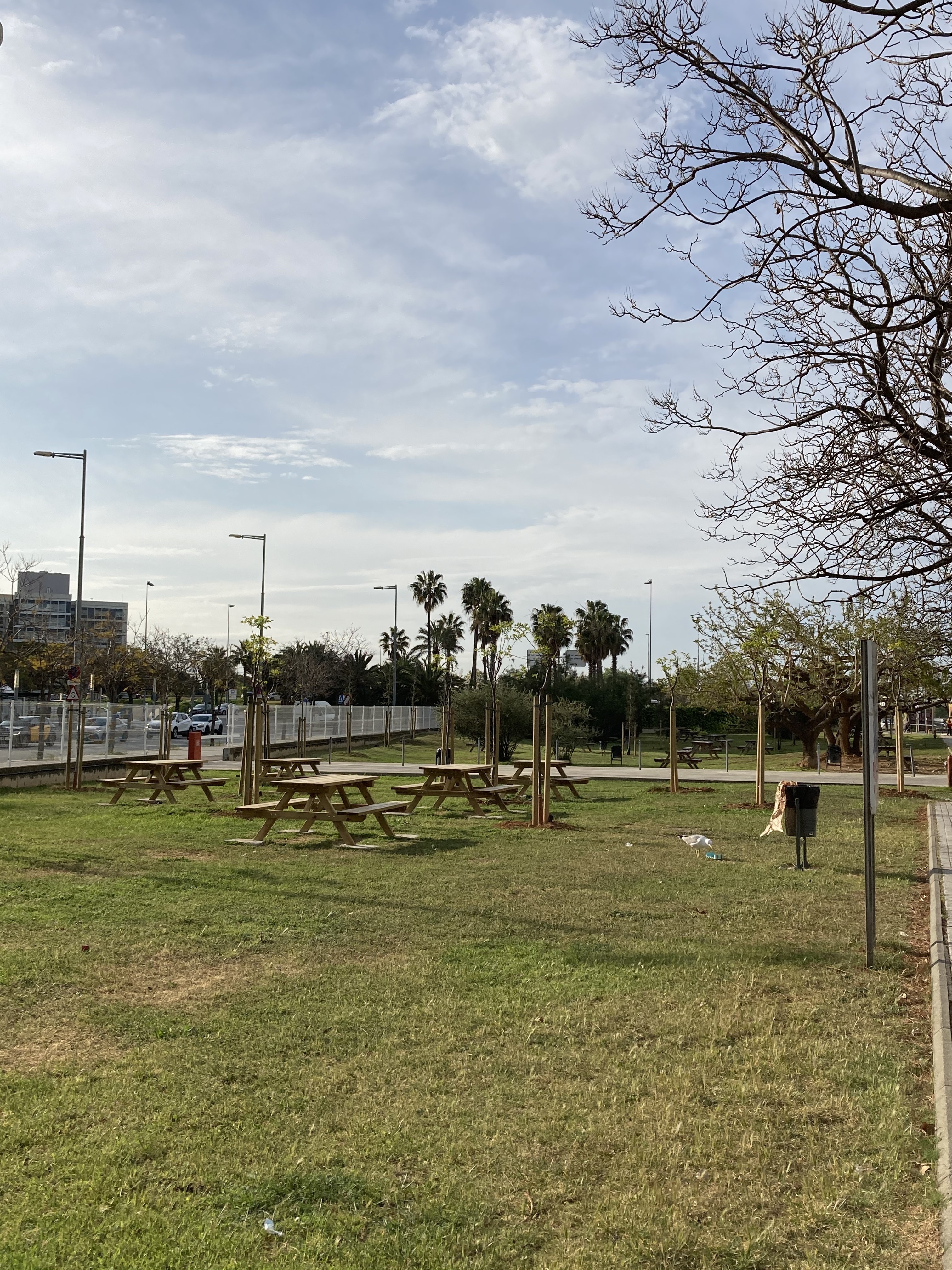 25/04/21
Zona de picnic Hospital Universitari
Alba U.
És una zona traquil·la on pots anar a passar l'estona i parlar amb amics, i fer un picnics.
41.346611, 2.107111
conversation
fun
joy
park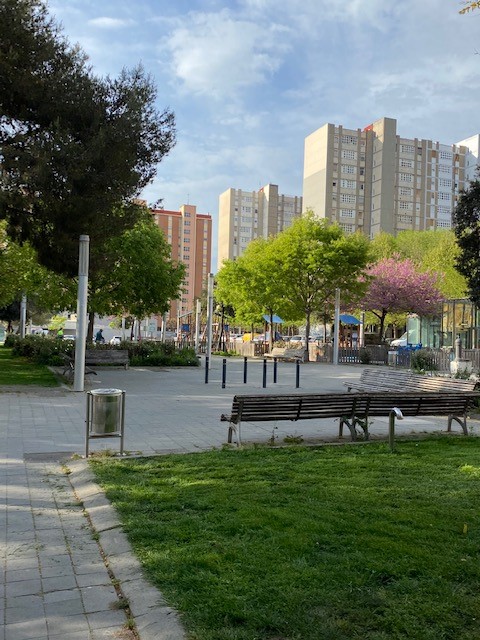 25/04/21
Parc de Bellvitge
Judith
Un lloc positiu perquè és un lloc on els nens i nenes petits poden anar a jugar.
41.351417, 2.109583
25/04/21
Taules de ping pong
David i Mateo
És una zona on pots jugar amb gent a ping pong i a més hi ha una zona al costat on es pot jugar a més esports.
41.351156, 2.109879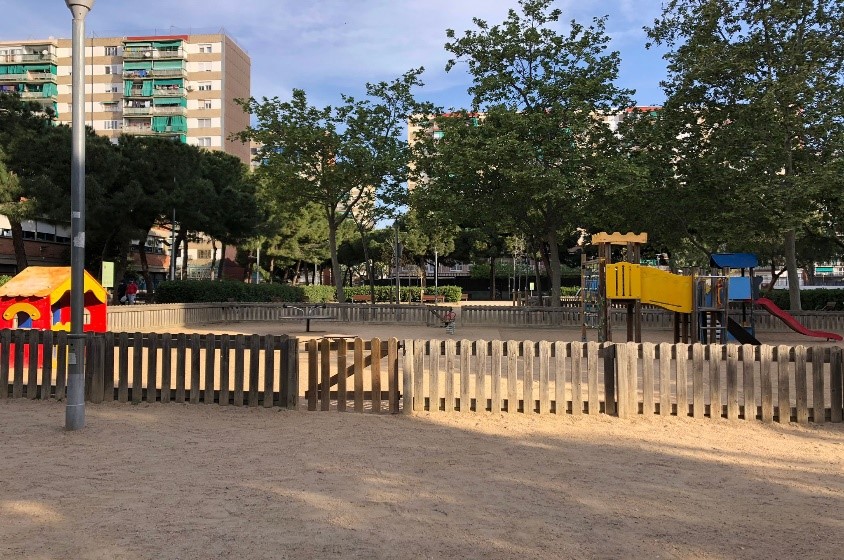 25/04/21
Parc infantil del passeig
Ayesha
És un parc on la gent es pot divertir molt. A més, es divideix en dos: un per a nens i un altre per a adolescents.
41.354333, 2.112639
enjoyment
entertainment
fun
happiness
25/04/21
Rambla Marina
Karima
Aquest lloc m'agrada perquè pots passejar amb el gos, malgrat el soroll del trànsit.
41.349417, 2.111333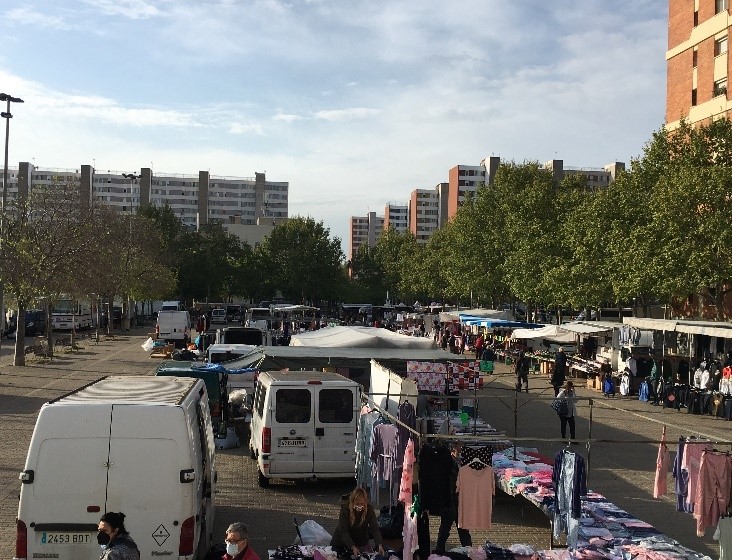 25/04/21
Mercat al carrer
Cristina
La gent va si necessita alguna cosa, però hi ha molt de soroll i a vegades molesta. Hi ha molta gent.
41.352627, 2.113108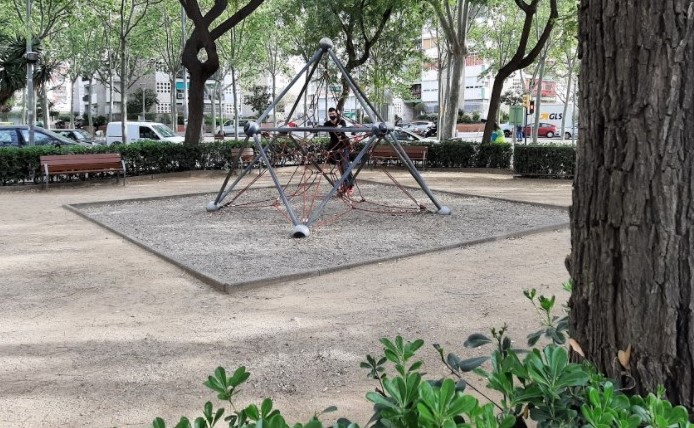 25/04/21
Parc de l'àtom
Víctor
Em sembla un parc molt atractiu per anar per la tarda, però a la vegada hi ha molts mosquits i això li agafa mala fama.
41.352016, 2.109514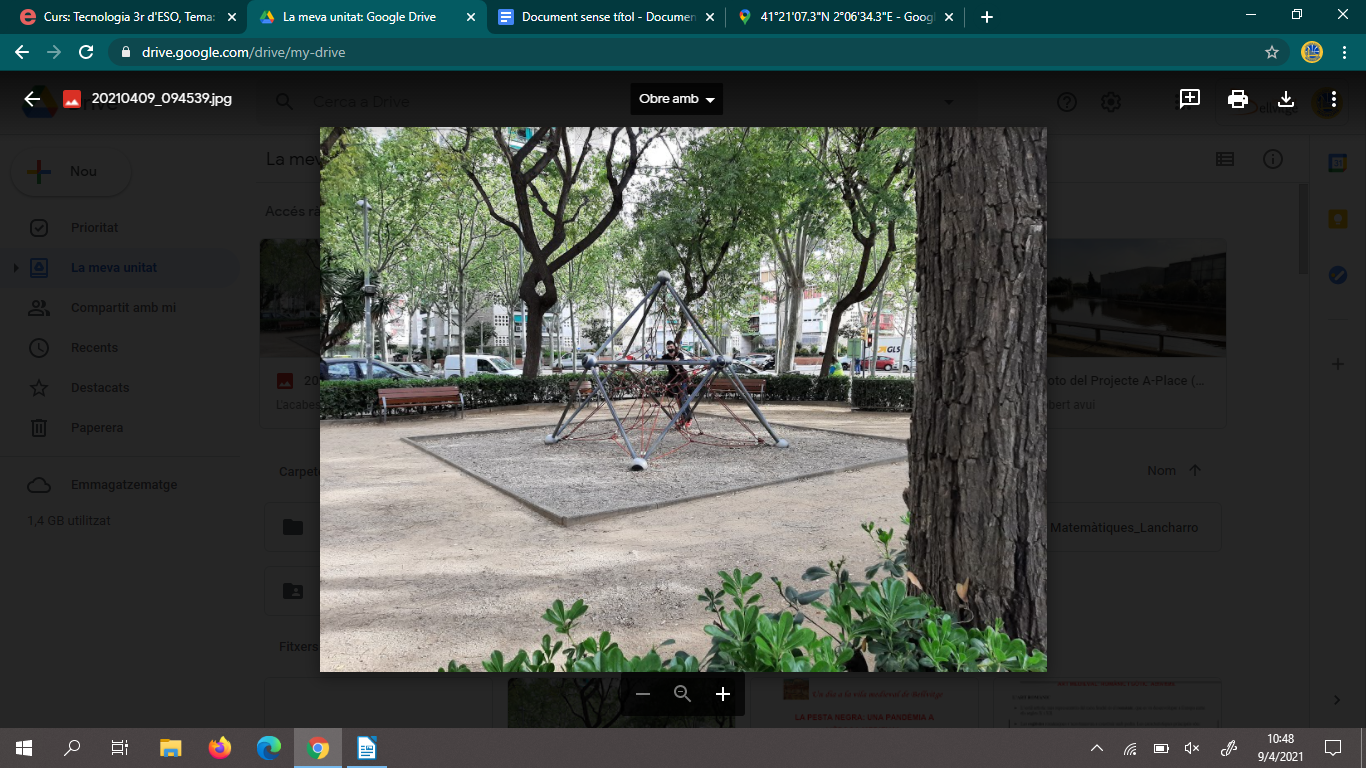 25/04/21
Parc de l'àtom
Víctor
Em sembla un parc molt atractiu per anar per la tarda, però a la vegada hi ha molts mosquits i això li agafa mala fama.
41.352016, 2.109514
25/04/21
Passeig Bellvitge
Laura
Quan era més petita a l'hora de tornar casa de l'escola o a l'hora d'anar passava por aquest passeig
41.35352, 2.11264
25/04/21
Biblioteca Bellvitge
Ayesha A
És un lloc per estudiar i llegir i té molts llibres, però a l'exterior hi ha una plaça des d'on surt molt de so i pot distreure a la persona que estudia a dins.
41.351389, 2.114333
22/04/21
Parc de la Marina
Nico
Aquí jugava amb els meus amics i amigues quan sortia del col·legi i gairebé tots els dies venia la meva àvia. És un lloc on tinc molts bons records i és com la representació de la meva infància.
41.351306, 2.109861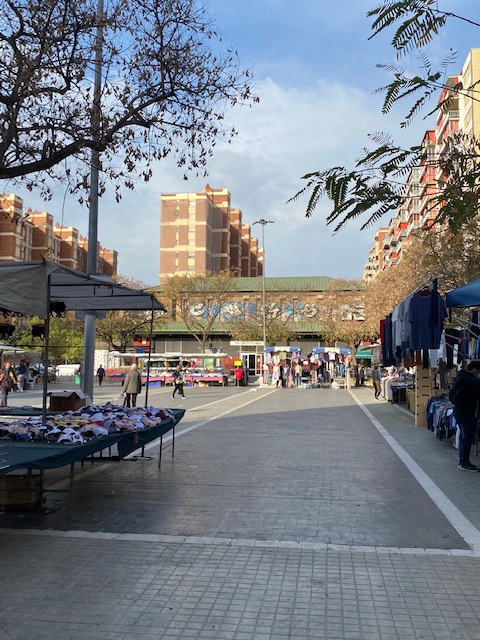 22/04/21
Paradetes de Bellvitge
Judith S.
El puc descriure com un lloc neutre perquè és un bon lloc per comprar moltes coses, però conec persones que han sofert robatoris.
41.352986, 2.112913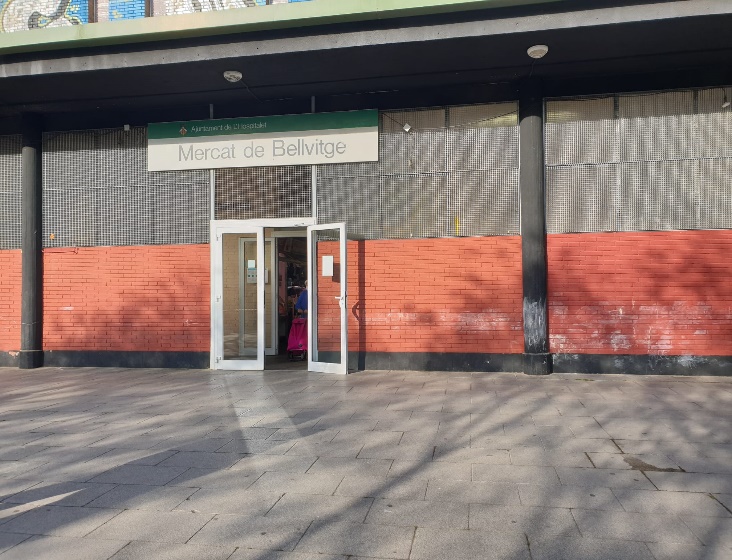 22/04/21
Mercat municipal
Paula G.
Conec aquest mercat des de ben petita i sempre he anat a comprar.
41.35286, 2.11212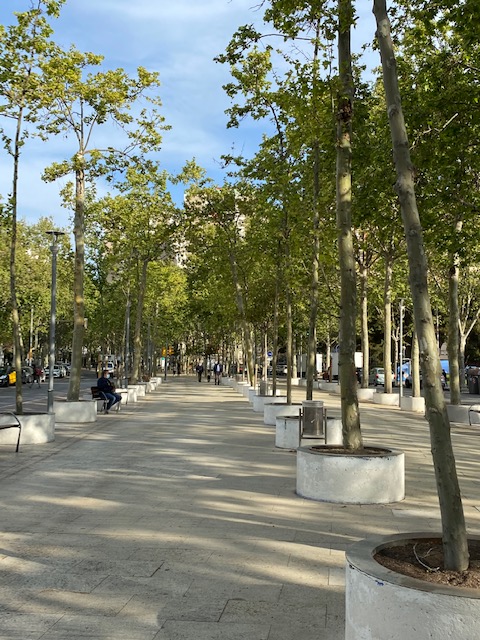 22/04/21
Rambla Marina
Judith S.
Un lloc per passejar amb la família o amics. Pots passejar per tota la rambla, i depèn de que èpoques de l'any hi ha petites botigues.
41.351017, 2.111158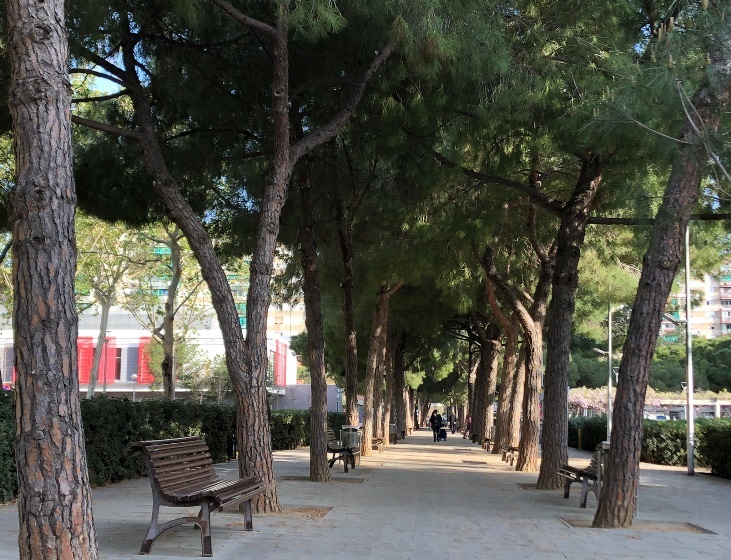 22/04/21
Passeig de Bellvitge
Ayesha A.
És un lloc destinat a la relaxació, però hi ha molta gent i soroll que fa que sigui molt difícil relaxar-se.
41.353278, 2.112778
22/04/21
Parc de Bellvitge
Alba U.
És un parc on de dia està ple de gent gran i de nens, però pel vespre i quasi la nit, s'omple d'un ambient no gaire bo.
41.348778, 2.110806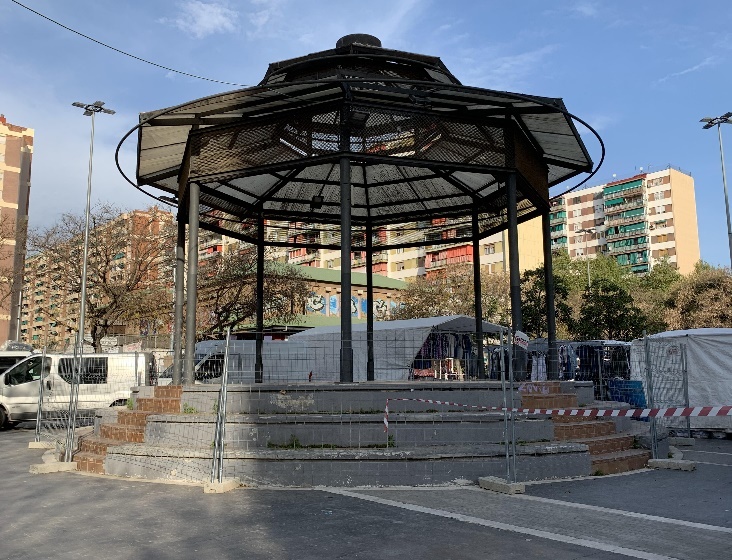 22/04/21
El Pirulo de Bellvitge
Laura L.
Aquest hem transmet bons records ja que sempre que anem els amics, ''el Pirulo'' és el nostre punt d'entrada.
41.35272, 2.11324
friends
meeting point
memories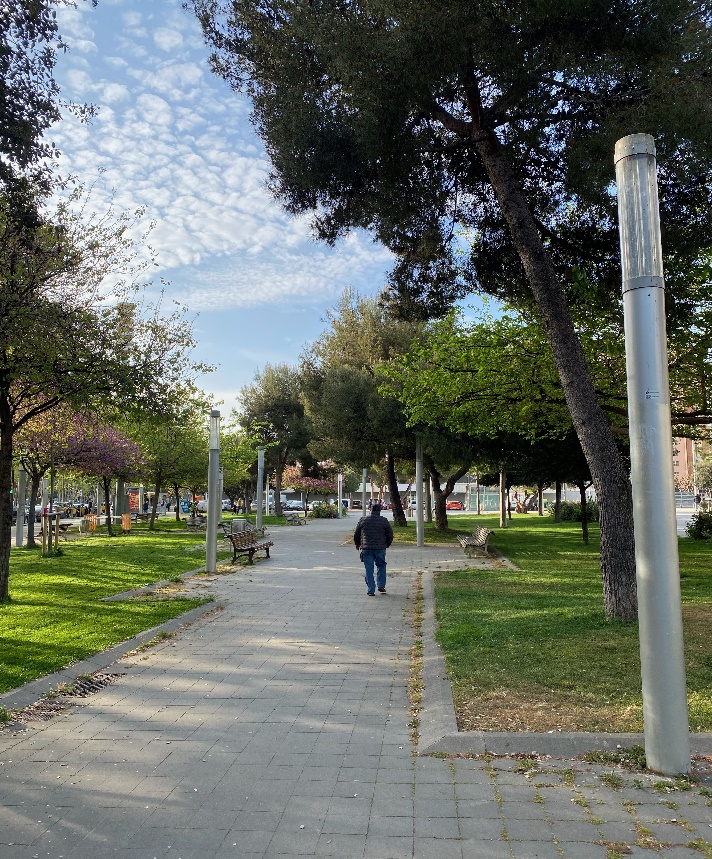 22/04/21
Parc del Marina Center
Lucía M.
Els meus amics i jo quedem els caps de setmana i ens quedem parlant sempre al mateix banc d'aquest parc.
41.351528, 2.110083
friends
laughs
meeting point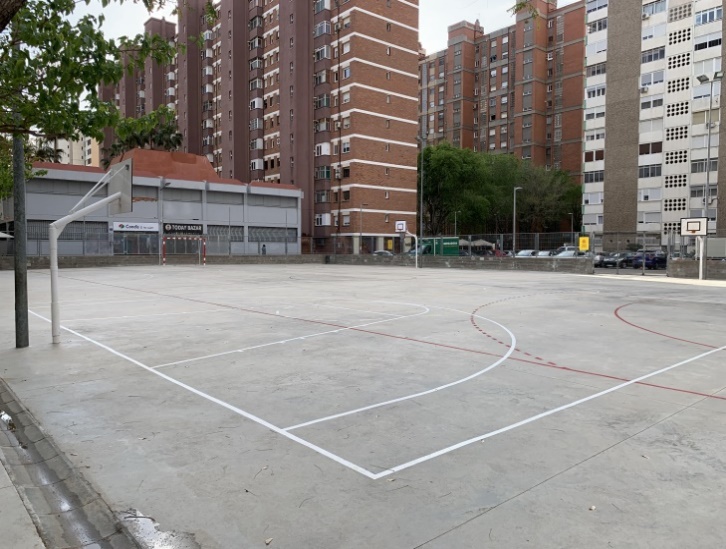 22/04/21
Escola la Marina
Aaron B.
He escollit aquest lloc perquè va ser la meva escola des de petit i tinc bons moments allà.
41.35331, 2.10904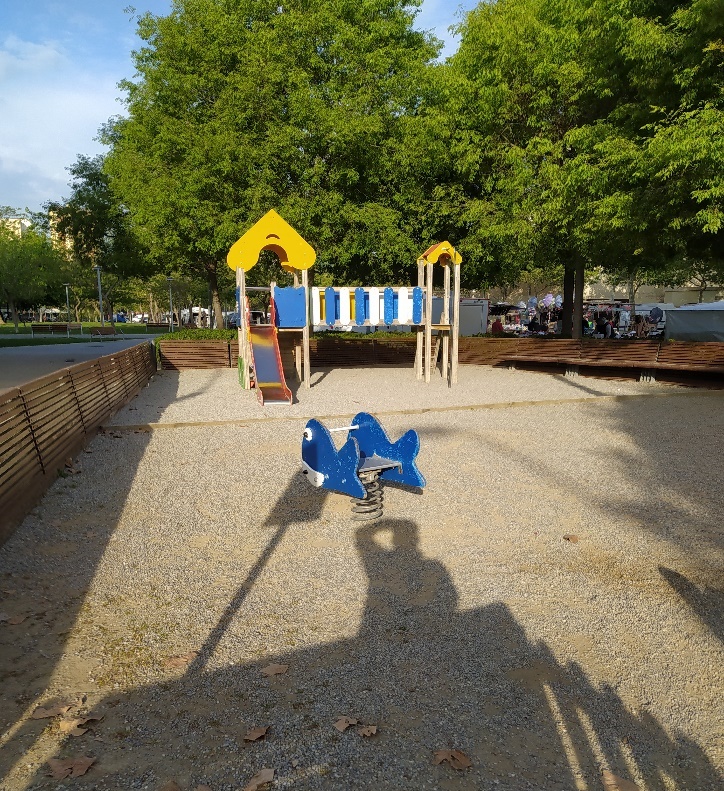 22/04/21
Parc de la biblioteca
Isaac C. i Pau J.
És un parc que hem transmet vibracions positives, li tinc molta estima ja que havia vingut de petit a jugar.
41.351611, 2.113222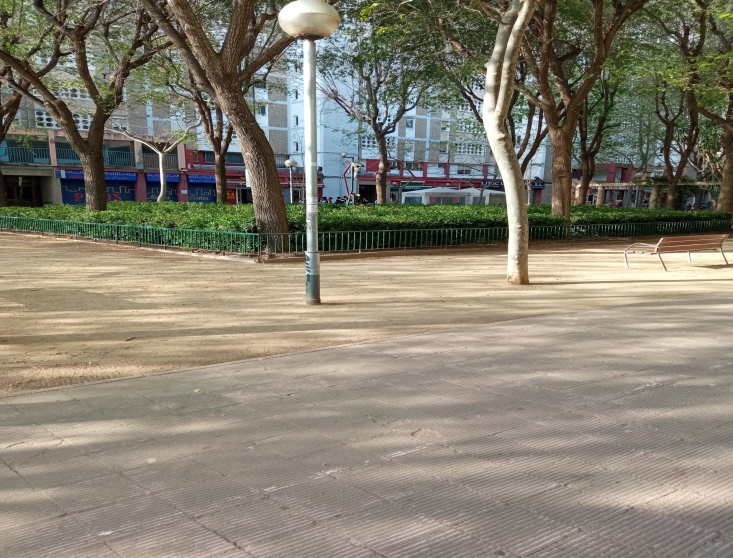 22/04/21
El parc de les caigudes
Victoria de la Cruz
Aquest lloc m'inspira mals moments perquè quan era petita em queia cada dos per tres i ho he batejat com el parc de les caigudes.
41.351323, 2.109346
22/04/21
Parc infantil Rambla Marina
Lucianne C.
És un parc tranquil però mai dona el sol, així que fa una mica de fred.
41.350444, 2.111889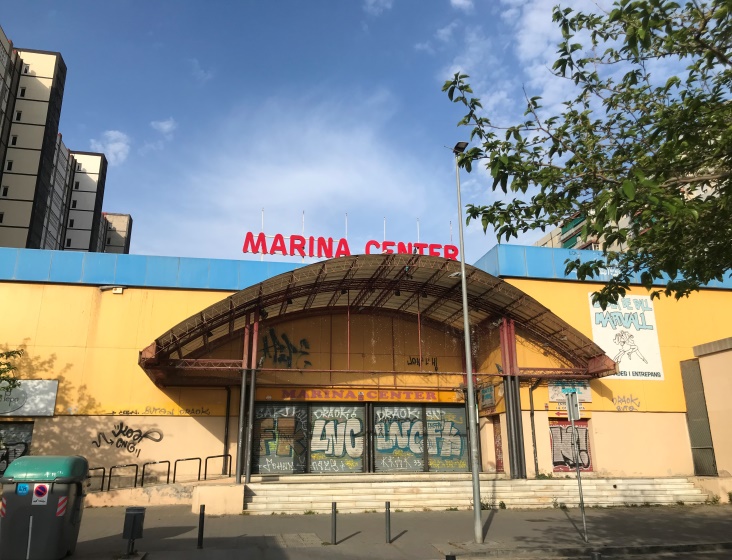 22/04/21
Marina Center
Sara A.
Es diu Marina Center i m'agrada perquè és un punt de trobada amb els meus amics i no passa molta gent.
41.351493, 2.108958
22/04/21
Bellvige
Alex Romero i Xavi Carrera
Anava tranquil en bici i em vaig donar el major ensurt perquè casi em menja un cotxe hi em vaig quedar amb una cara de por.
41.352490272609, 2.106874642593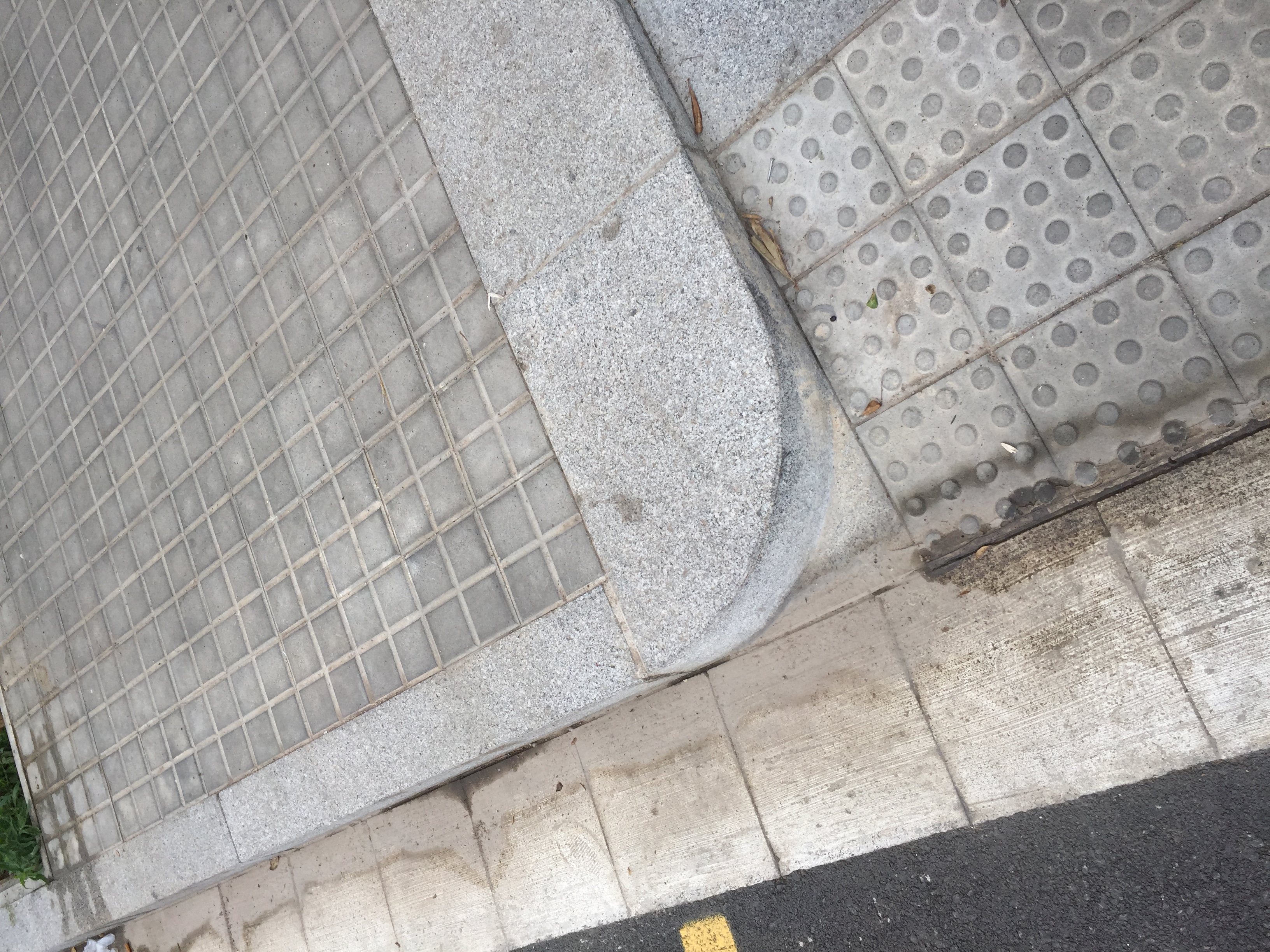 22/04/21
Bellvige
Alex Romero i Xavi Carrera
Anava molt feliç per el carrer però em vaig caure a causa de la vorera i vaig plorar.
41.352638291158, 2.1066147354428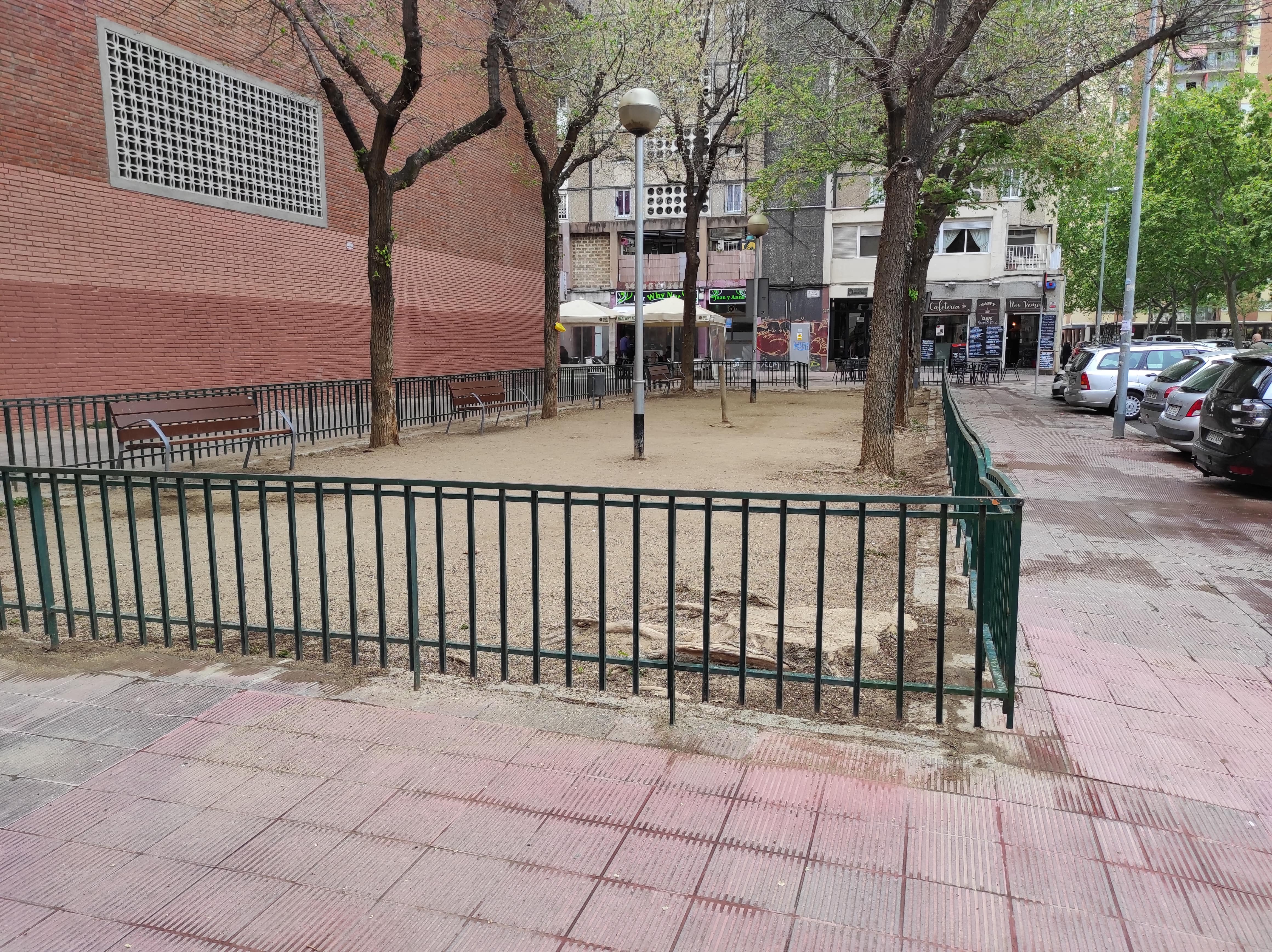 22/04/21
La meva iaia i la meva gossa
June
En aquest lloc passejava a la meva gossa amb la meva iaia i m'agradava molt passar temps amb elles, i ara que cap de les dues estan aquí ho recordo amb estima.
41.351374, 2.108473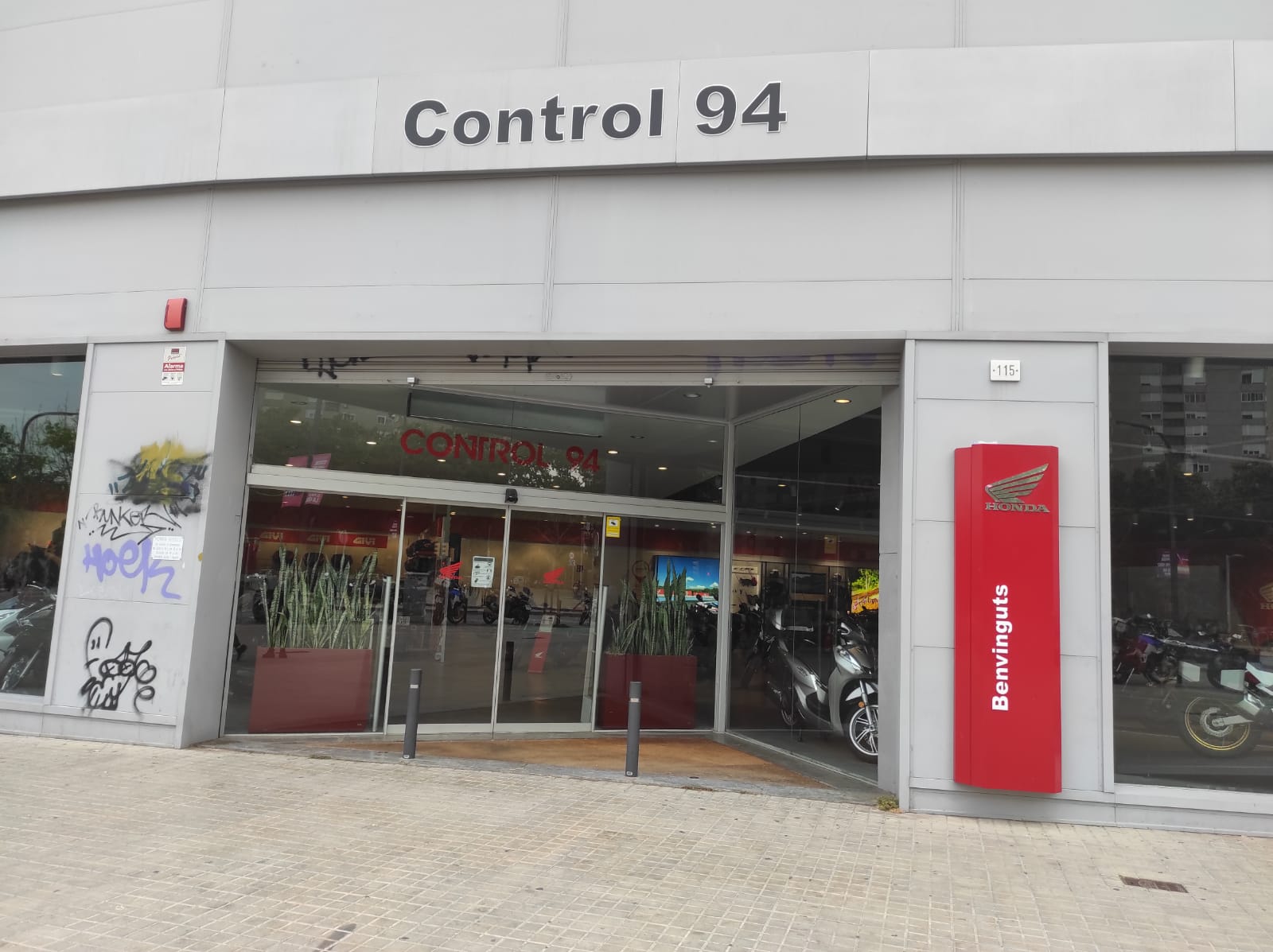 22/04/21
Bellvige
Alex Romero i Xavi Carrera
Quan recordo que vaig acompanyar al meu pare a comprar una moto, em dóna ganes de somriure.
41.353623898208, 2.1073221925676
22/04/21
Ping-Pong Parc Nou
Maria
És un lloc desolat i solitari, per la nit hi passen borratxos i et criden coses desagradables. No m'agrada gens ja que he passat moments molt angoixosos i he hagut d'aguantar comentaris horribles. Passar per aquesta zona només em transmet por.
41.348472, 2.111384
22/04/21
Bellvige
Alex Romero i Xavi Carrera
Quan recordo que fa 5 anys van comprar els meus pares un matalàs, em vaig posar molt content.
41.353169370875, 2.1062678254408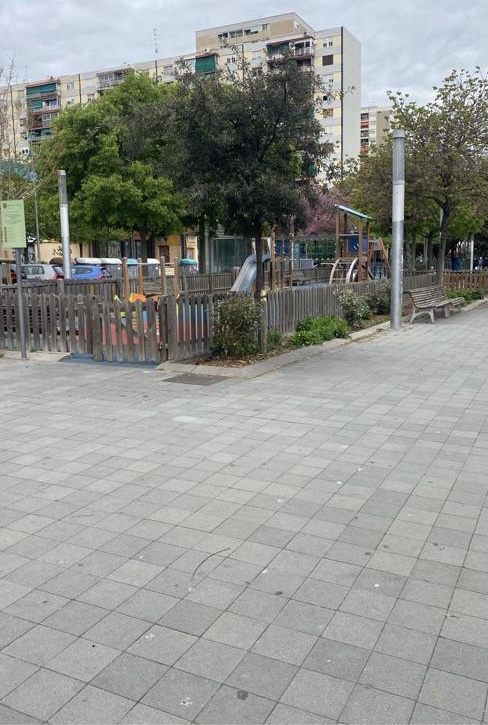 22/04/21
Patc Marina Center
Irene
Vam passar el millor estiu amb els nostres amics i amigues. Va ser un moment on les dues estavem tristes per motius familiars, i aquí vam conèixer alguns dels nostres amics actuals. En aquest lloc ens vam aïllar dels nostres problemes per unes quantes hores.
41.351035, 2.10991
22/04/21
Canasta
Hugo
Per a mi va ser negatiu perquè jugant amb un amic meu em vaig trencar un dit.El que vaig sentir va ser un dolor molt lleuger i tristesa perquè tindria que anar a l'hospital i no em podria quedar jugant.
41.352732351771, 2.1132472629621
22/04/21
Caiguda
B
Aquí vaig tenir una experiència molt dolenta. Anava cap a classe amb el meu avi quan era petita, el meu avi no podia aixercar molt les cames, i entre el mal estat de les escales i que tampoc hi ha una barana per a que es pugui agafar, es va caure a terra i es va donar al cap. Per sort el vaig poder agarfar per a que no caigués amb tanta força.
41.349714, 2.111521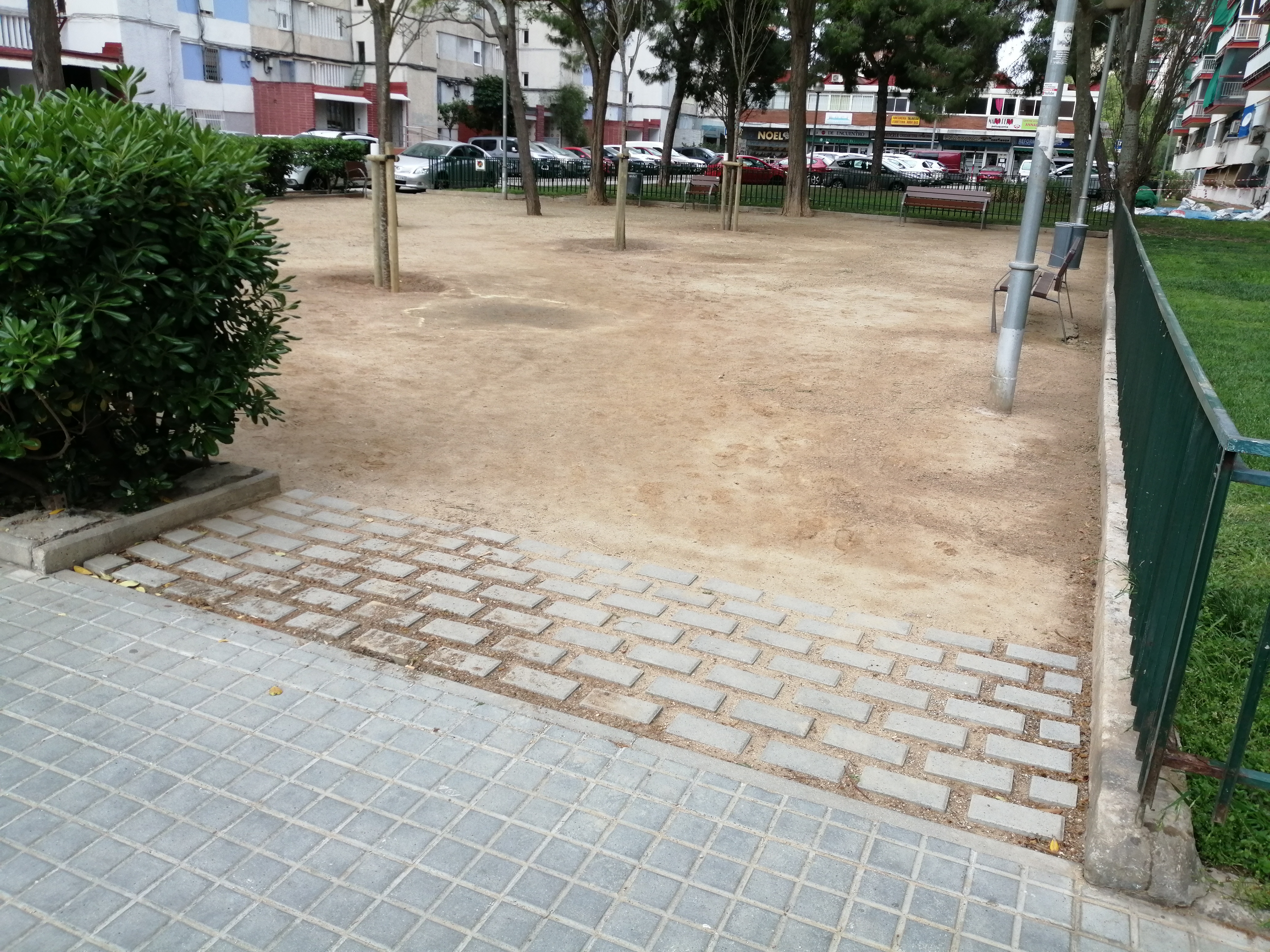 22/04/21
UNA DOLENTA CAIGUDA
Joel Carranza
En aquest lloc que surt en aquesta foto va ser on de petit em vaig caure de una moto de nens petits. Hem vaig caure de boca i doncs uns quants anys amb un dent gris. En aquest moment em vaig sentir trist i amb molta ràbia de no poder fer res.
41.353701170397, 2.1145156497312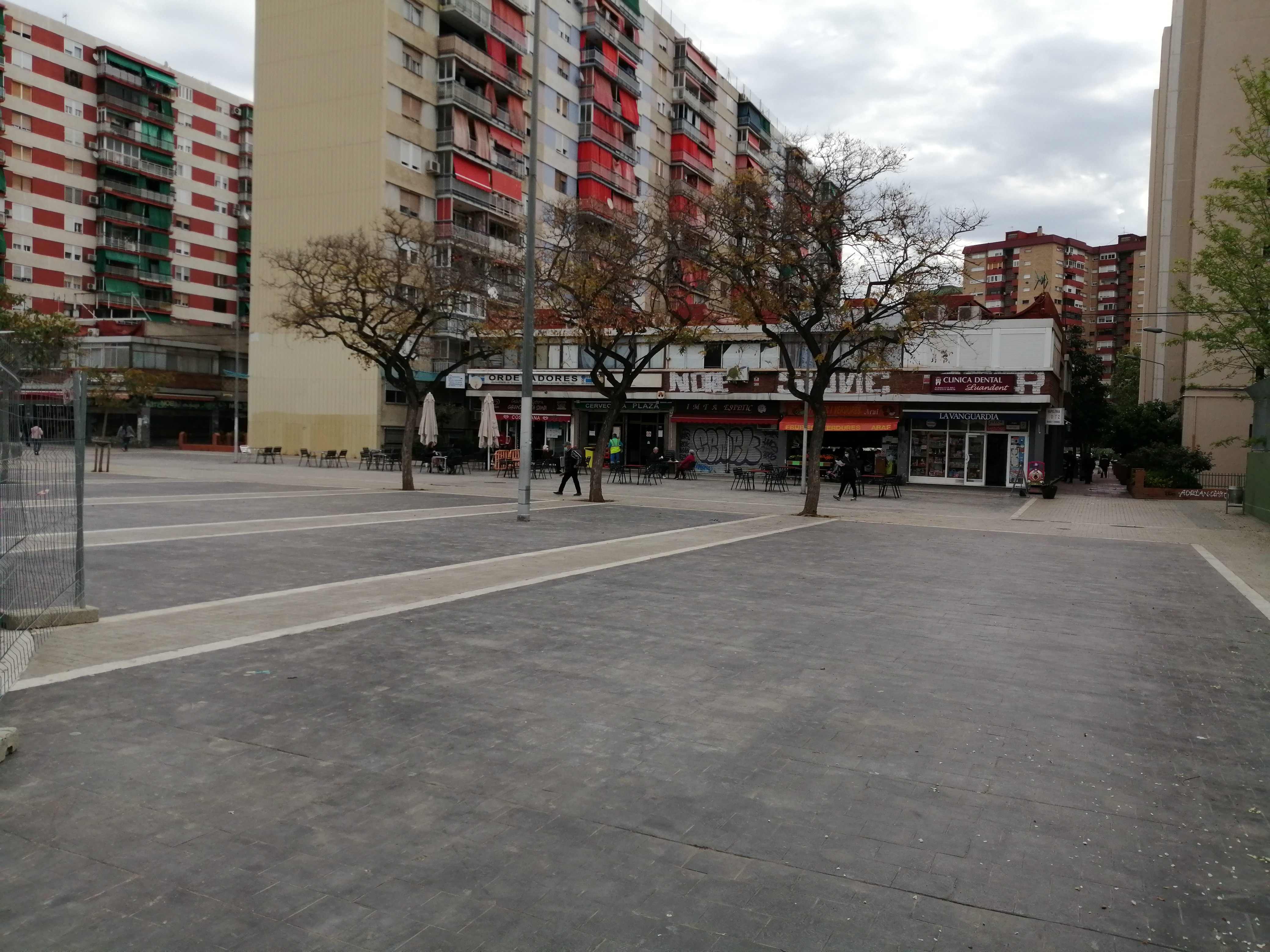 22/04/21
UNA FELICITAT MOLT GRAN
Joel Carranza
En aquest espai que surt en la fotografía vaig ser un dels meus dies més alegres de la meva vida. Va ser el primer cop que vaig veure el futbol en vida real i on el vaig jugar. Tambè va ser on vaig celebrar quan Espanya va guanyar el mundial de fútbol a Sudàfrica en 2010.
41.352730542743, 2.1132491686601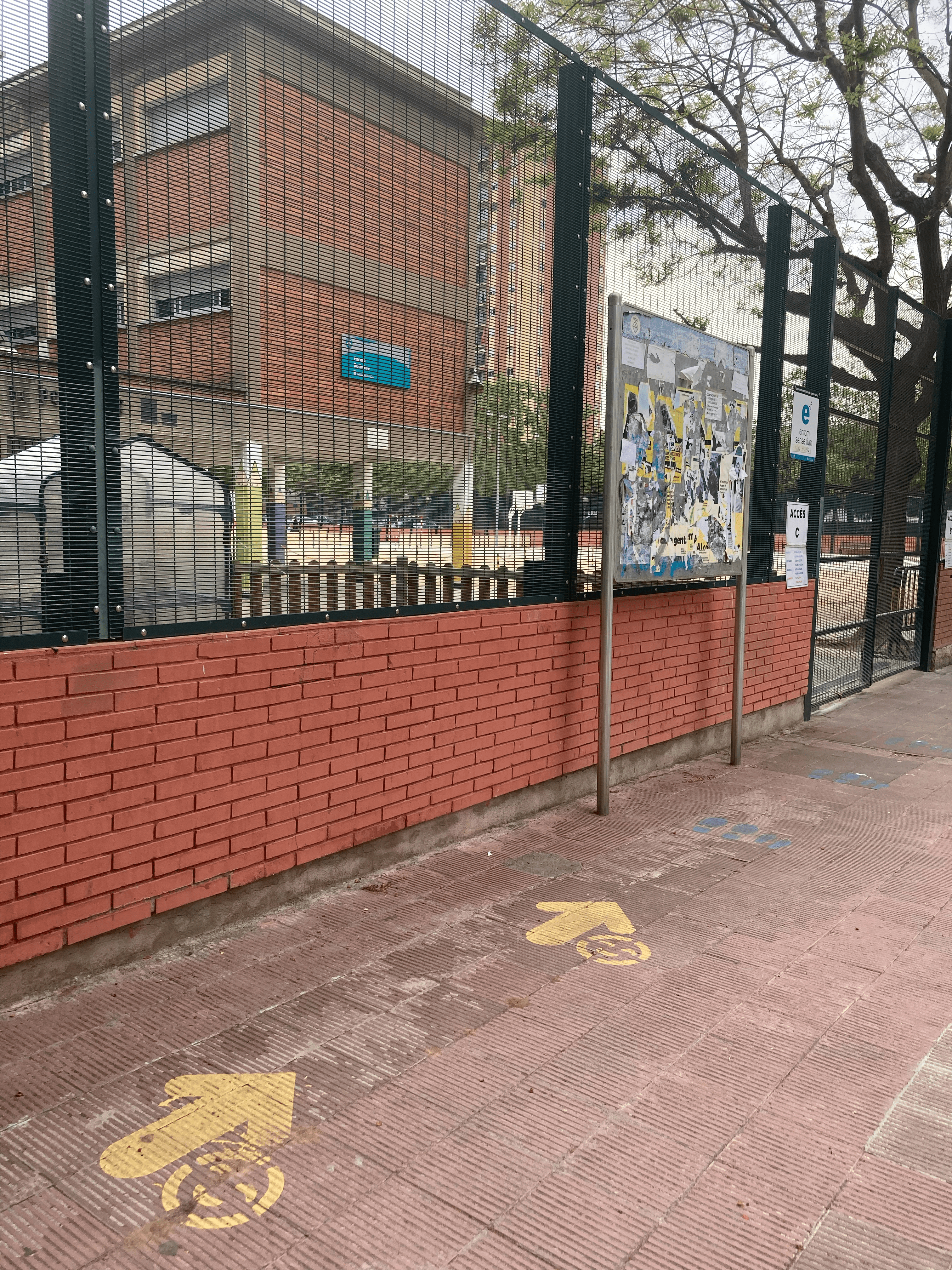 22/04/21
L'Hospitalet
SERGI AYALA TRIGOSO
era el atic culegi de sergi
41.350064, 2.107211
21/04/21
L'Hospitalet
SERGI AYALA TRIGOSO
Hem vag caure del pati electric
41.352097, 2.11273
21/04/21
L'Hospitalet
SERGI AYALA TRIGOSO
va ser mi antic culegi de cole
41.350064, 2.107211
21/04/21
L'Hospitalet
SERGI AYALA TRIGOSO
va ser mi antic culegi de cole
41.350064, 2.107211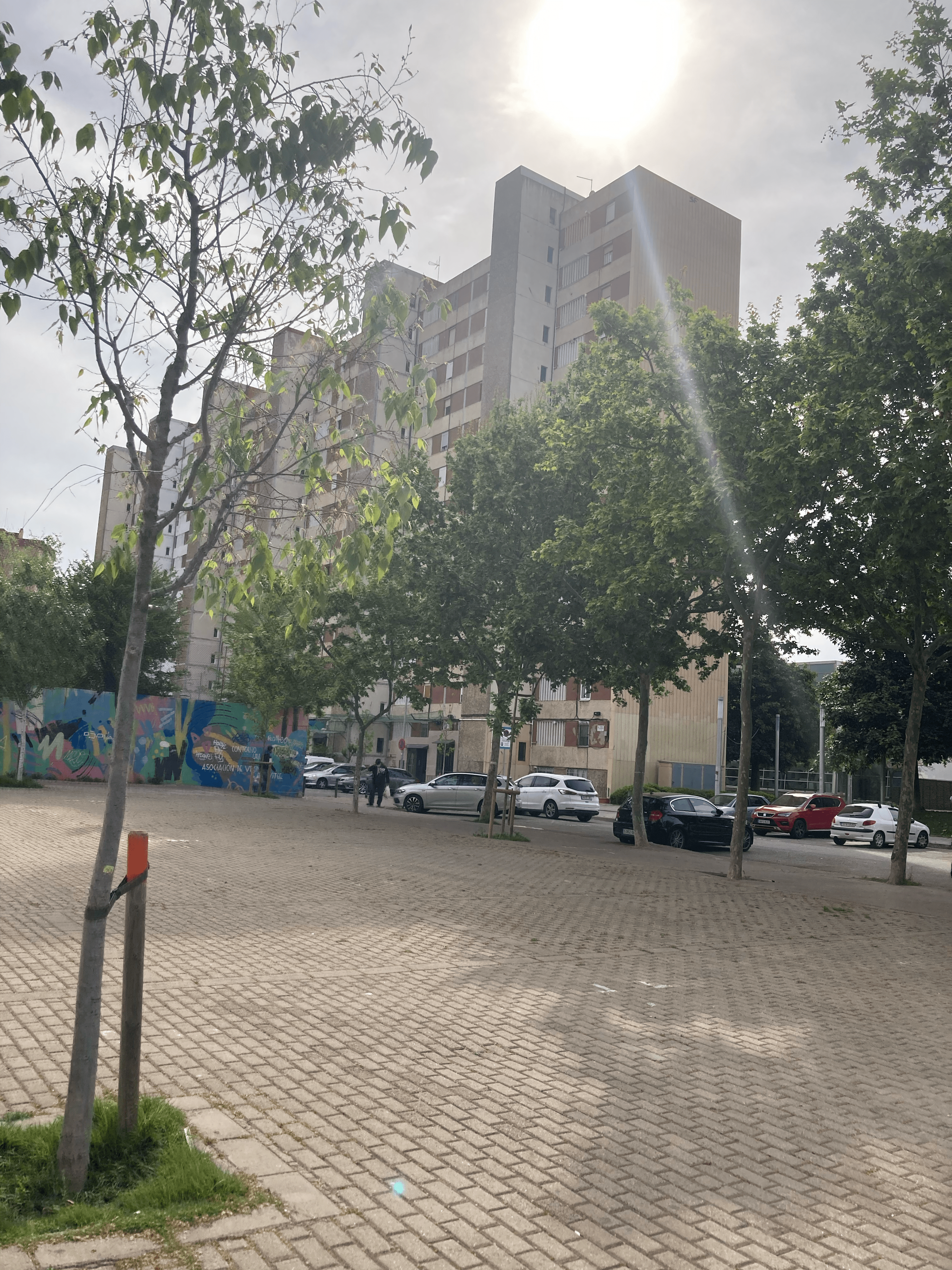 21/04/21
L'Hospitalet
SERGI AYALA TRIGOSO
Va ser mi primera casa a hospitalet.
41.351928, 2.112956
fear
happiness
joy
sadness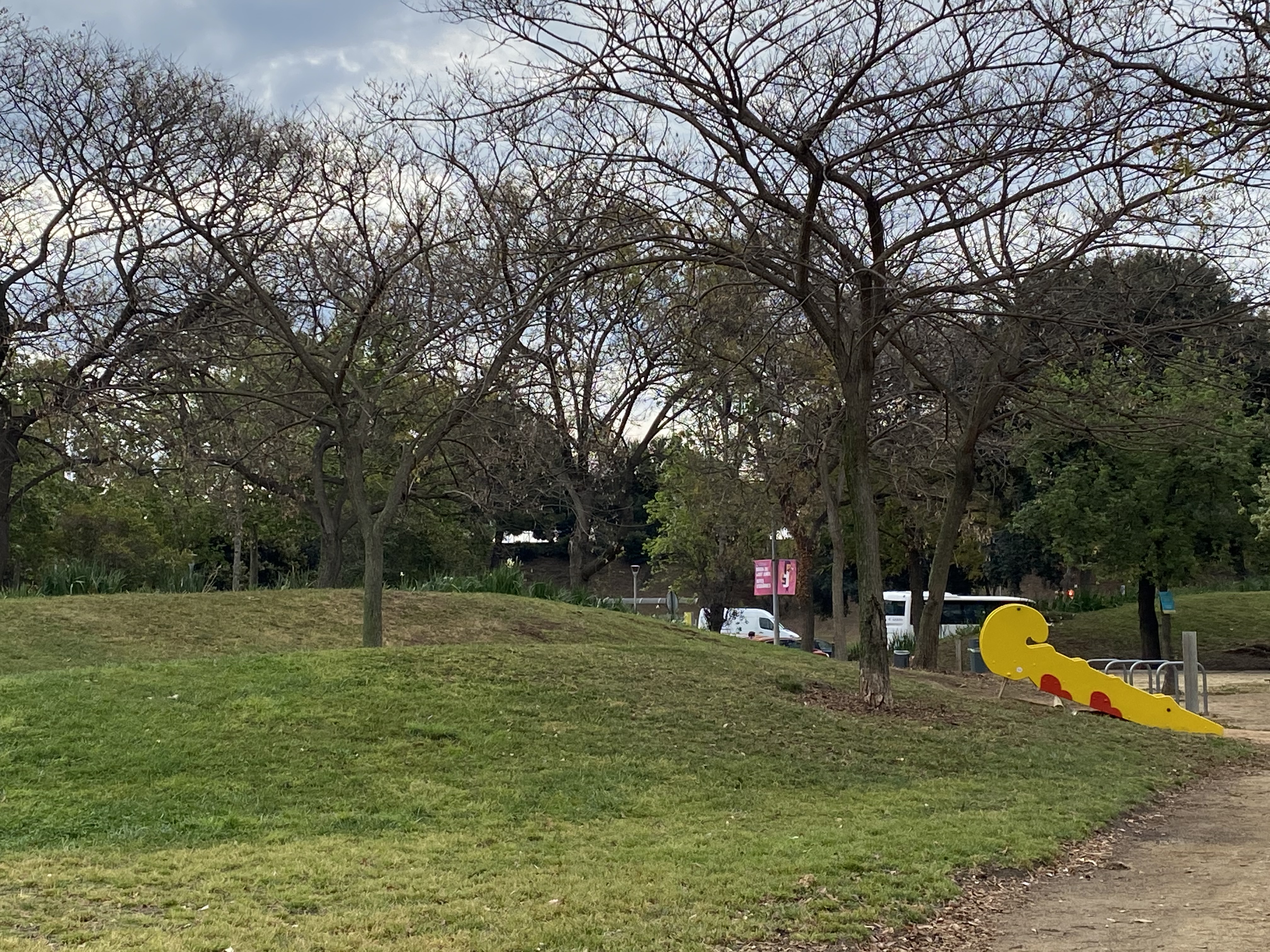 21/04/21
Quan era petita
Soraya
la Soraya va tindre la experiencia de que quan era petita tots els aniversaris van ser alla i te molts bons record. La sensacio que te al passar per aquest lloc es alegria i añoransa.
38, 8907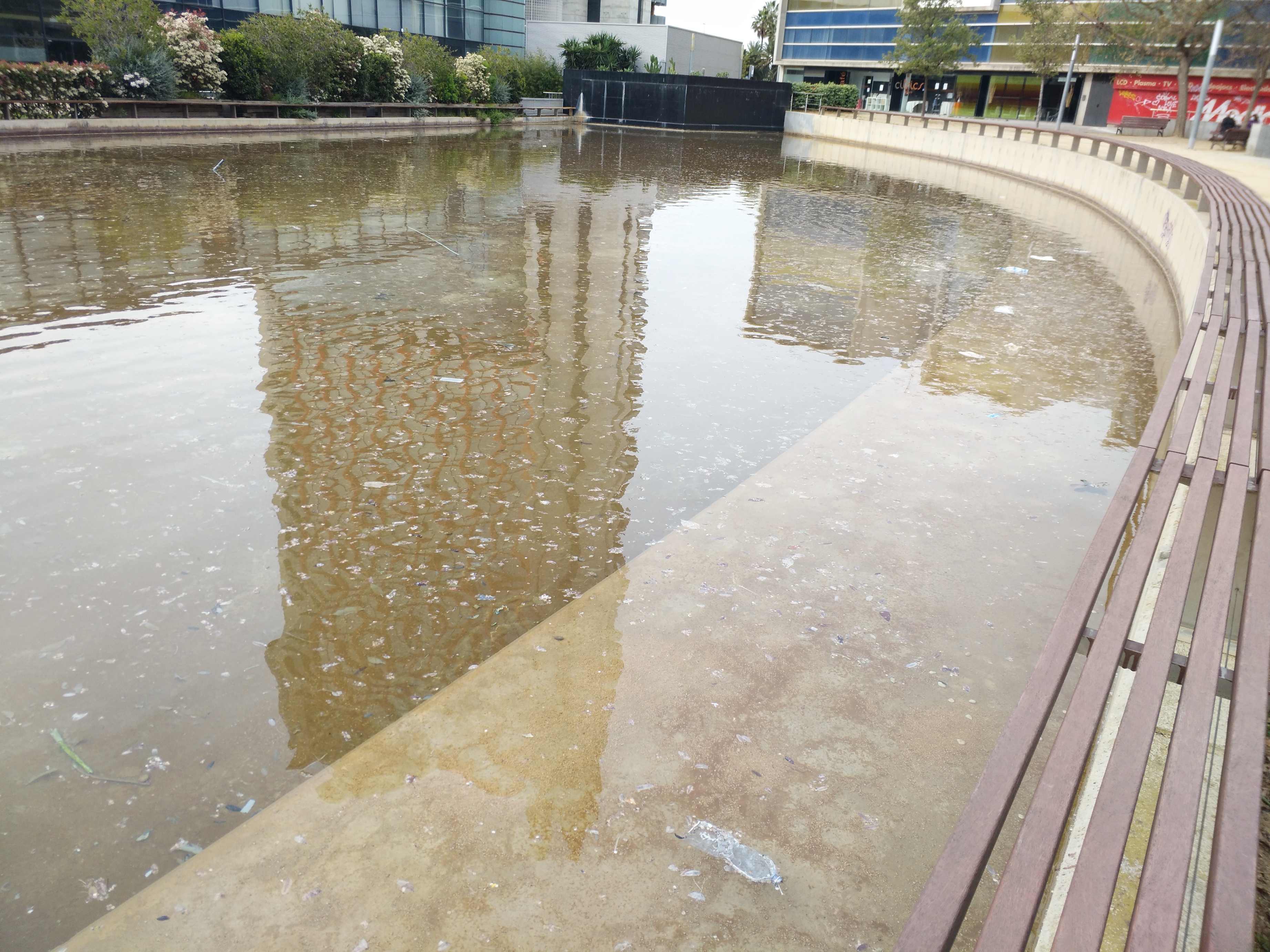 21/04/21
Largo
Diago Lucas Quispe Velardes
Es una experiencia negativa porque cuando camino o visito esa zona siempre veo que el agua esta sucia o que hay botellas dentro de el agua porque hay gente que lo tira y no me gusta ese aspecto y me da ganas de estar en otro lugar, lo que mas me inporta es que se limpie el agua y que no este sucia
41.347101, 2.108902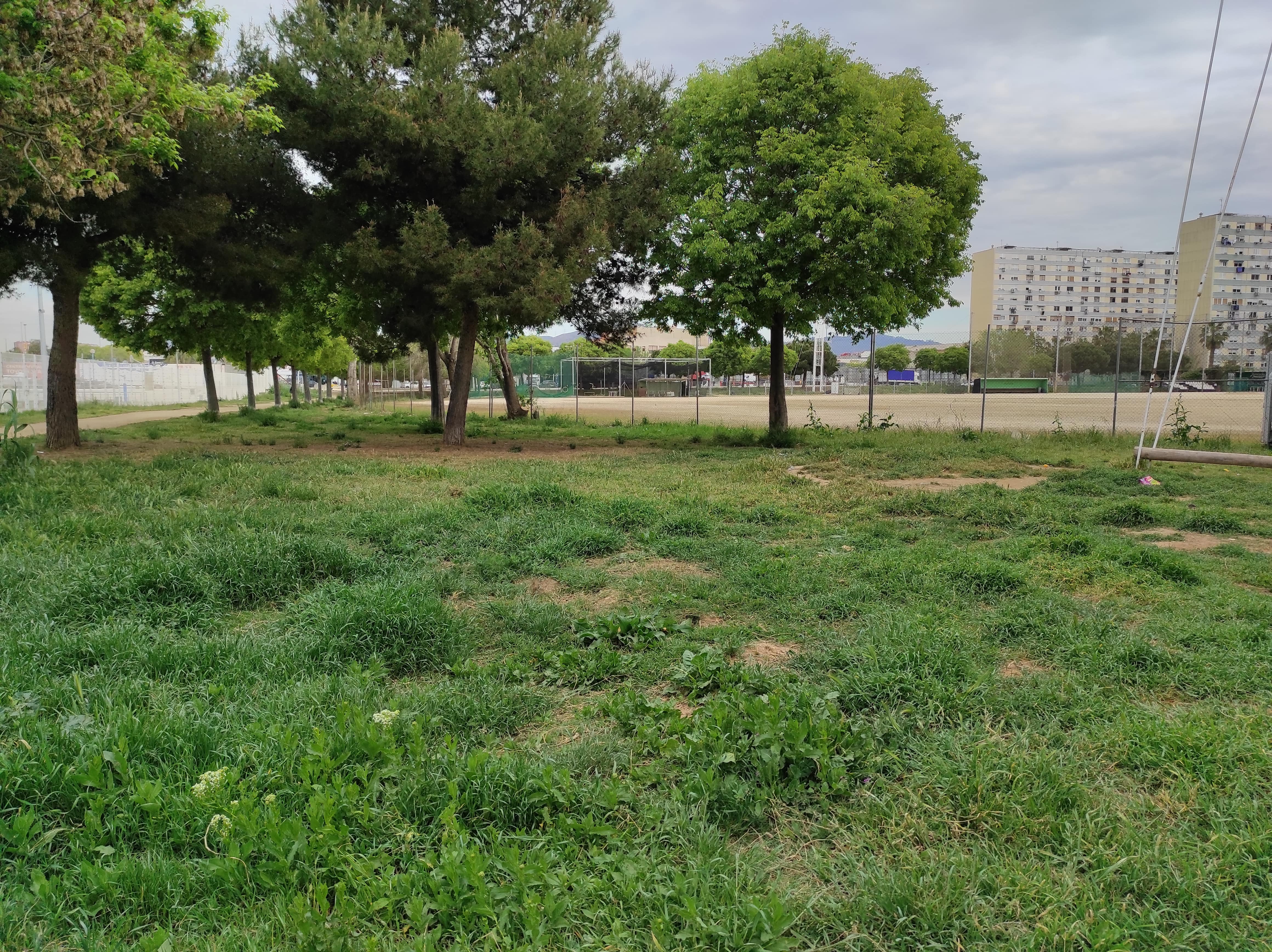 21/04/21
Amigues
June
En aquest lloc les meves amigues i jo ens quedem amb una manta a l'herba i ens posem a parlar o escoltar música. Em sento molt feliç perquè ens ho passem molt bé totes juntes.
41.348805, 2.103786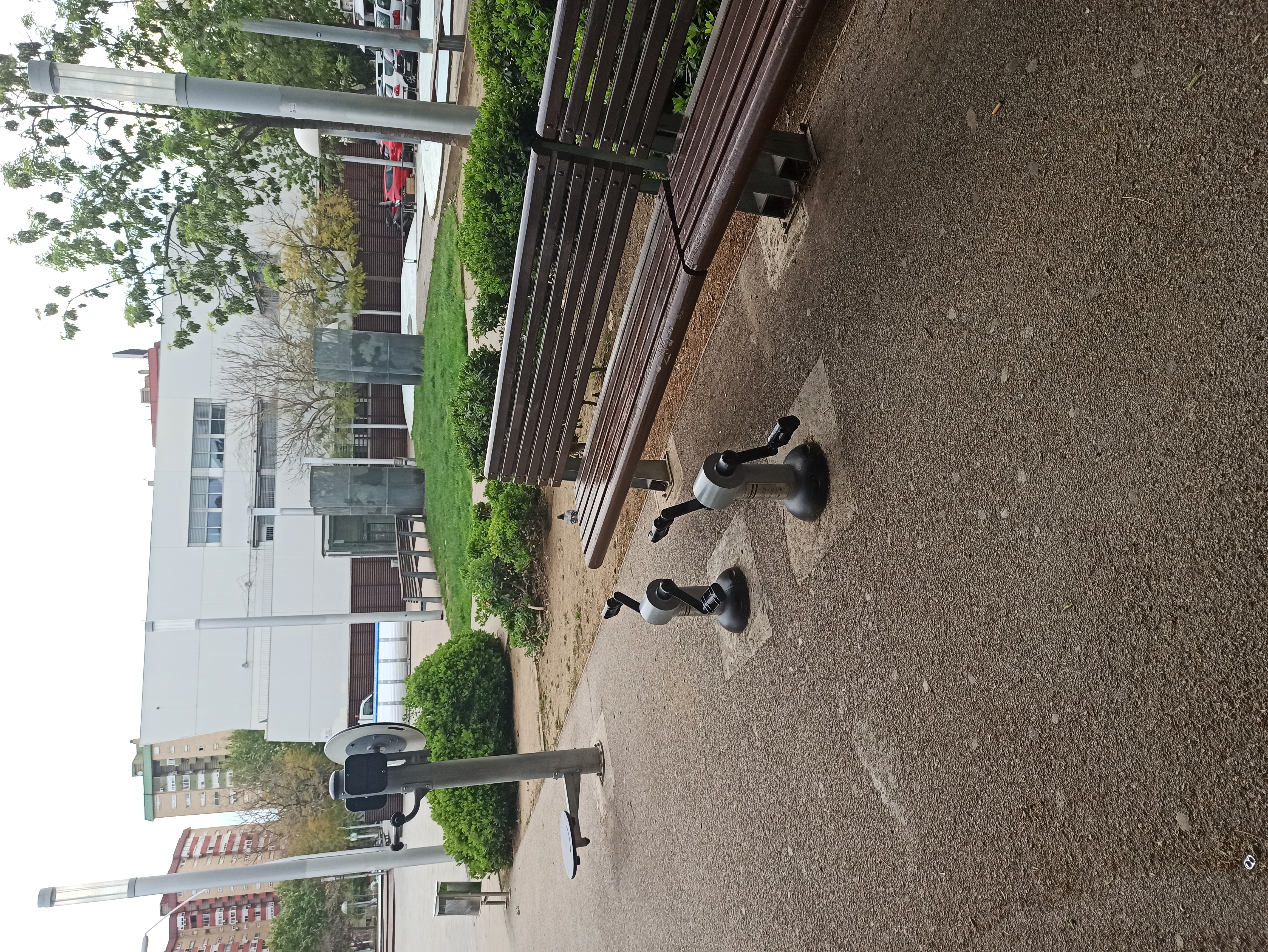 21/04/21
Passar l'estona amb amics
Bianca
Aquí ens quedem cada tarda els meus amics i jo després de classe per parlar i passar l'estona.
41.351124, 2.113285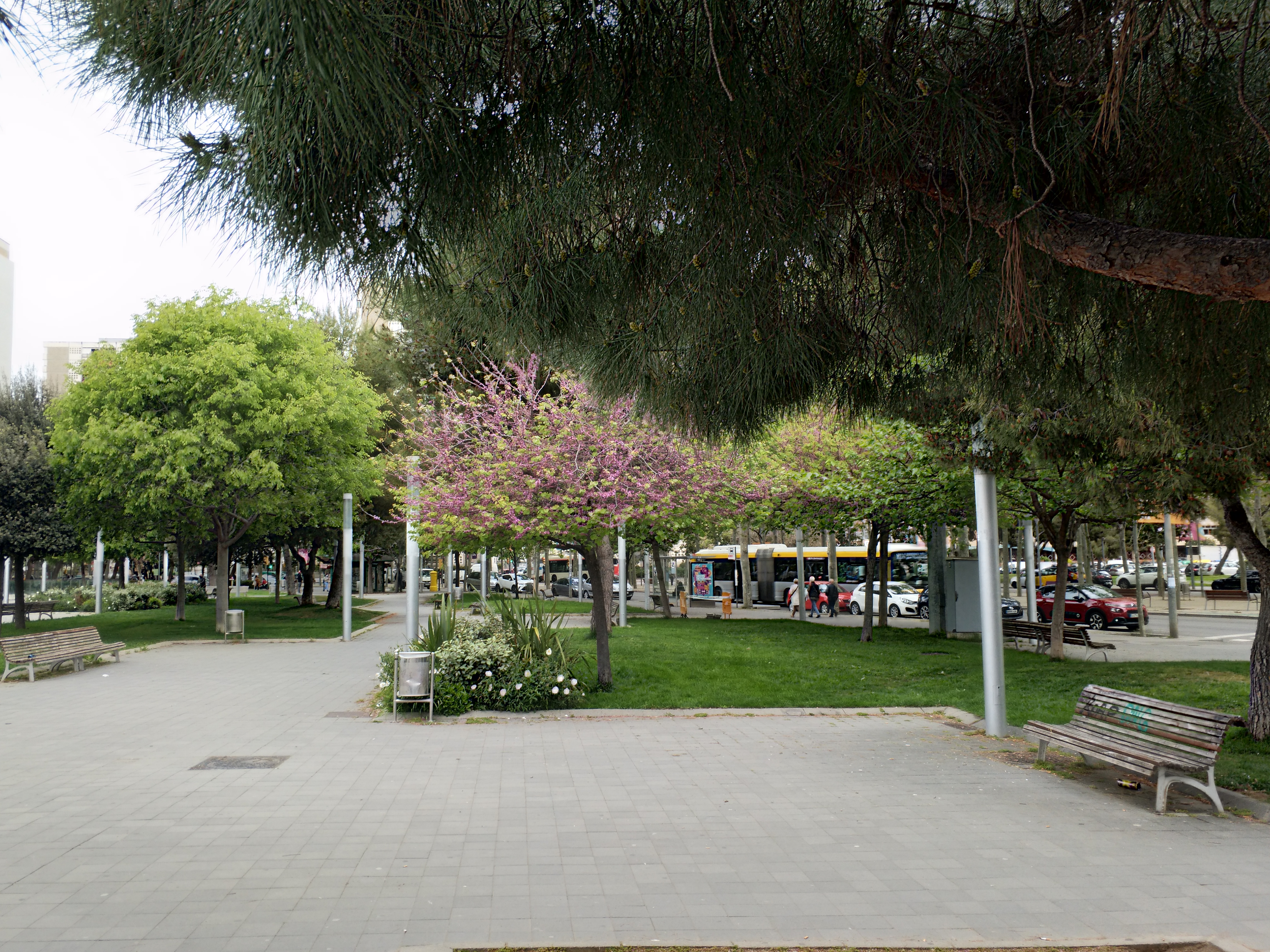 21/04/21
Parque
Diago Lucas Quispe Velardes
Es una foto de experiencia positiva. Porque cuando me siento en los Bancos me gusta contenplar la naturaleza y me gusta respirar lo limpio que esta y bonito, y me gusta pasar y porque me siento libre y feliz
41.351339, 2.110148
21/04/21
La caida amb els patins de línia
Soraya
En aquest lloc va ser on em vaig trencar la nina amb els patins de línia. En aquell moment vaig sentir una mica de por perquè no sabia el que em passava. També vaig tenir un sentiment de dolor per la caiguda i no em vaig sentir molt bé.
41.3507, 2.11456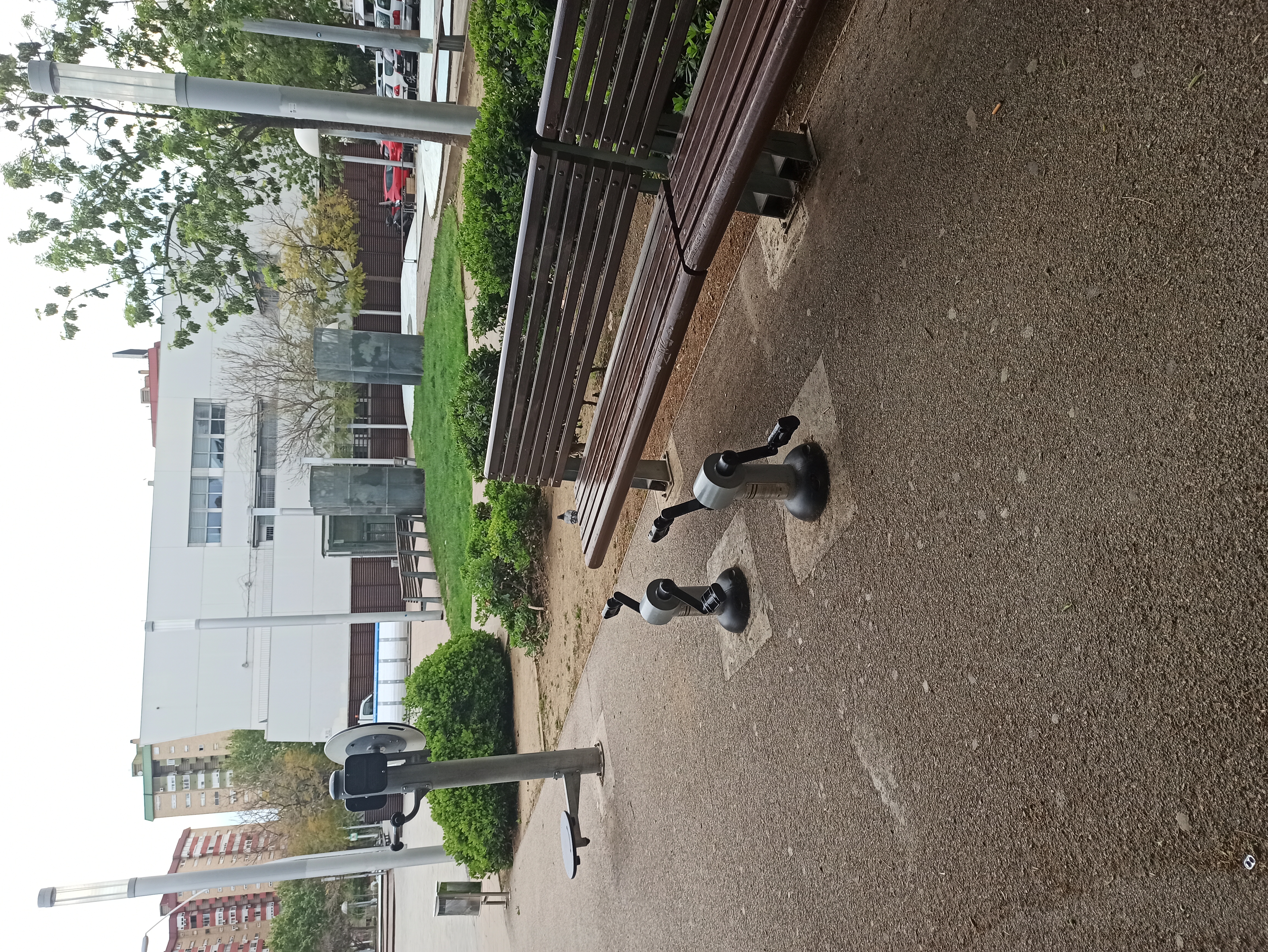 21/04/21
Passar l'estona amb amics
Bianca
Aquí ens quedem tots al sortir de classe per parlar i passar l'estona cada tarda.
41.351111, 2.113305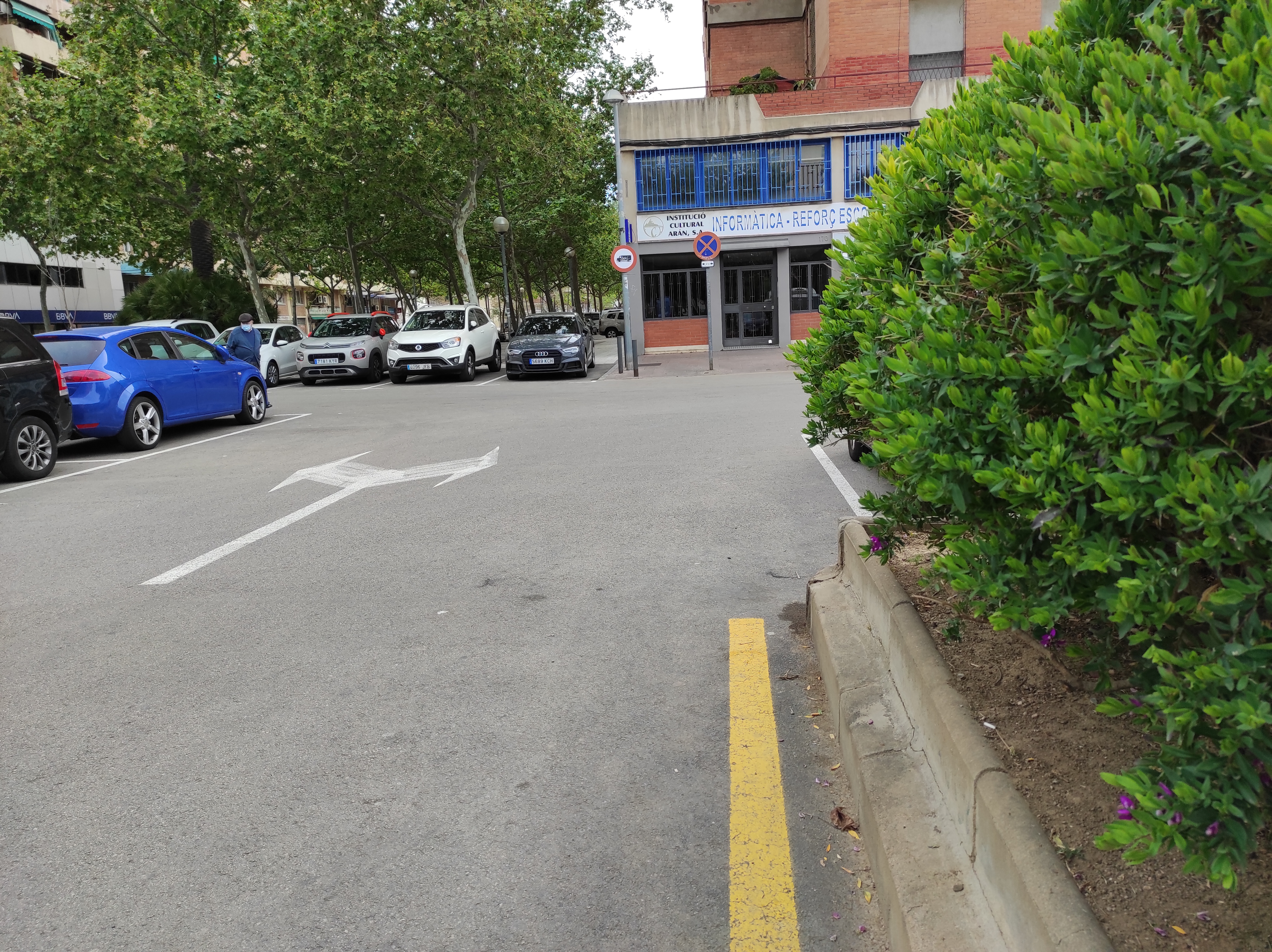 21/04/21
Quasi m'atropellen
June
En la foto es veu el lloc on quasi m'atropellen. Anava amb el patinet i un cotxe, que anava molt de pressa, no em va veure i quasi m'atropella. Si no m'hagués tirat ràpidament a terra, m'hauria atropellat. Després d'haver-me apartat el cotxe va fugir. Em vaig espantar molt, però després, en donar-me compte que no m'havia fet res vaig estar més tranquil·la.
41.3519666, 2.1111345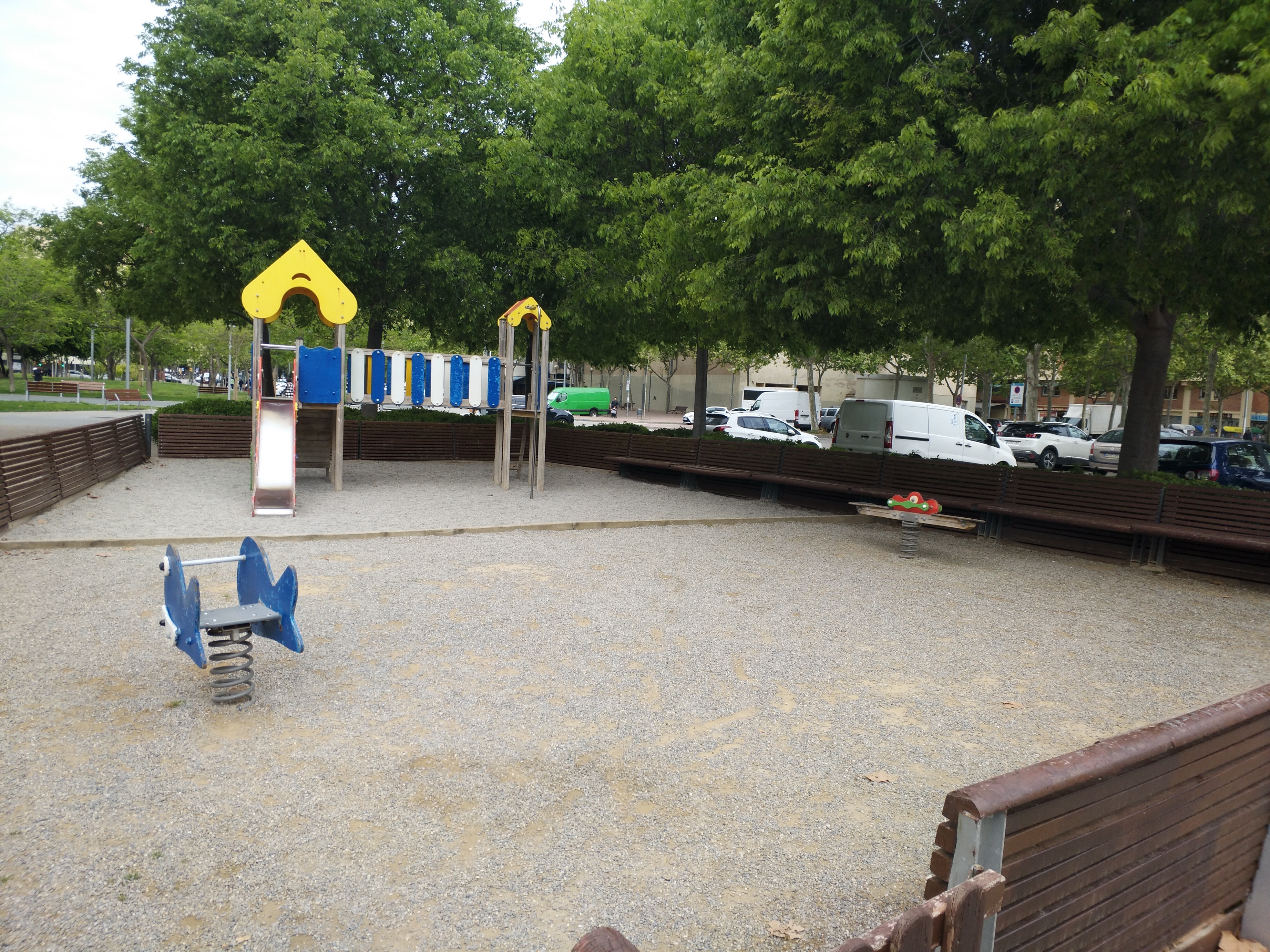 21/04/21
parque
Bolé Àngel Wu
Esta foto fue una experiencia positiva porque cuando pasé, vi a muchos niños animados jugando en el parque. Bellvitge también tiene muchos de estos parques. Estos parques ofrecen muchos lugares para que los niños jueguen, de modo que los niños tengan un lugar muy seguro para jugar. Porque creo que estos parques permiten a los padres poner a sus hijos en un solo lugar sin preocuparse, por eso creo que es muy importante.
41.351493, 2.112979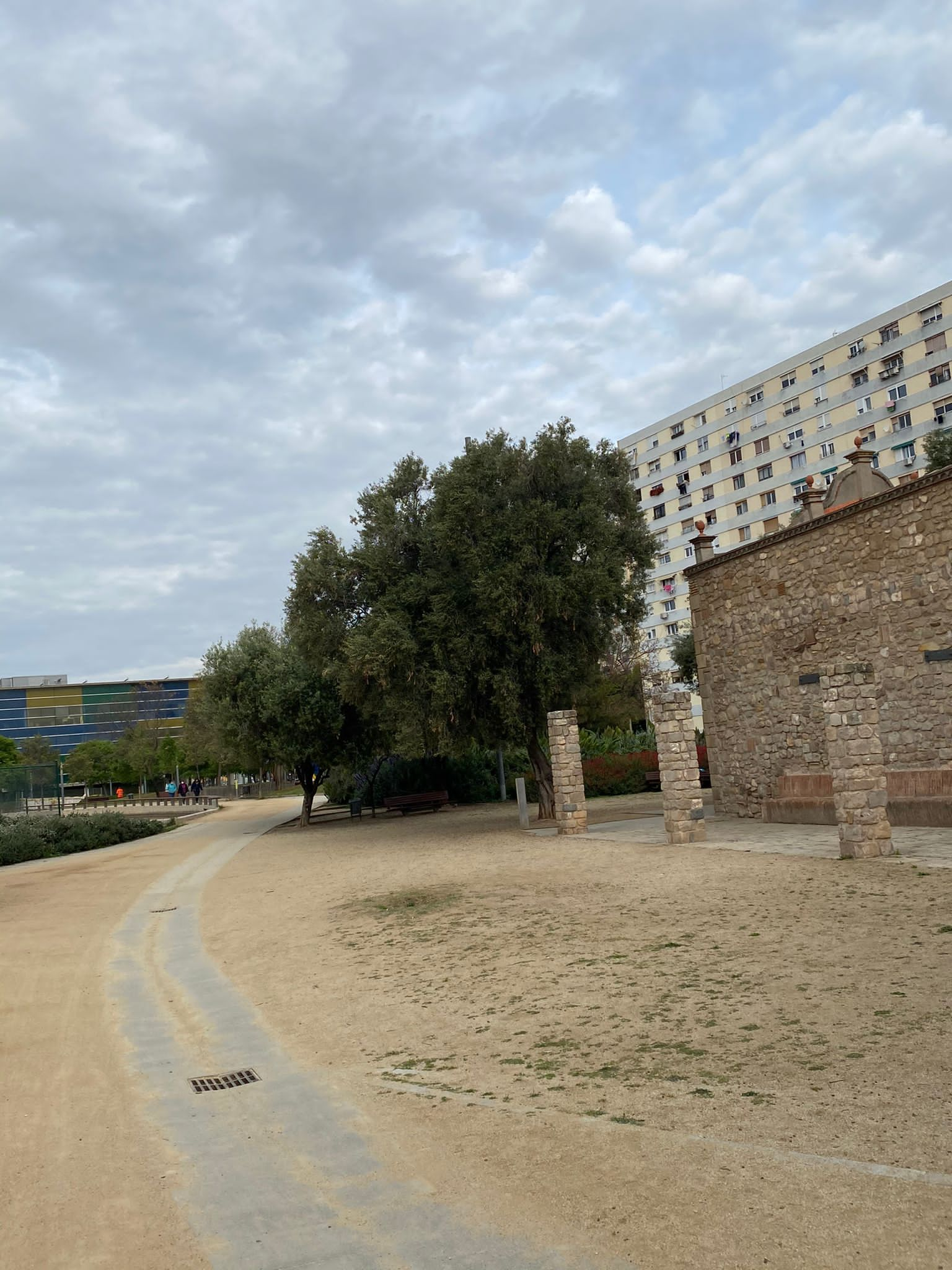 21/04/21
La caida en patinet electric
Sofia
En aquest lloc el que hem va passar es que hem vaig caure amb el pati elèctric, perquè una nena petita es va creuar i per no atropellar-la vaig fer un gir i vaig caure. Hem vaig espantar per l'impacte de caure i vaig tenir molts nervis pel que havia passat.
41.3370079, 2.0885902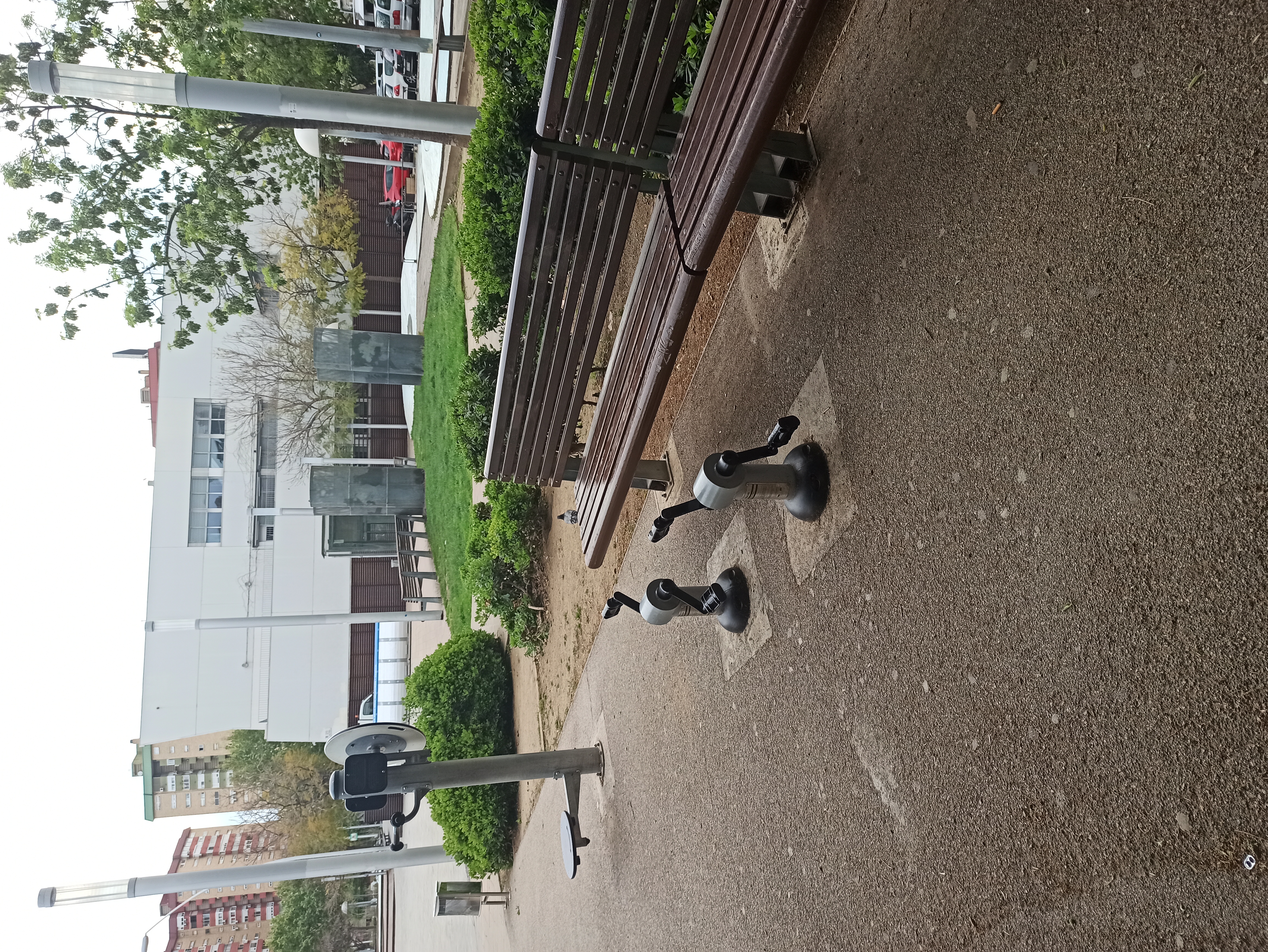 21/04/21
Passar l'estona amb amics
Bianca
Al sortir de classe sempre ens quedem tots a parlar i passar l'estona als bancs de la plaça de la biblioteca.
41.351111, 2.113305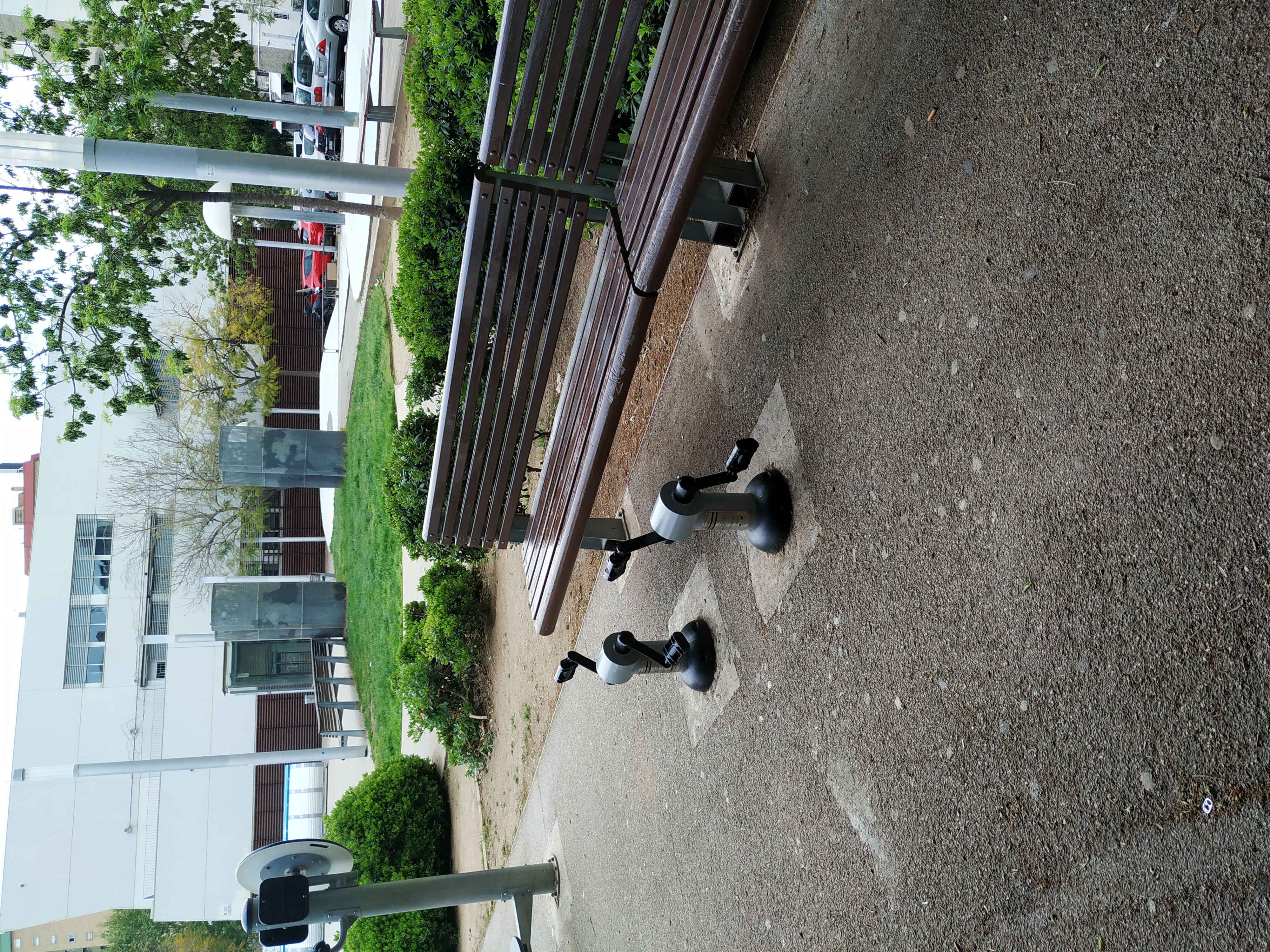 21/04/21
Tarda amb amics
Noa
Aquesta foto es on cada tarda al sortir del cole els meus amics i jo ens posem a berenar i a pasar la tarda.
41.351111, 2.113305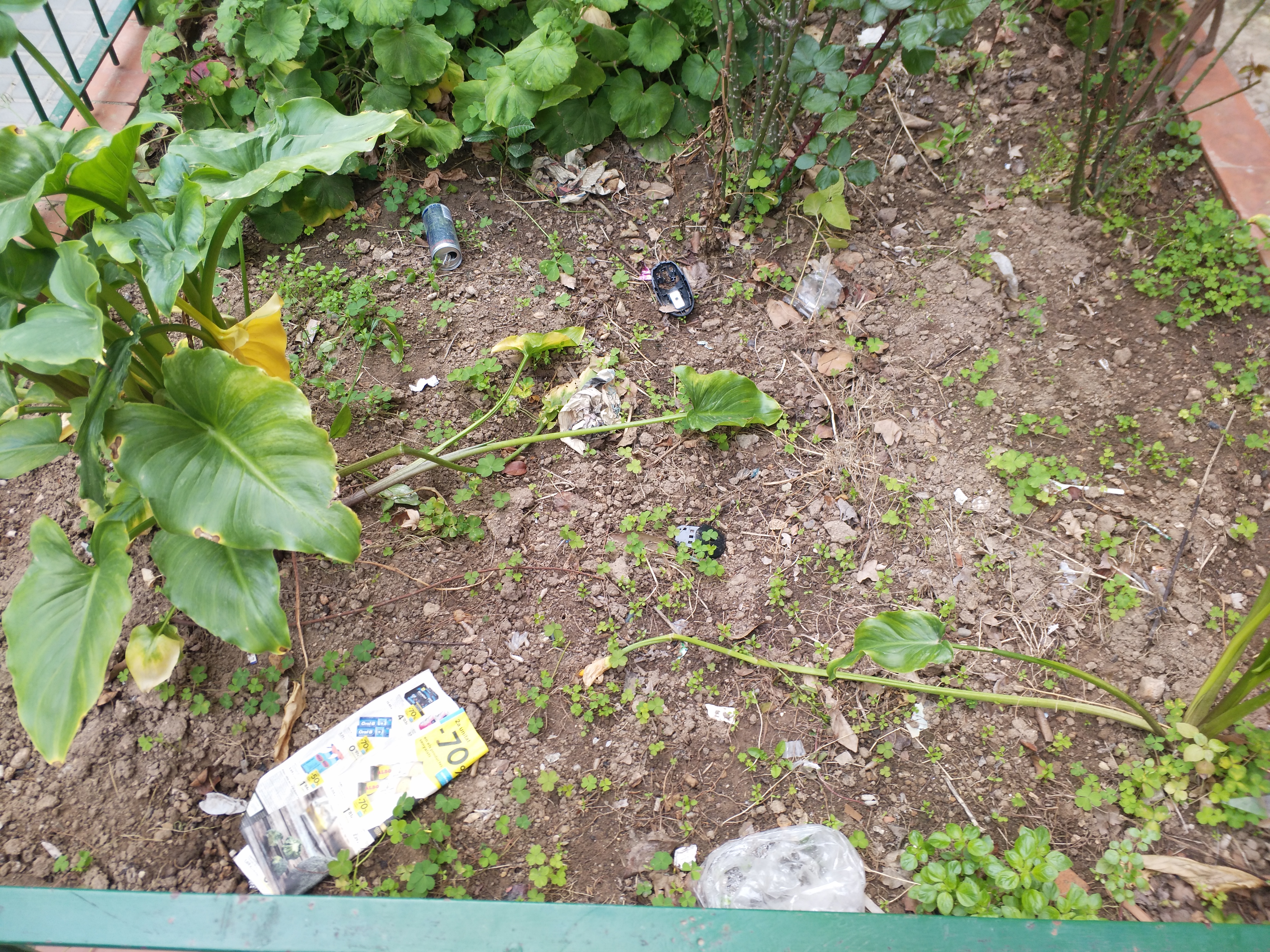 21/04/21
Paso por aquí todos los días, así que quiero cambiar cosa mala de ahí
Bolé Àngel Wu
Esta foto es de una experiencia negativa, porque todas las mañanas cuando camino por este jardín veo gente tirando basura en él, a veces la basura huele mal y me dan ganas de irme de allí lo antes posible, porque espero que a través de esto, la gente no tire basura, para que la gente pueda tirar la basura a la basura a voluntad, así que esto es muy importante para mí.
41.350415, 2.112359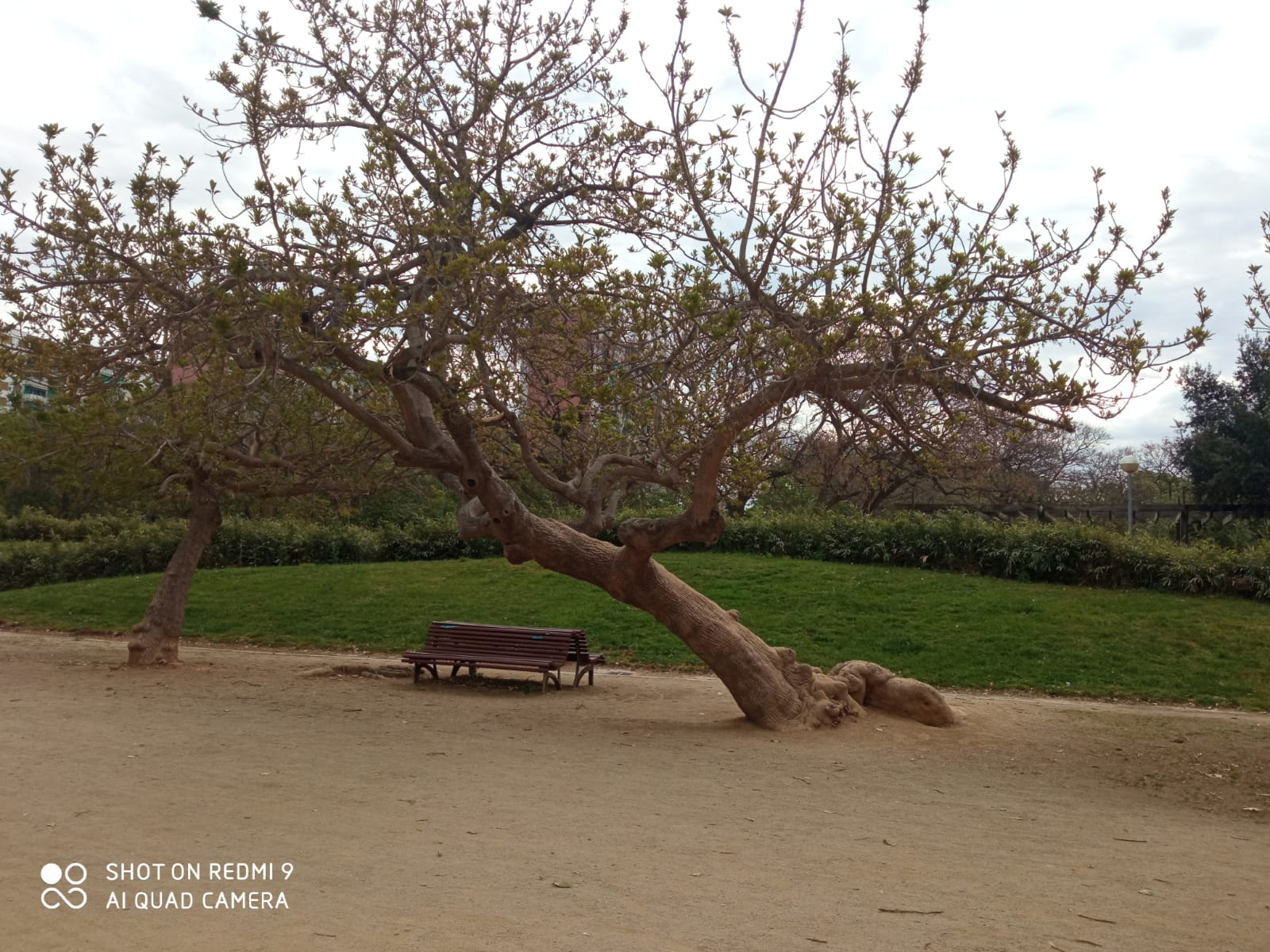 21/04/21
El arbol
Candela
Cuado voy a este parque siempre me subo a ese árbol. He pasado muchos momentos hay así que se ha vuelto un sitio de tranquilidad para mí.

41.348734, 2.110957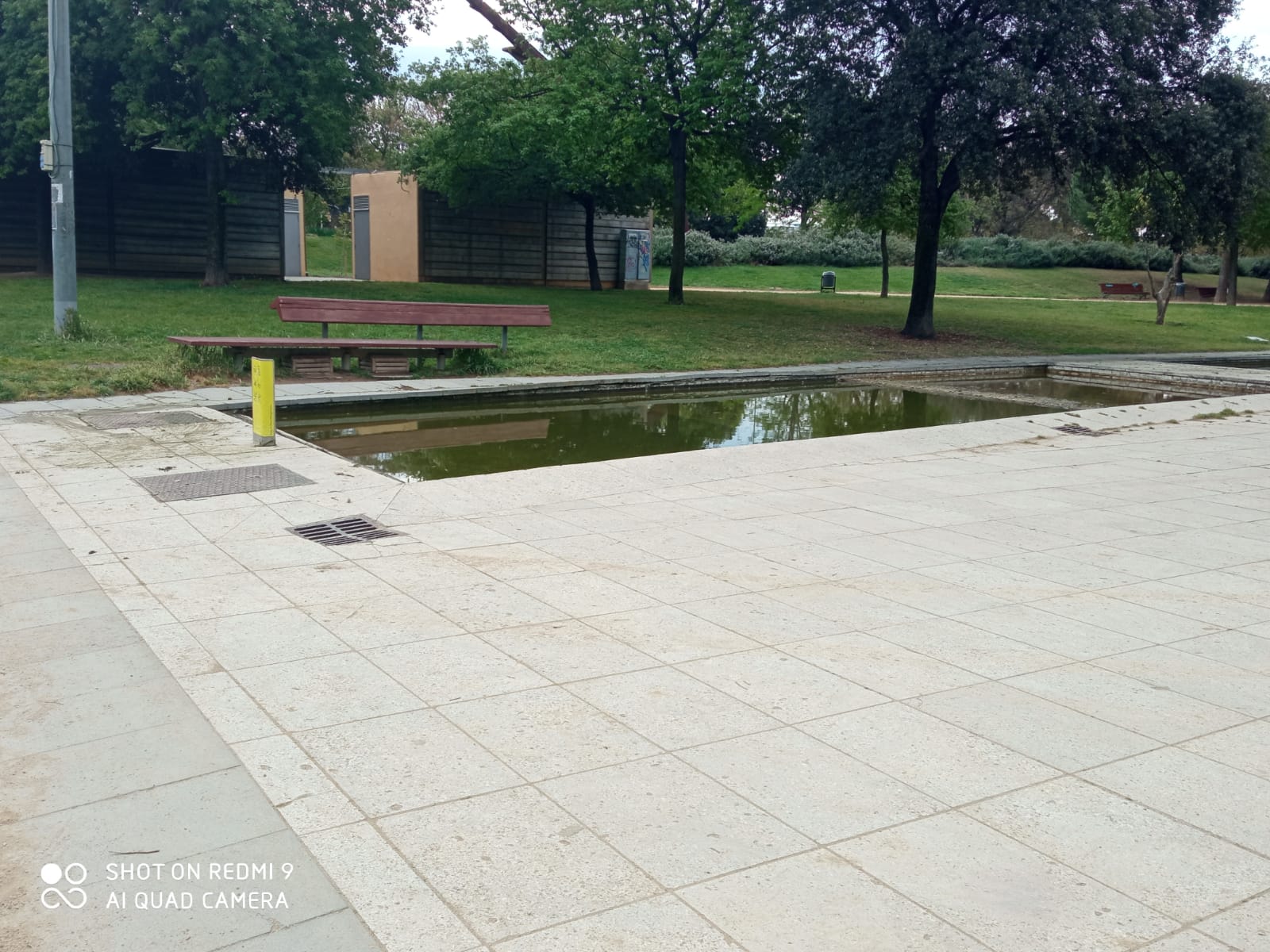 21/04/21
El lago
Candela
Cuando era pequeña, me caí al lago, y lo pase muy mal porque estaba muy sucio y frío. Aparte de que era demasiado incómodo ir con ropa mojada, recuerdo que ese día llore mucho.

41.348523, 2.111042
21/04/21
La caida en patinet electric
Sofia
Aquest lloc no hem porta molts bons records perque hem vcaig caure amb el pati elèctric, perquè es va creuar una nena petita i per no atropellar-la vaig fer un gir i vaig caure. Vaig sentir molta tristesa, també hem vaig espantar per l'impacte de caure i vaig tenir molts nervis pel que havia passat.
41.3370079, 2.0885902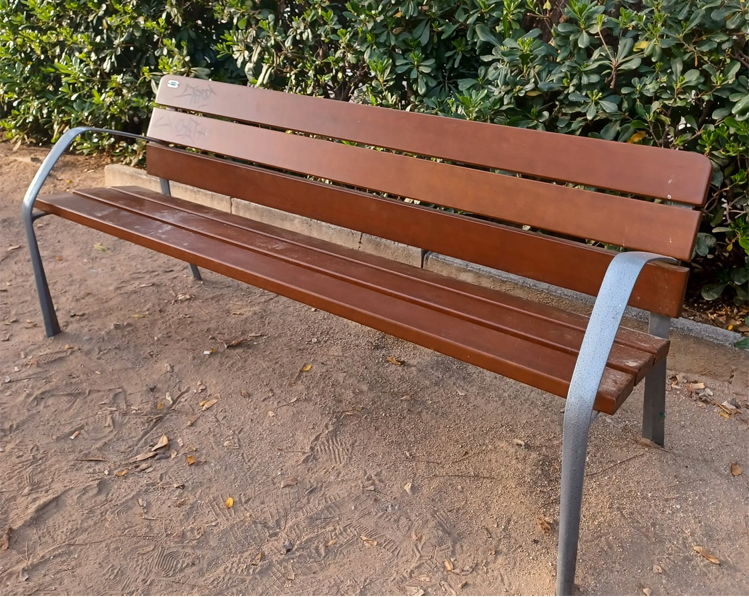 20/04/21
Caca de gos
CP
A aquest parc vaig tindre una experiència no molt agradable, vaig trepitjar una caca de gos i just quan passava la mare de la meva amiga em va veure amb tota la sabata bruta dels excrements que hi havia trepitjat.
41.350083, 2.114444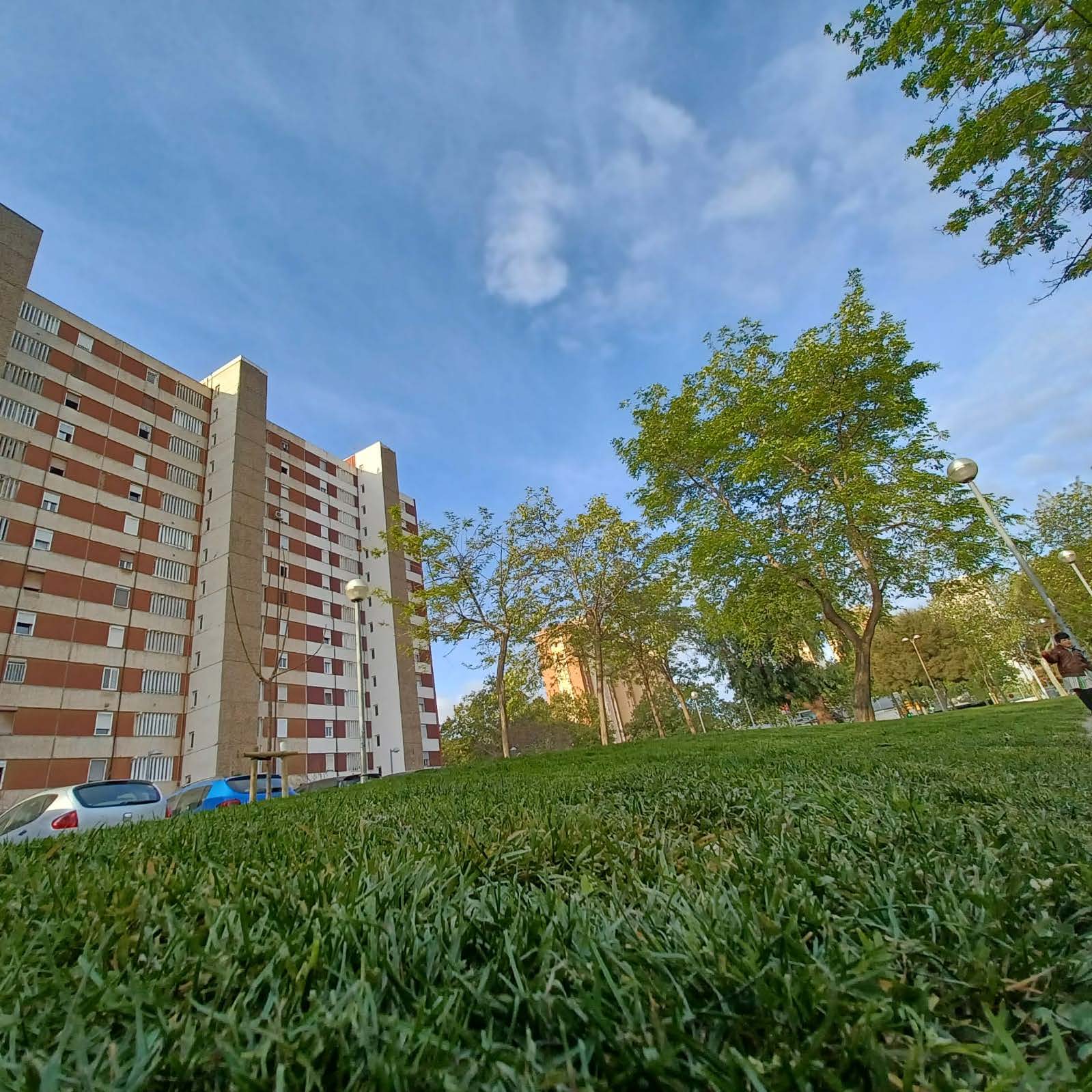 19/04/21
Veure les estrelles
M.C
En aquesta gespa, em quedi fins al vespre amb la meva antiga parella per a
veure les estrelles. Aquesta mateixa nit em va demanar ser la seva núvia, és el
millor que tinc amb ell a Bellvitge.
41.351028, 2.112
Artworks (32)
14/07/21
De la Serie Buenos Aires sin arquitectos
I present the photo of a real house and the model, it belongs to a series of different houses in the surroundings of Buenos Aires, the model usually associated with large architectural undertakings, is seen here in an inverse procedure to capture the diversity of styles, of that Buenos Aires without architects where each neighbor decorates his house to his liking, without the urban rules of the big cities and in which we can read the socio-cultural map of the development of the suburbs in the different decades in those houses of similar construction, personalized with golden lions, deer and religious murals
They are made of cardboard in 1:70 scale. The photo of the house was taken one year ago and the model was made in 1994 and is currently part of the Collection of the National Museum of Fine Arts, Argentina.
-34.685039, -58.388785
Karina El Azem
#mappingplacescontest2021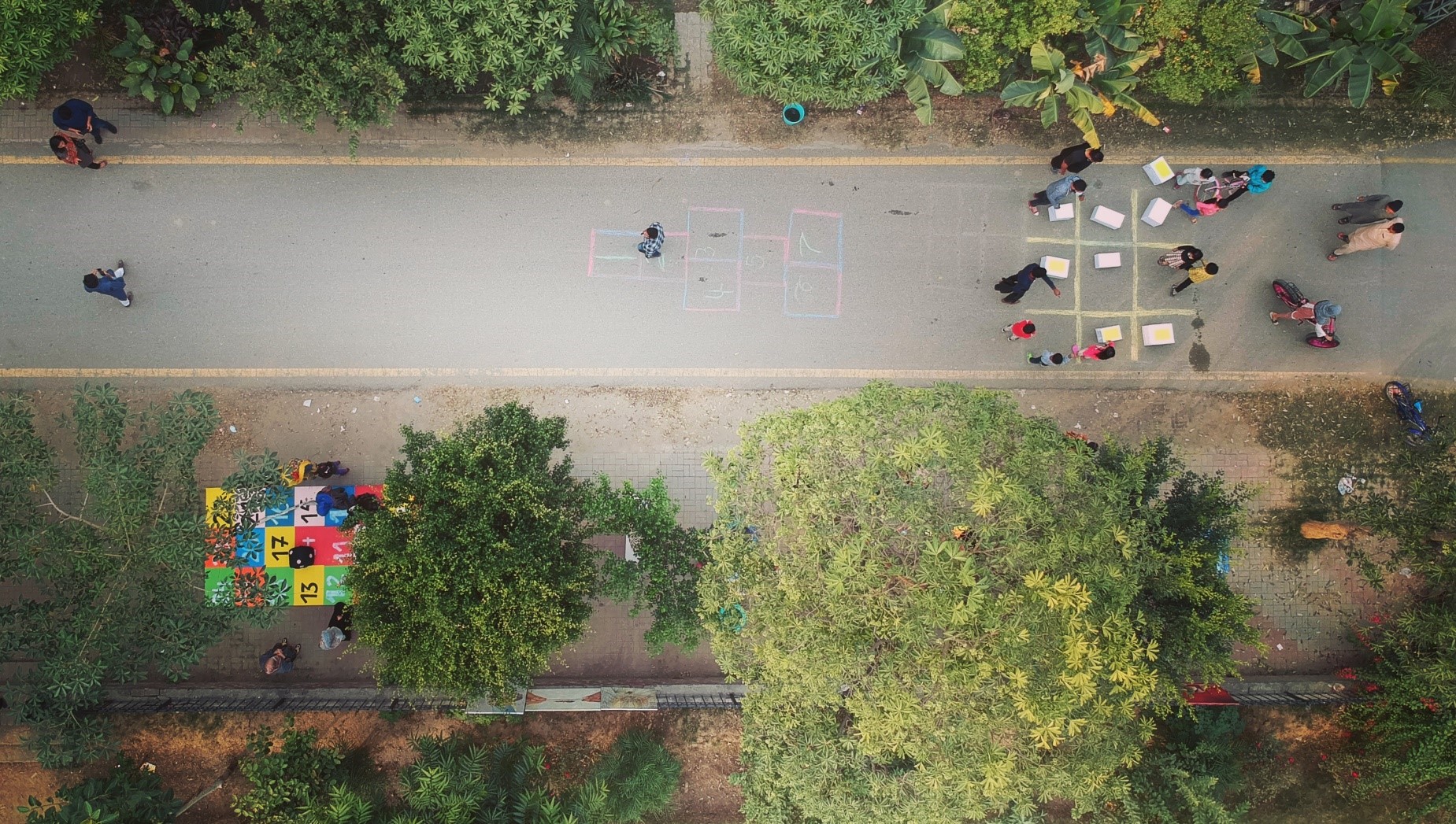 15/06/21
Park-ing : Reimagining urban landscape
In urban centers around the world, inexpensive curbside parking results in increased traffic, wasted fuel and more pollution. The strategies and values that generate these conditions are no longer sustainable, nor do they promote a healthy, vibrant urban Human Habitat ( Shoup , 2011).
Lahore, as one of the metropolitan cities of Pakistan, has seen an unprecedent growth in its population as well as an uncontrollable urban sprawl. In the mean time public space are shirking at great pace and existing one are being engulfed by private sector to earn profit. All of this has deprived the Lahoris ( those who live in Lahore) of spaces where they can interact , express themselves or simply relax. Park-ing , an initiative by AARC, aims to directly address this deprivation issue by creating temporary public space pockets in different part of the city.
Employing art -play initiative i.e., combination of local games, participatory art, and recycled urban furniture made of plastic bottles, the artist aims to reclaim the metered parking space as a rich new territory of creative experimentation and activism and to transform one parking space into a park for one day
31.5204, 74.3587
Mehreen Mustafa
#parkingintopark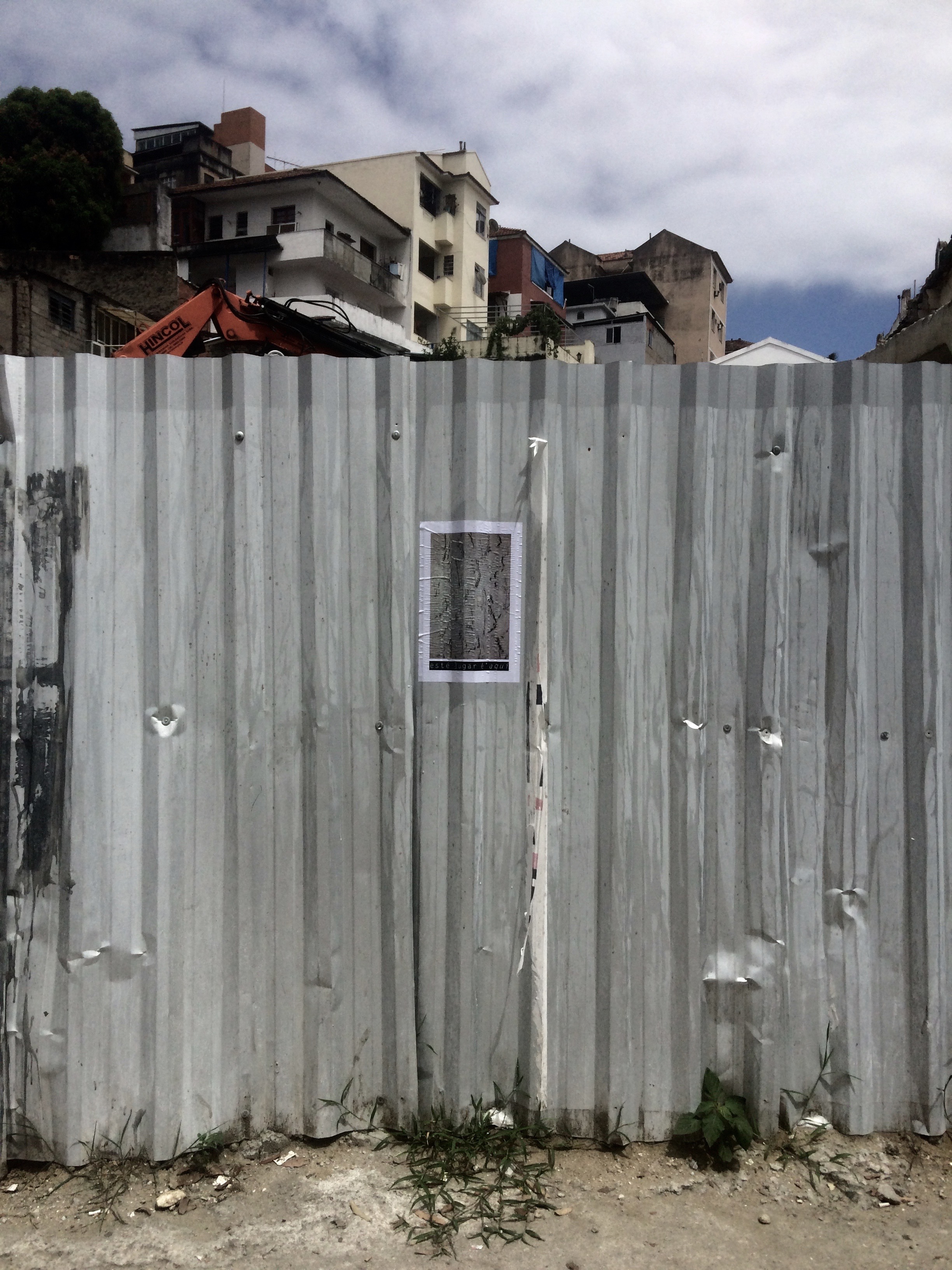 11/06/21
series "Este lugar é aqui" (this place is here)
My artistical and architectonic practice investigates the action of walking while drifting and the usefulness of this action as a way of understanding space. Drifting permits one to experience place, revealing numerous dimensions of the urban landscape that are recognised through the body, in a relation in which subjectivity (and the intersubjectivity) are fundamental.
From the unfolding of graphic products - after a series of drifts in the neighbourhood of São Cristóvão - understanding their potential to re-interpret some areas recognised during the drifts, resulted the creation of the series "this place is here", a site-specific intervention consisted in the collage of posters.
Each image is an abstract reference to the place where it was pasted. The purpose of the action is to draw the attention of passersby to some aspect of the landscape that was perceived - and valued - by my gaze from the drift. This intervention seeks to ask people "do you realize what I perceive here?"
-22.901786, -43.217483
Marina Amaral
#mappingplacescontest2021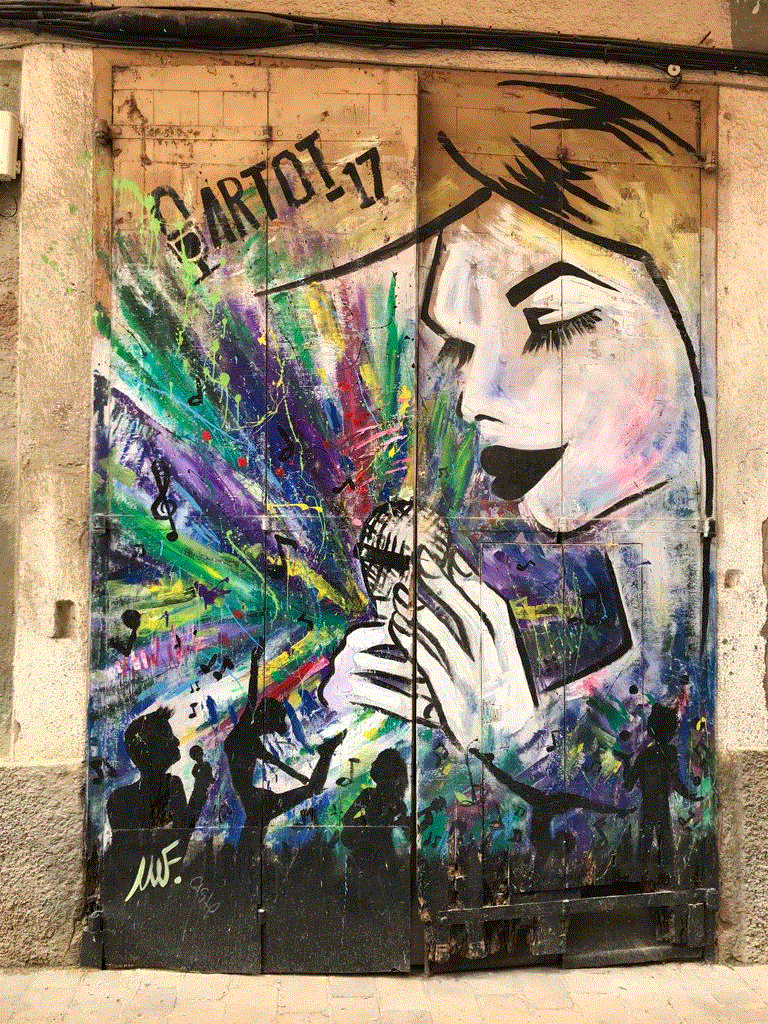 09/06/21
ARTOT17
ARTOT Festival
The aim is to bring the performing arts closer to the territory through almost twenty cultural proposals
42.015577459658, 2.2364709981761
patunikos
#mappingplacescontest2021
09/06/21
comerç irreductible
41.850949351881, 2.2281641916472
tona comerç
#mappingplacescontest2021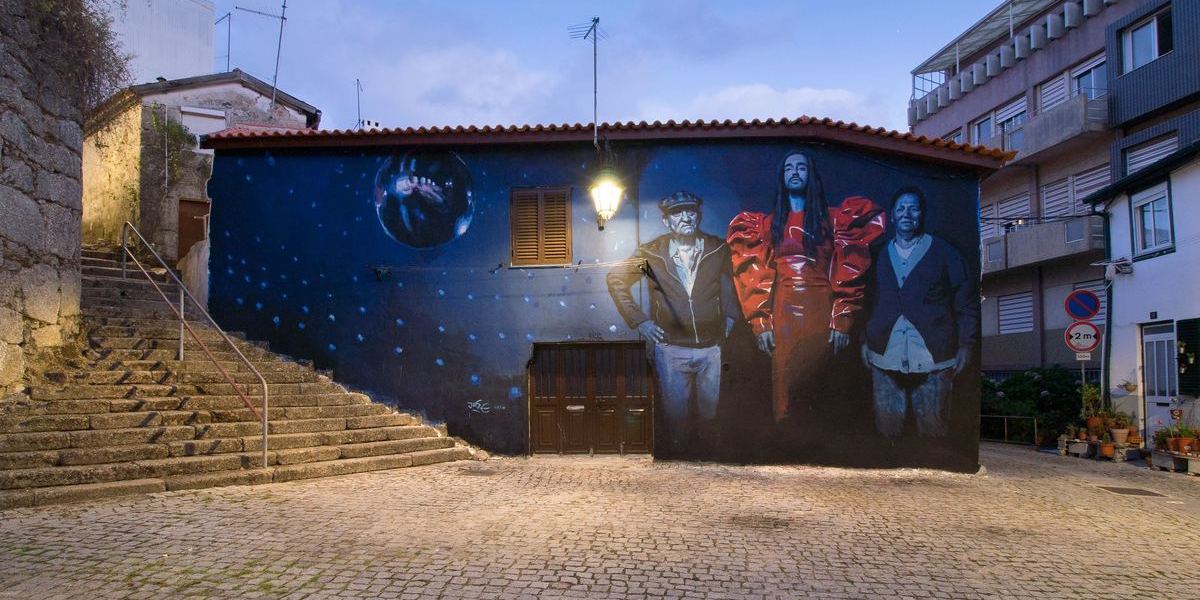 06/06/21
Different people
Work of Jofre Oliveras in collaboration with the spanish photographer Lucia Herrero.
In one of the ancient and empty streets of Covilhã, an old and desertified city in the center of Portugal, we find this wall.
Here two inhabitants of Covilhã surround a fashion design university student. The university transformed the city, brought different people to the town.
40.28601, -7.50396
Ivonef
#mappingplacescontest2021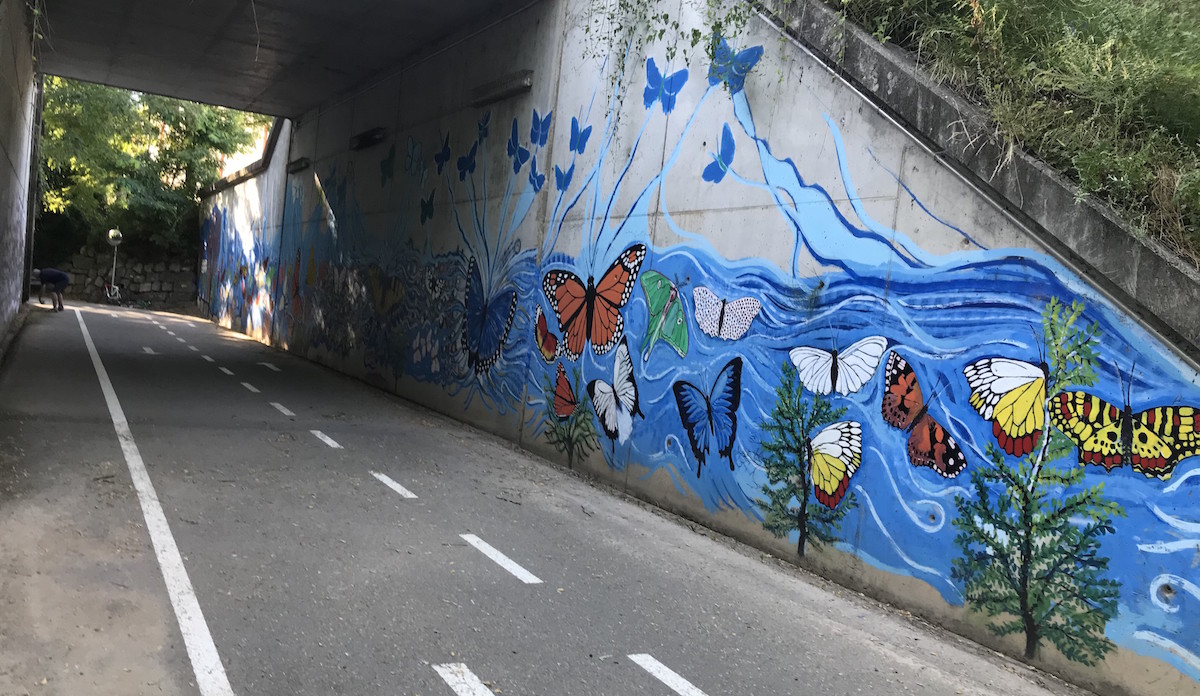 03/06/21
butterflies
WALL ART in public espace
42.209516, 2.204931
EUDALD ALABAU
#mappingplacescontest2021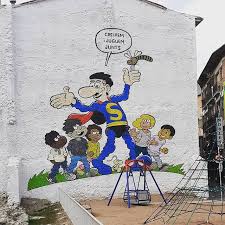 03/06/21
SUPER LOPEZ CREIXEM JUGANT JUNTS
Wall art on public espace
42.200484, 2.189358
JAN
#mappingplacescontest2021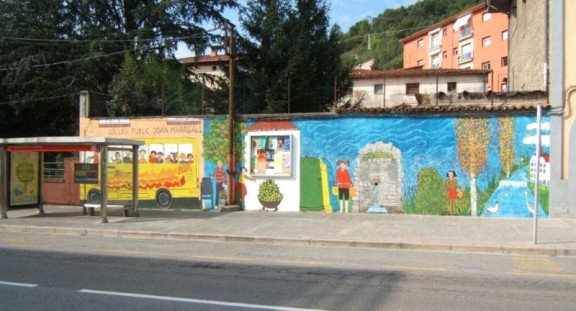 03/06/21
School wall art
Art intervention on urban public espaces
42.195417, 2.19202
Various local artists
#mappingplacescontest2021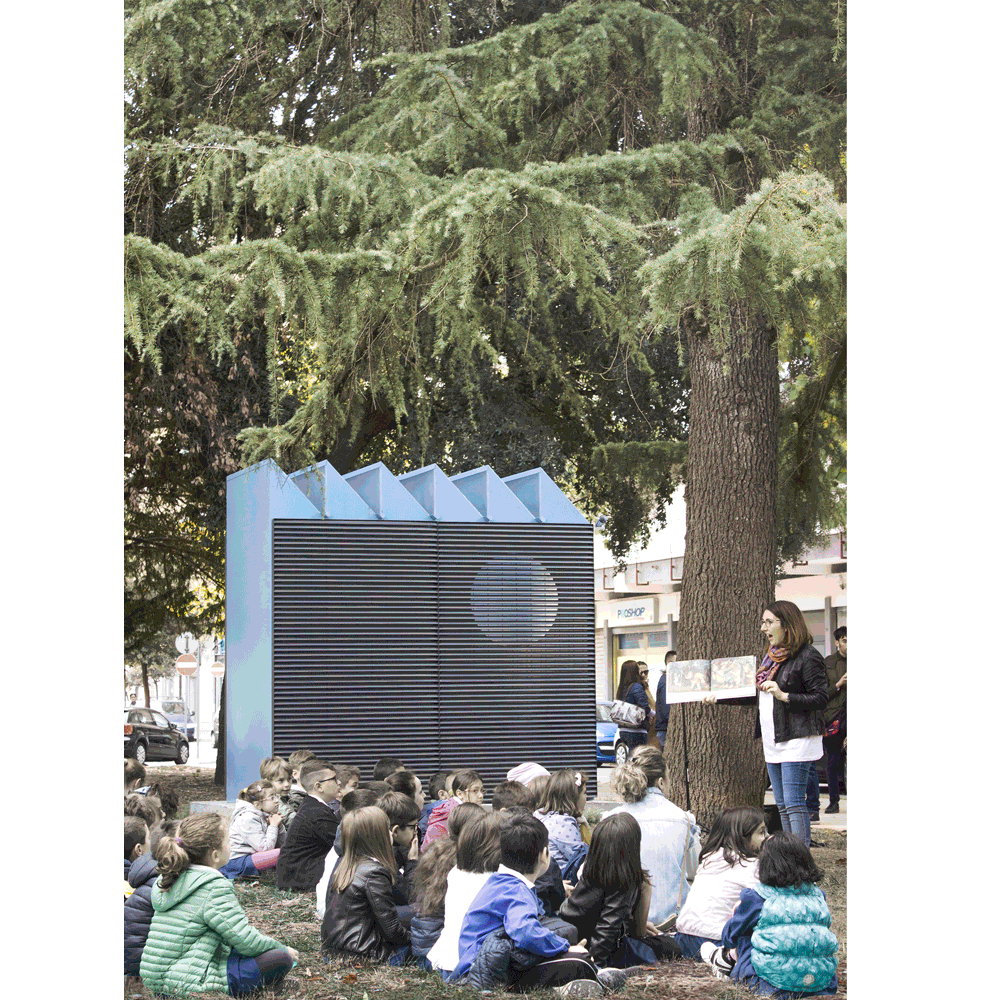 02/06/21
Il Riccio (The Hedgehog) – bibliocabina
Il Riccio (The Hedgehog) is a pavilion where books are shared. It is built in Piazza Pinto, the central park of Gioia del Colle. Designed by PROFFERLO Architecture, the pavilion functions as an urban landmark where it provides a sheltered space to exchange books.
Il Riccio is dedicated to Michele, a book peddler who played an important role in promoting a culture of reading books within the mid-size town of Gioia Del Colle (Bari) in southern Italy. He sold second-hand books for a few Euros, entertained his customers with stories and advised them on the right choice of book. When he passed away, the local community decided to keep his cultural activity alive with a book sharing facility in the main garden of Gioia del Colle, exactly in the same place as Michele's stall.
PROFFERLO was given the opportunity to design this facility in memory of Michele. Il Riccio builds upon Michele's legacy as a highly engaging architectural intervention where it invites the visitors to experience new activities and encounters by being an open and public platform. The pavilion activates the existing space with the help of a local company who aided the realization of this project. The zoomorphic form plays on the ambiguous field of the reference attached to an architectural object (hedgehog, factory, bunker, and so on) that lands like a meteorite on a lawn.
Il Riccio was prefabricated offsite in two pieces of bent sheet metal mounted on a three-dimensional frame that served as a structure and shelving. On the side, the façade shows a circular and a rectangular opening where they become the eyes of the hedgehog. These were laser cut on the sheet metal and overlapped with a dark grey metal grating module. Inside the pavilion, the sawtooth roof allows an unexpected uniform light where the sky blue colour of the interior glows within. At night, Il Riccio becomes a lantern where the blue interior shines out of the "eyes" of the hedgehog. This reversal of light from inside to outside becomes an attraction amongst the dim landscape of the garden.
Gutters are bent to follow the roofline of the pavilion and conceals their presence, maintaining a clean geometric form. The integrated structure of the shelves allows the users to organize the collection of books. The shelving elements uses wooden boxes and boards and they can be used separately or together providing the user with different ways to store the books.
Starting from next spring at the lawn next to Il Riccio, authors will be given the opportunity to launch their books. As each author presents their book they would also donate to the collection, allowing Il Riccio to be fed with knowledge and stories. As the collection grows, Michele's legacy of promoting reading to the people lives on. This project demonstrated how administration, architecture designers, local community and entrepreneurs could work together on a project that would benefit the future of the area.
40.794988, 16.922894
PROFFERLO Architecture
#mappingplacescontest2021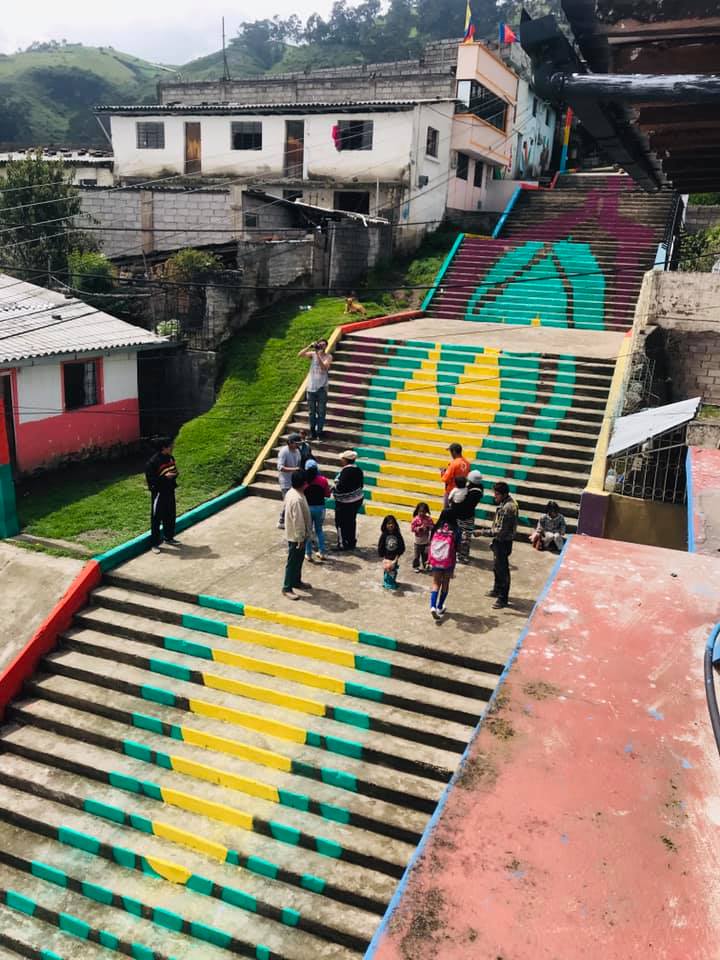 02/06/21
Flor de maiz
Flor de Maíz is an intervention made alongside the inhabitants of the neighboirhood Toctiuco, students from the university of the Americas - UDLA, Quito, and URBANLAB Medellín/Berlin. The intervention was meant to improve the public space of this accidented topographic neighbourhood through a playground, facades intervantion, a viewpoint, and enhancing the stairs, an urban element that is located along the area but that unfortunately has been left aside by locals and became a hub of trash.
The design was based on the name Toctiuco, a quechua word that means "corn flower" (flor de maíz), that incentives people to feel identified and give them a sense of appropiation. Both the design and construction of these urban intervantions have activated and improved the quality of use in the public space, a playground and a viewpoint. The intervantion was done in december 2019 and now we're entering into a new phase of urban intervention in Toctiuco, potentially to be done in september 2021.
-0.206658, -78.526971
R+LAB
#mappingplacescontest2021
02/06/21
Spaces and Places
An inclusive 'space', attracts more people, interaction occurs, activity lasts making it a vibrant 'place' through which a city breathes. Artwork is a public place promenade in Mumbai representing people's cognitive expressions, behavioral and sensorial patterns offering city uniqueness, identity and a sense of 'place'. Our cities are built for their people and the experience such public spaces imprint in our minds lasts forever. There are memories of socio-cultural exchanges and associations that strengthen our nostalgic senses as we revisit such 'places'. We can never imagine a 'place' without its people.
18.9986, 72.8174
SURUCHI DIDOLKAR
#mappingplacescontest2021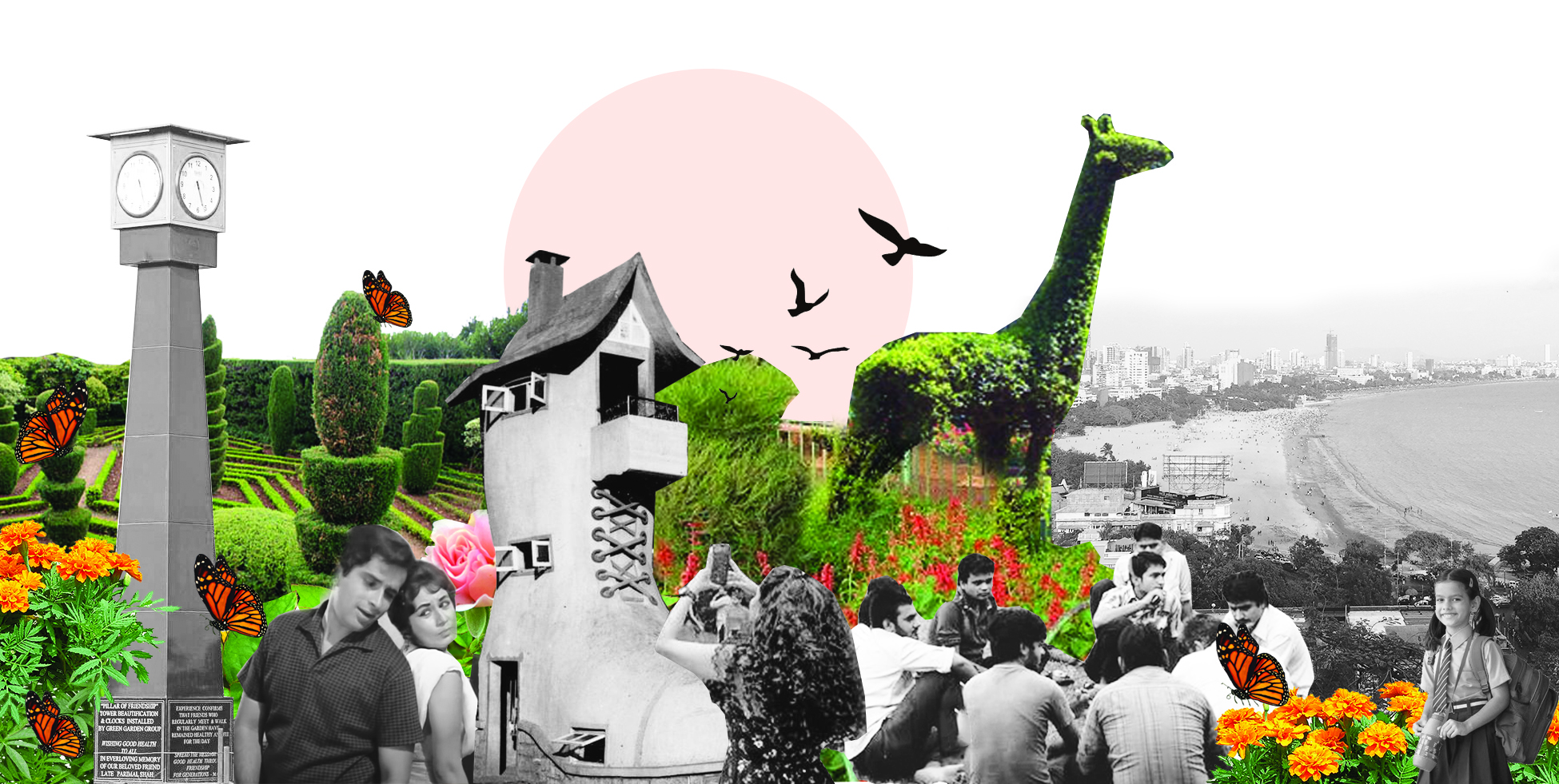 02/06/21
Capturing the socio-ecological memory
'Urban gardens' are a plethora of socio-cultural, historical and environmental learning, that allows varied observant assert the sense of 'the right to the city' or reclaim an 'urban commons'. One such urban garden uniquely hanging upon a historical water reservoir on Malabar Hill has been a source of solace and wonder for locals. Designed by Ulhas Ghapokar in 1881 and dedicated to Sir Pherozshah Mehta, it is narrated to have been built over one of Bombay's main water reservoir to protect it from getting polluted, particularly by the nearby towers of silence. The photovoice method chosen here for representation would showcase how a diverse group of visitors or locals see their interests towards fostering 'civic ecological sense' and 'social associations' with the flora-fauna and history in the city. This could aim in conceptualizing future sustainable measures flexibly, placing ideas related to social associations, heritage and ecological concerns.
19.076, 72.8777
SURUCHI DIDOLKAR
#mappingplacescontest2021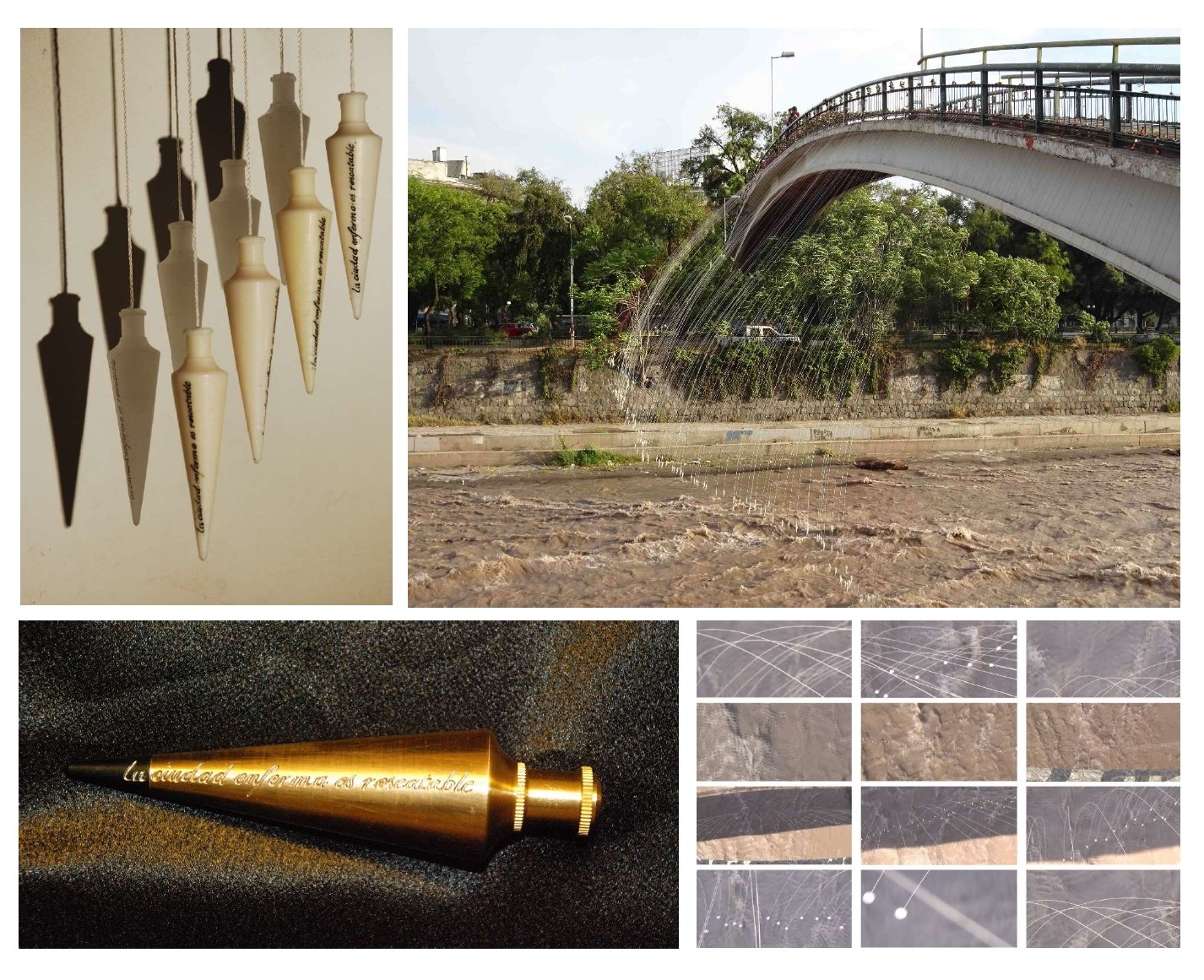 01/06/21
La Ciudad Enferma es Rescatable
The temporary intervention was part of a practice lead research of the place of the Mapocho River in the Public Imaginary through its bridges, edges and the torrent. The Mapocho River was canalised in the late 19th C to mitigate the flooding, create public space and connect the north and south sides of Santiago de Chile via 9 meccano bridges. This was part of the Indendente Benjamin Vicuña Mackenna's modernisation of Santiago to make it "the Paris of South America". The canal was constructed posthumously 1888-1910 and the flooding torrent continues to be domesticated. Nature transitioning into culture via bridges. In the 1950s a particular bridge was constructed that crosses two flows, that of the river and that of the expressway constructed on its southern bank. The form of Racalamac bridge (a.k.a. Condell Bridge) is determined by these two periods of modernisation. It is a steep pedestrian bridge that is also an unlikely, popular and iconic public space of transition. The intervention traces the space created by this transition in a kinetic mapping of the inverted arc and the upstream wind that blows in the passage of the Mapcocho towards the Andes that is its source. A bronze builders plumbob was engraved with a quote of Benjamin Vicuña Mackenna "La Ciudad Enferma es Rescatable" (The sick city can be saved). 300 weighted casts were made and suspended by builders string from the bridge. The kinetic, temporary sculpture was installed for one day as part of 100 en 1 Día. From the edges of the river, the intervention appeared as a billowing, barely visible curtain ended by hovering plumbobs. From the bridge a vertigenous scene of parabolic curves are created over an invisible X,Y, Z grid and a horizontally surging torrent.
-33.434007, -70.629264
Anthony McInneny
#mappingplacescontest2021
01/06/21
Direction Lines
Durante una excursión al Hospitalet nos dimos cuenta de cómo, para llegar a lugares como la biblioteca o el mercado, que quedan más alejadas de la vía principal, el parque cobra una vital importancia para los peatones o habitantes.
Por ello, pensamos en remarcar como el parque sirve como espacio de transición entre la vía y los lugares de uso público. Haciendo una escultura longitudinal que sirviera a modo de camino entre estos espacios.
Por desgracia la idea inicial se tuve que transladar al campus conectando un espacio de paso entre dos edificios con un espacio más retirado que hace a modo de pequeña plaza, para que este obtuviera más visibilidad.
41.351185, 2.111679
Gabriel Sastre, Alicia Moriel
#aplacemappingLH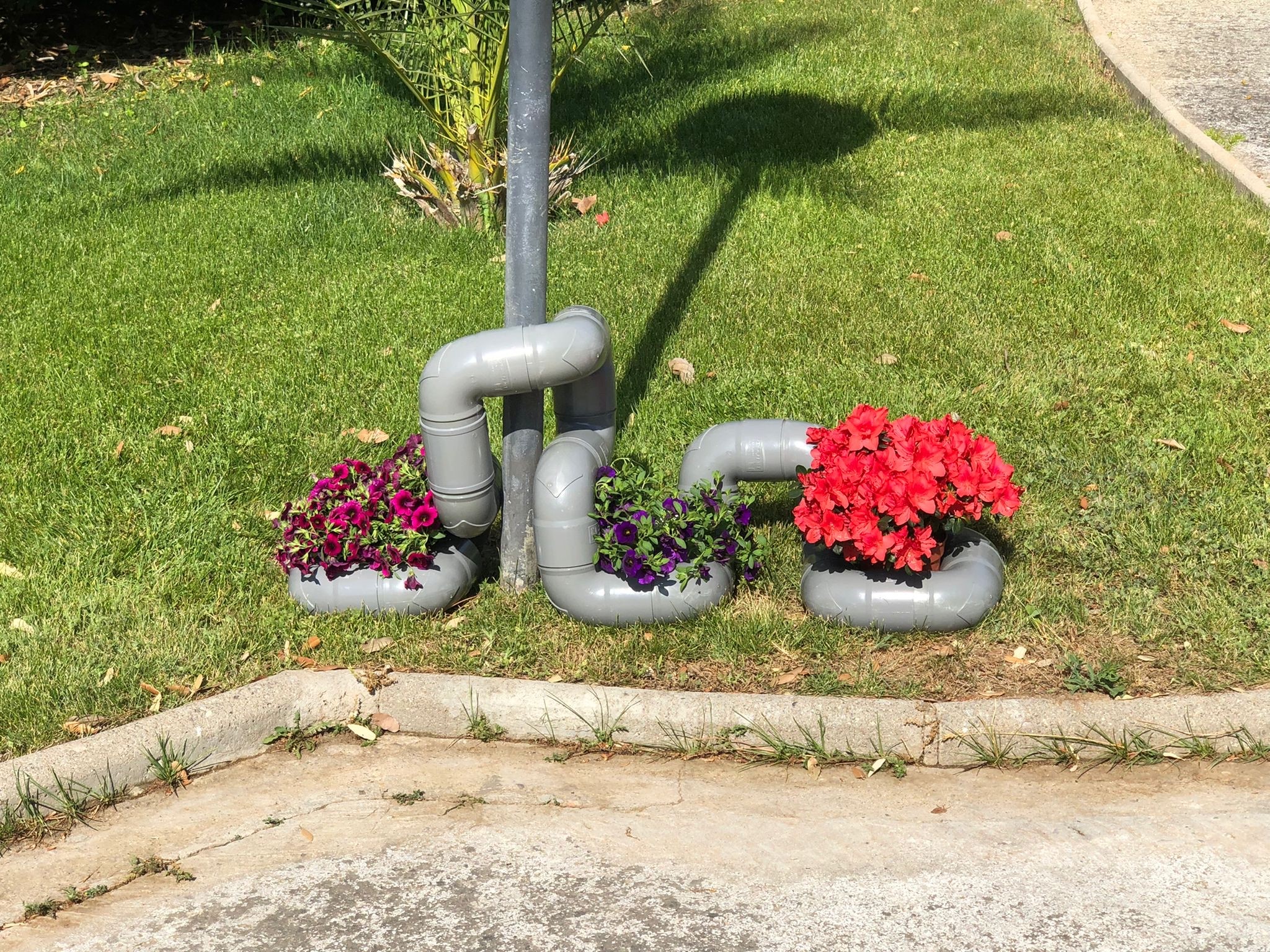 01/06/21
The Flower Pots
Te flower Pots, as the title suggests, it is going to be placed around the flower to enhance and highlights flower and nature in the city.
41.349305, 2.111515
Ahmad Jaber and Arnau Lopez
#aplacemappingLH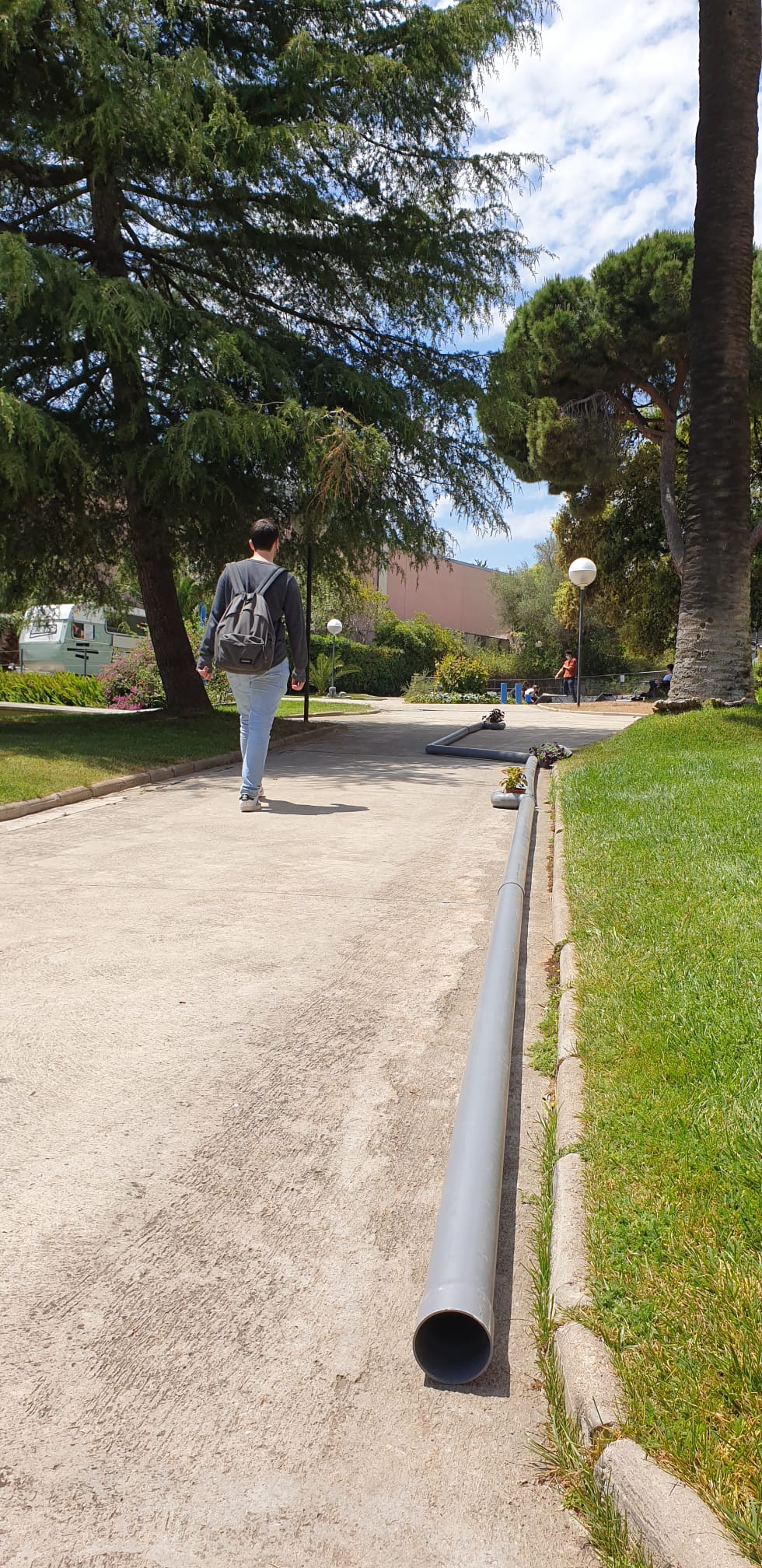 31/05/21
EXCURSIÓN HOSPITALET
Durante una excursión al Hospitalet nos dimos cuenta de cómo, para llegar a lugares como la biblioteca o el mercado, que quedan más alejadas de la vía principal, el parque cobra una vital importancia para los peatones o habitantes.
Por ello, pensamos en remarcar como el parque sirve como espacio de transición entre la vía y los lugares de uso público. Haciendo una escultura longitudinal que sirviera a modo de camino entre estos espacios.
41.351185, 2.111679
Gabriel Sastre, Alicia Moriel
#aplacemappingLH
31/05/21
EXCURSIÓN HOSPITALET
Durante una excursión al Hospitalet nos dimos cuenta de cómo, para llegar a lugares como la biblioteca o el mercado, que quedan más alejadas de la vía principal, el parque cobra una vital importancia para los peatones o habitantes.
Por ello, pensamos en remarcar como el parque sirve como espacio de transición entre la vía y los lugares de uso público. Haciendo una escultura longitudinal que sirviera a modo de camino entre estos espacios.
41.35, 2.12
Gabriel Sastre, Alicia Moriel
#mappingplacescontest2021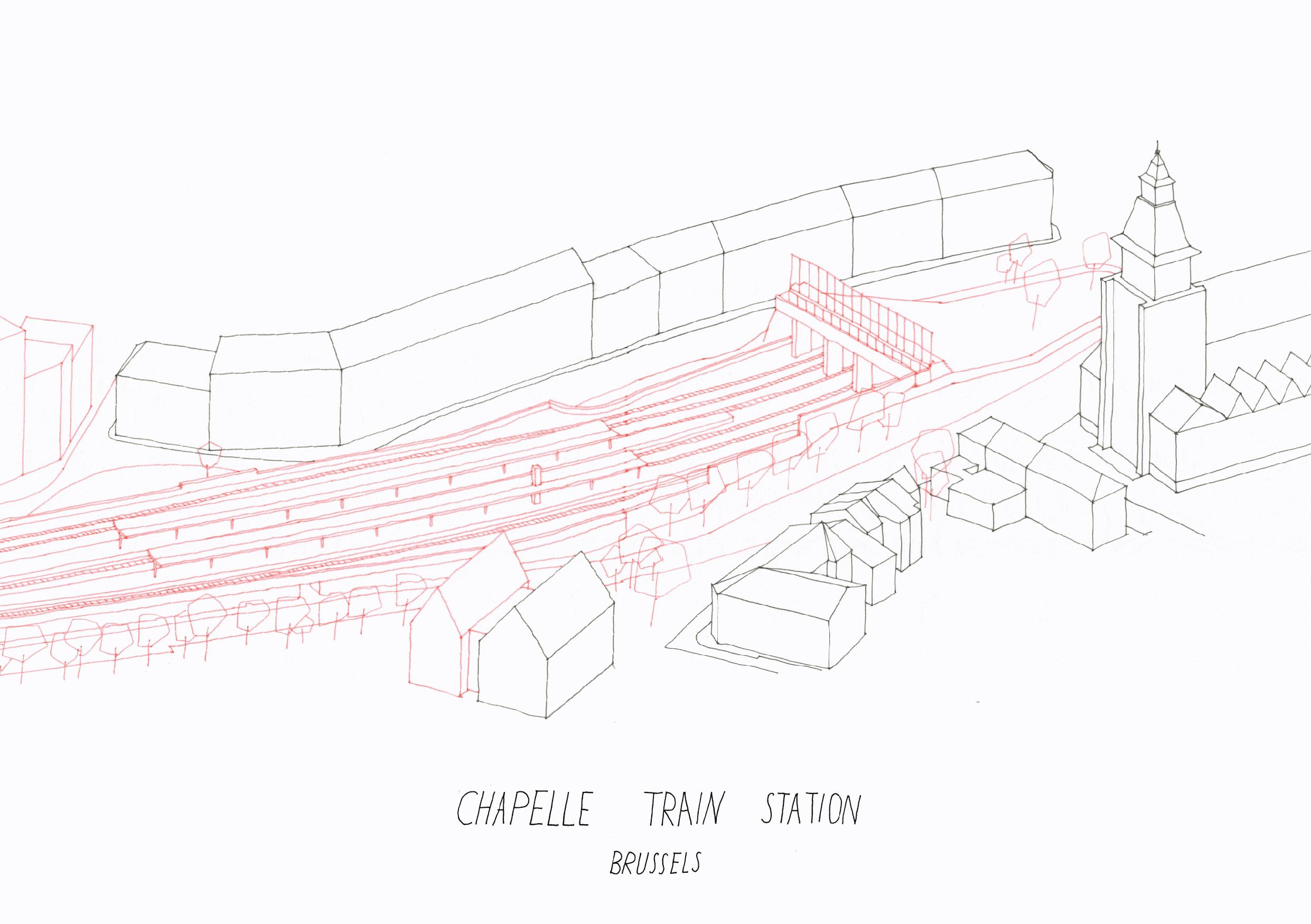 29/05/21
"Oh Jonction, my beautiful!"
Located in a vacant train station in Brussels, the aim of three interventions was to (re) construct the social, spatial, and material aspects of space with the means of historical imagination, drawing, and mapping.
Past, present & future tenses were used to investigate the changes throughout time and reflect upon the futurities in the public infrastructure.
The final outcome of the work was a short film ( https://youtu.be/Etqzf105UCM ).
50.84121, 4.34864
Ugne Neveckaite
#vacantspace #activatingBrussels #publicinfrastructure #mapping #drawing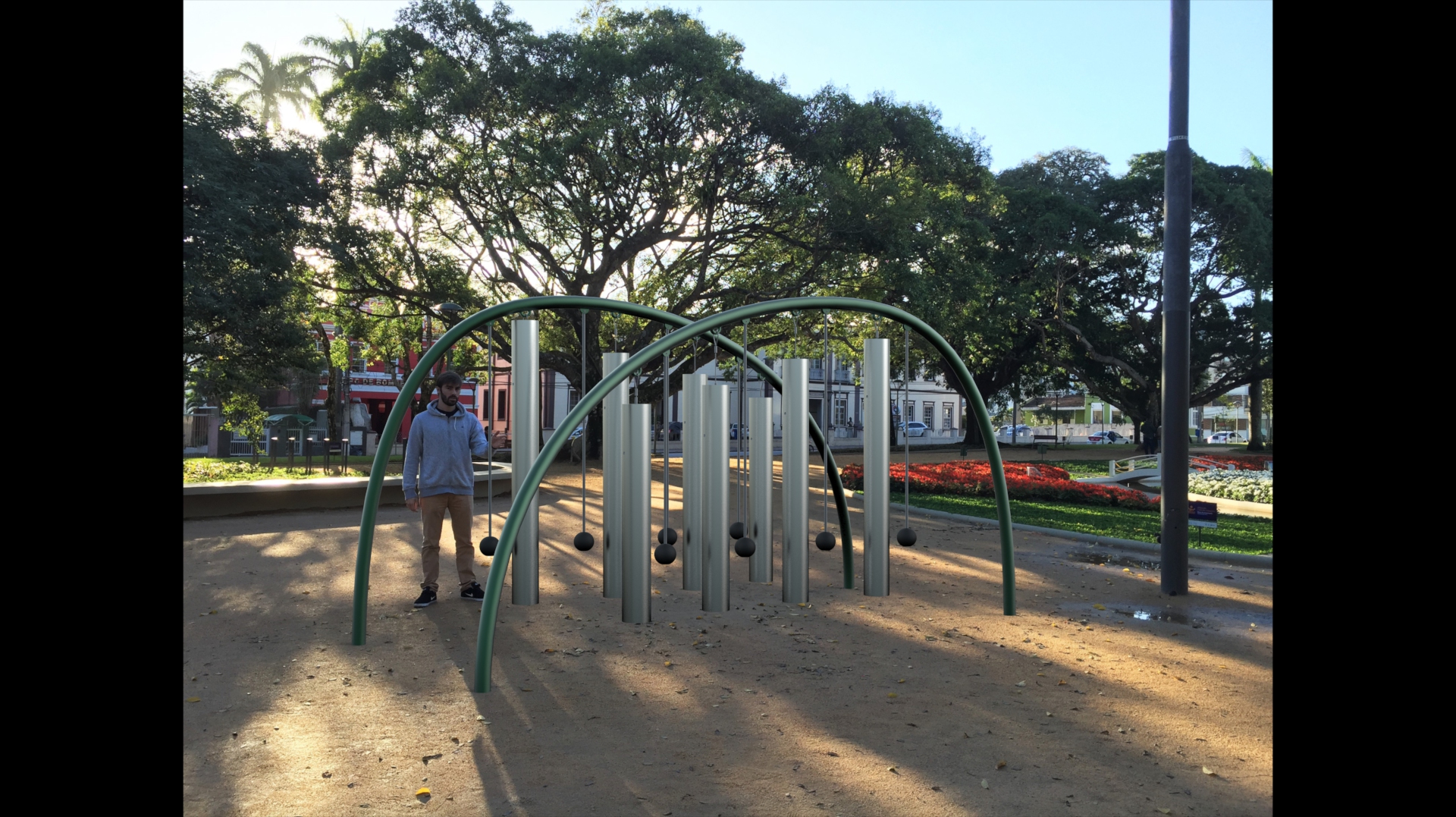 27/05/21
The local sound
The percussion instruments exist in multiple cultures, mainly in Brazil through the diverse musical styles. The sound installation is located at the Getúlio Vargas square, Florianopolis, Brazil. Around this square, there is a wide variety of important historic buildings of the city, and the location receives frequent visitors of all ages. Thus, the sound installation intends to increase the conviviality and appreciation of the cultural appropriation at all ages with percussive music, present in the local culture.
-27.592102050781, -48.545894622803
Paulo Steil
#mappingplacescontest2021
27/05/21
Connecting Tube
Our idea is based on proposing a sculpture that people can use as a landmark. The location we picked is an open space for the people in the community and by putting a sculpture that describes the bond of the people in L'Hospitalet, we want to change it from a passing point to a place to communicate and meet in. The blue colour, that signifies water, is used to remember the network of drains and canals that allowed the city to grow and have more people live in it further emphasising the special bond in the area.
41.352897, 2.107111
Nada & Julia & Maria
#aplacemappingLH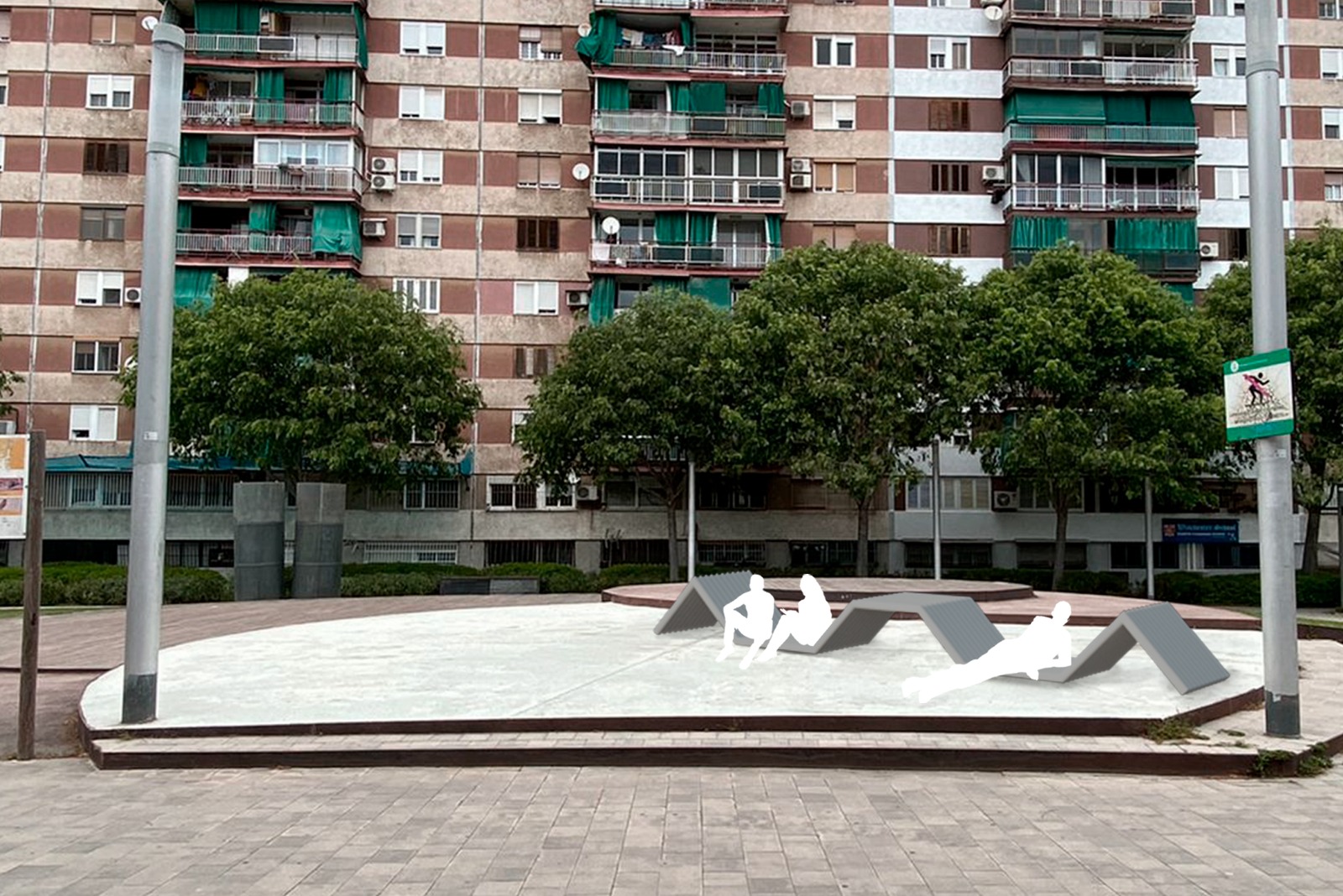 13/05/21
LIBRARY SUNBETH
El objectivo con este proyecto es aprovechar la plaza enfrente de la Biblioteca. En este caso, queremos trasladar parte de las actividades que se realizan en el interior, como el momento de lectura. Como bien explica a Ayesha en "Biblioteca de Bellvitge" - en el exterior [...] hay mucho ruido y puede disraer a las personas que estudian dentro - por lo que, queremos proveer una área de descanso y de lectura donde los más pequeños puedan aprender que es una plaza ideal para aprender y escuchar.
41.351617, 2.114223
Dimma & Nora & Claudia
#mappingplacescontest2021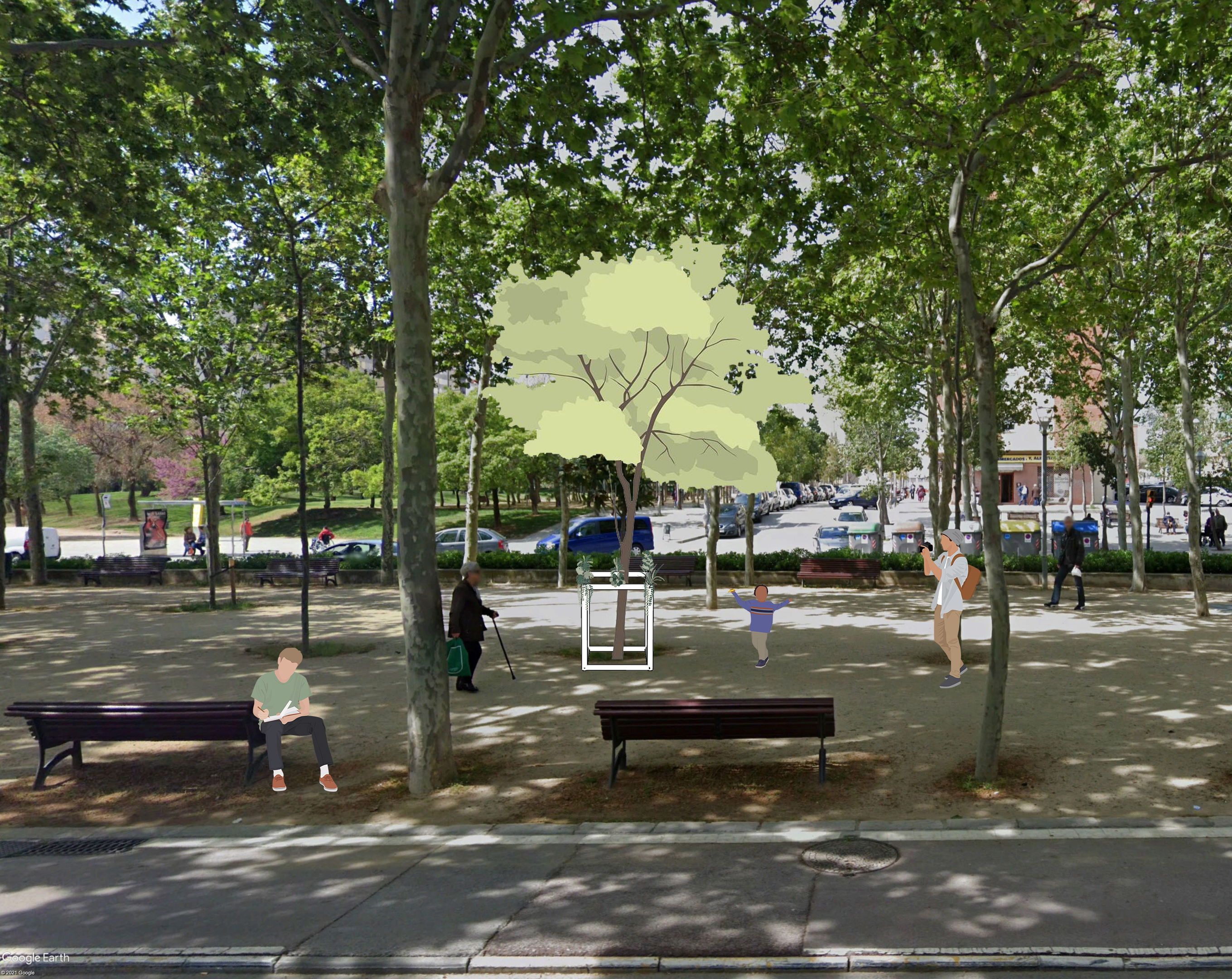 10/05/21
Vertical Landscape
A kid from the neighborhood, Karima, describes Rambla Marina as a lovely place to go for a walk but has a problem with noise due to the traffic in the surrounding areas.
In order to fight that, our installation has the purpose to create vertical gardening. The main idea is to create something for people to have a place to plant and take care of some herbs and then later, use them to cook. That way, people can plant what they want and take care of this little installation that in the future will belong to them.
Our goal is to give more life to the place without compromise the place already existing and to create a union spirit inside the community.
41.350382, 2.111327
Inês De Oliveira Paulo, Juliana Diaz, Leonardo Fiore
#aplacemappingLH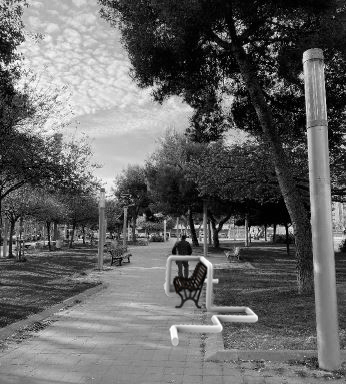 10/05/21
Friends, Meet, Hang
The historic bench in terms of friendship that was labeled by Lucia, a kid from the neighbourhood, gives us an impression of meeting, friendship, the typical symbol that we use as a reference to meet somewhere. So this art work develops two lines that connect exactly in the middle of the bench, bringing to discussion a symbolic and abstract representation of two friends meeting and linking each other in the bench that brings friendship to a group of people.
41.351528, 2.110083
Álvaro Del Monte, Edith Yoland, Mariia Deinega
#Friends #Meet #Hang
10/05/21
TUBES GAME
We will create a new playground area by inserting a game module composed by PVC tubes of different colours : the orange will be the easier, the white the medium level and the blue the harder one. The game will consist on throwing the balls inside the tubes. The player that earns more points wins.

41.350997, 2.109994
Maria Tormo, Guillem Tort
cistelles, jocs, amics
10/05/21
Glow in The Dark
The problem about our site is, that at night it changes
into a not so nice enviroment for the park. So, our main
objective is trough our skulpture reincorporate the
feeling of security into that place.
Our proposal should work as an extension of the lamp park since it will be the first thing people notice when they walk there at night. Our simple figure surrouning the pole will bring calm and security
to the person.
41.348778, 2.110806
Alessandra Russo, Mariona Sala, Farah Hazem
#Glow #Darkness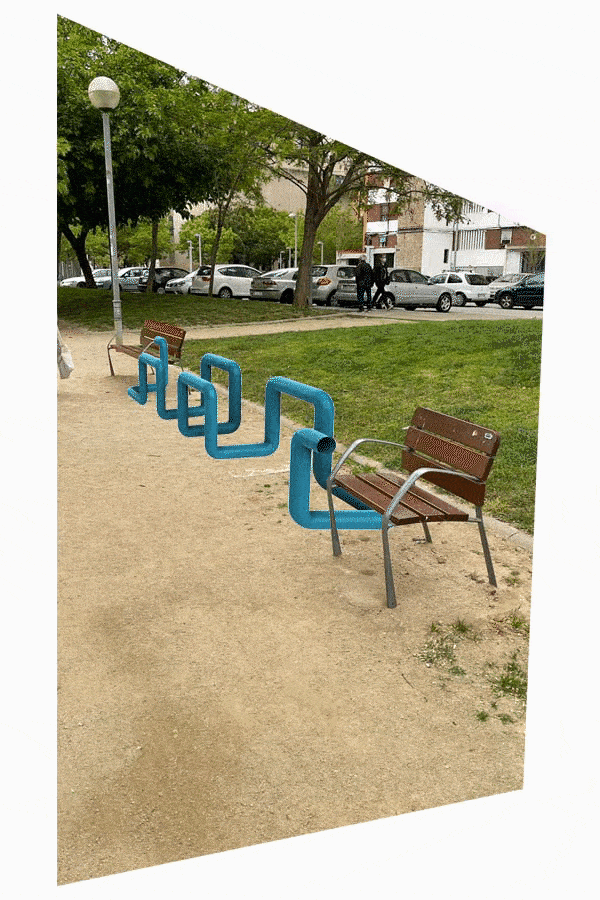 09/05/21
Comunicación
La vecina y alumna de Bellvitge 'Gemma' nos explica su experiencia de como conoció a su novio, en un banco público, individual, del parque en 'Rambla de la Marina'.
La instalacion propuesta, busca relacionar dos individuos en la distancia, mediante un tubo que comprenda el camino entre un banco y el siguiente.
Las personas podran hablar a través del orificio y el sonido llegará al otro lado con claridad. Buscando así el acercamiento no fisico de los participantes.
41.351082, 2.111982
Mateo Juncos, Robert Martí , Pau Martín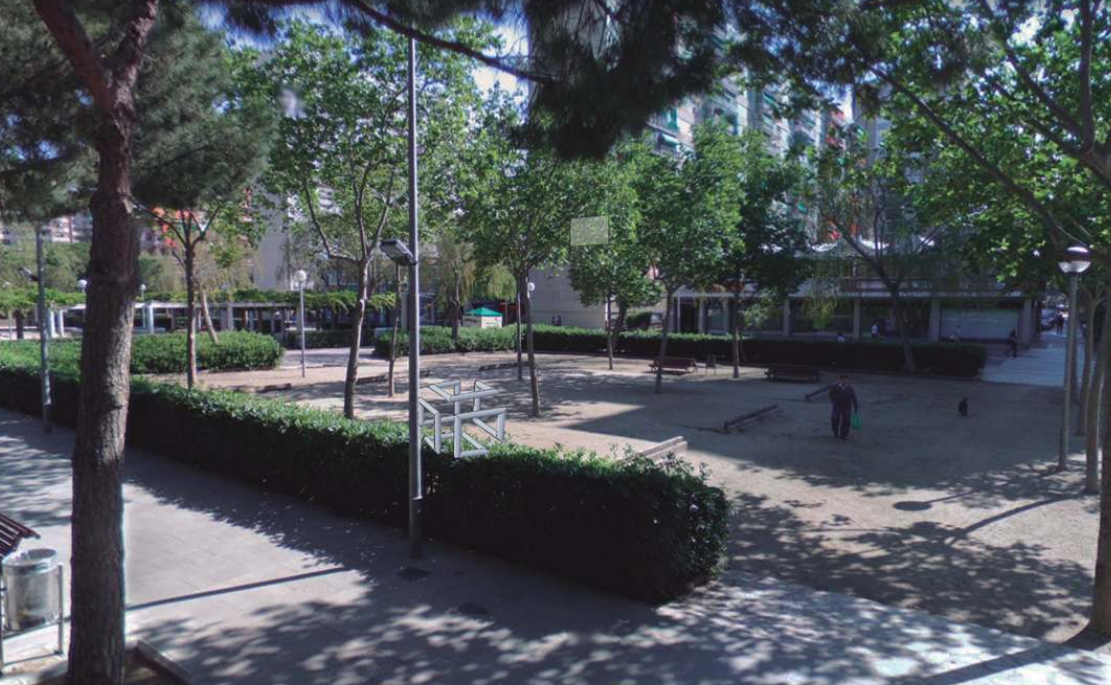 06/05/21
The infinity cube
We decided to create a PVC sculpture in Passeig de Bellvitge. Using the basis of the Infinity Cube, we want to build a structure that can become part of the image of Bellvitge. The object is designed this way to attract and give the energy of a neverendingpassage that flows naturally in a linear way. Also, by using the color grey, the contrast between buildings, flooring and vegetation will make the object more visible to the wandering eyes of the neighbourhood.
41.353504, 2.112668
Ahmad Jaber and Sebastian Pardo
cube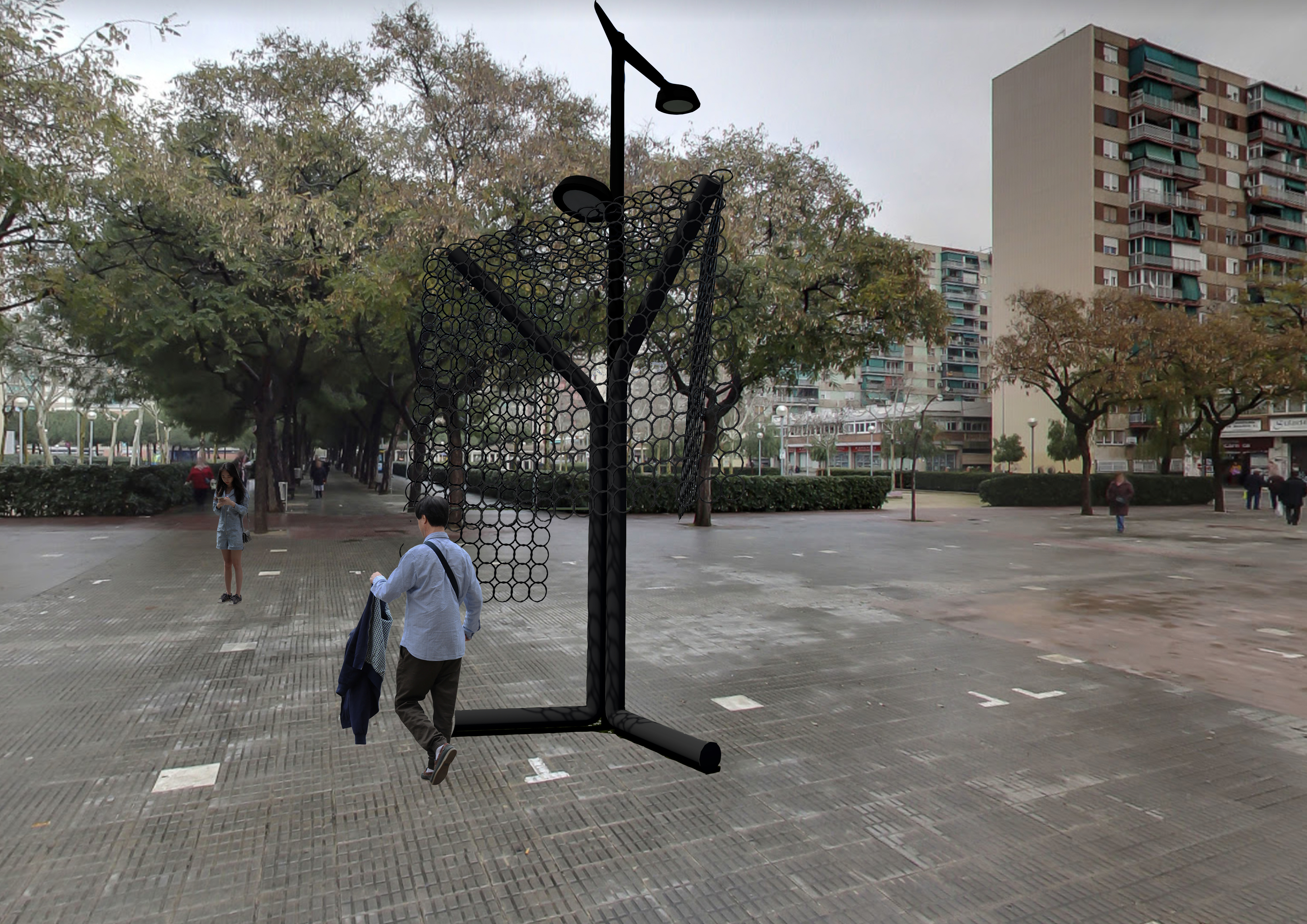 05/05/21
Plastic Jungle
Bellvitge is a zone full of diversity, activeness, youth and all kinds of people who share spaces on their daily basis. This spaces are part of their identity playing an important role in their comunity. We noticed that a grand majority of the gathering okaces needed a little mantainance and features that the neighbors could enjoy and make their common areas more pleasant, creating this tree-like sculptures that actually adapts to any environment in need of some shadow and art.
41.35111, 2.11207
Arnau Alvarez, Lara Alvarez, Mark Chopo
#shadow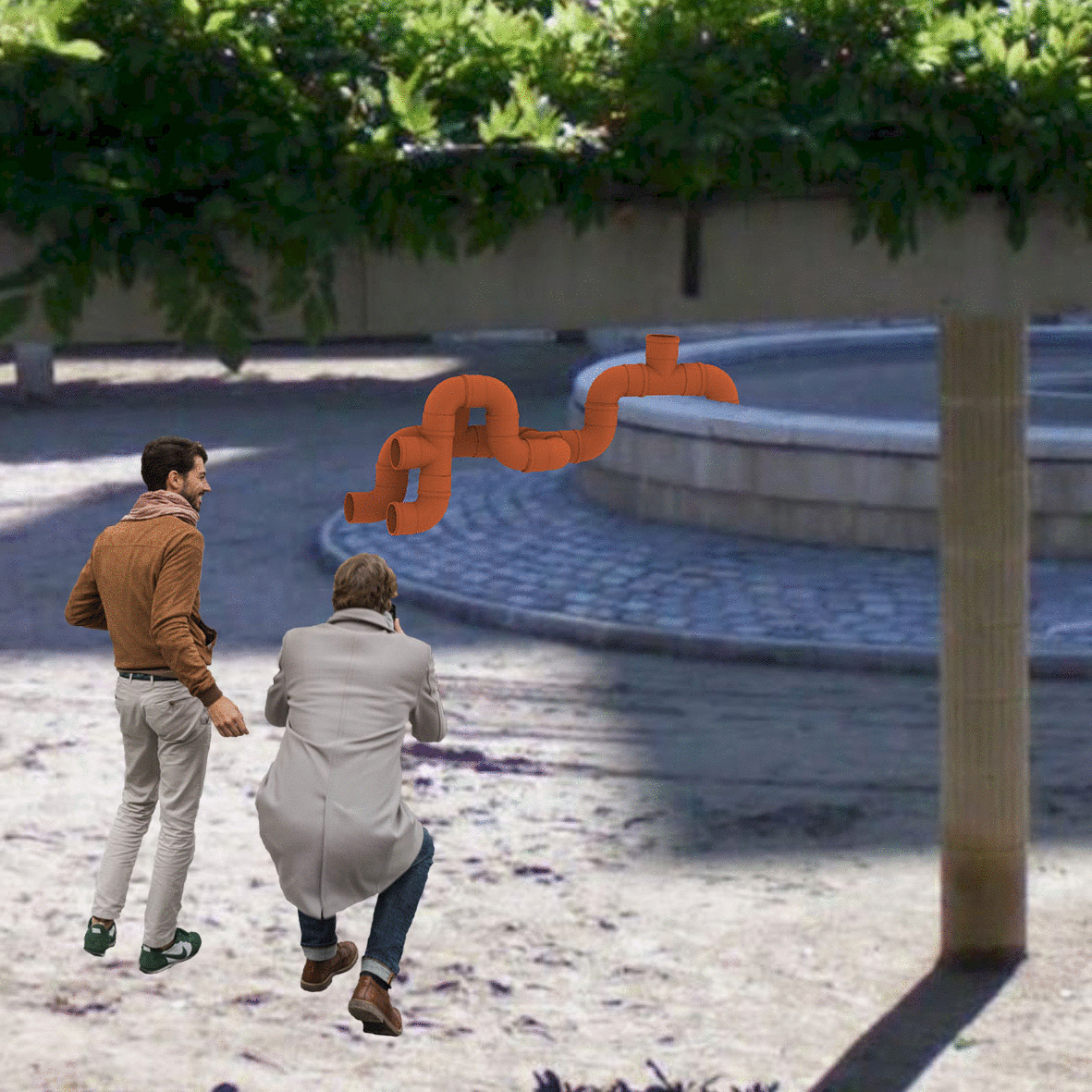 05/05/21
Flujo de Recuerdos
L'Hospitalet es una ciudad históricamente poblada por personas procedentes de distintos lugares, reuniendo una gran diversidad cultural y consecuentemente mostrando una falta de identidad clara. Nuestra propuesta busca materializar esta idea en un objeto que muestre esta dualidad de orden y caos, de variedad y a la vez sentimiento de pertenencia. Dentro de la zona de L´Hospitalet, el Passeig de Bellvitge refleja este mismo carácter ya que, si bien estaba pensado como un espacio tranquilo y de relajación, la percepción que hoy en día tienen los residentes es que se ha convertido en un lugar muy concurrido y ruidoso. En los alrededores del pasaje pueden localizarse dos espacios vinculados con el agua que pueden permitir la creación de un espacio de relajación a partir de la utilización de tuberías o conductos.
41.353981, 2.112781
Albert Barranco y Fabrizio Cimbaro
#aplacemappingLH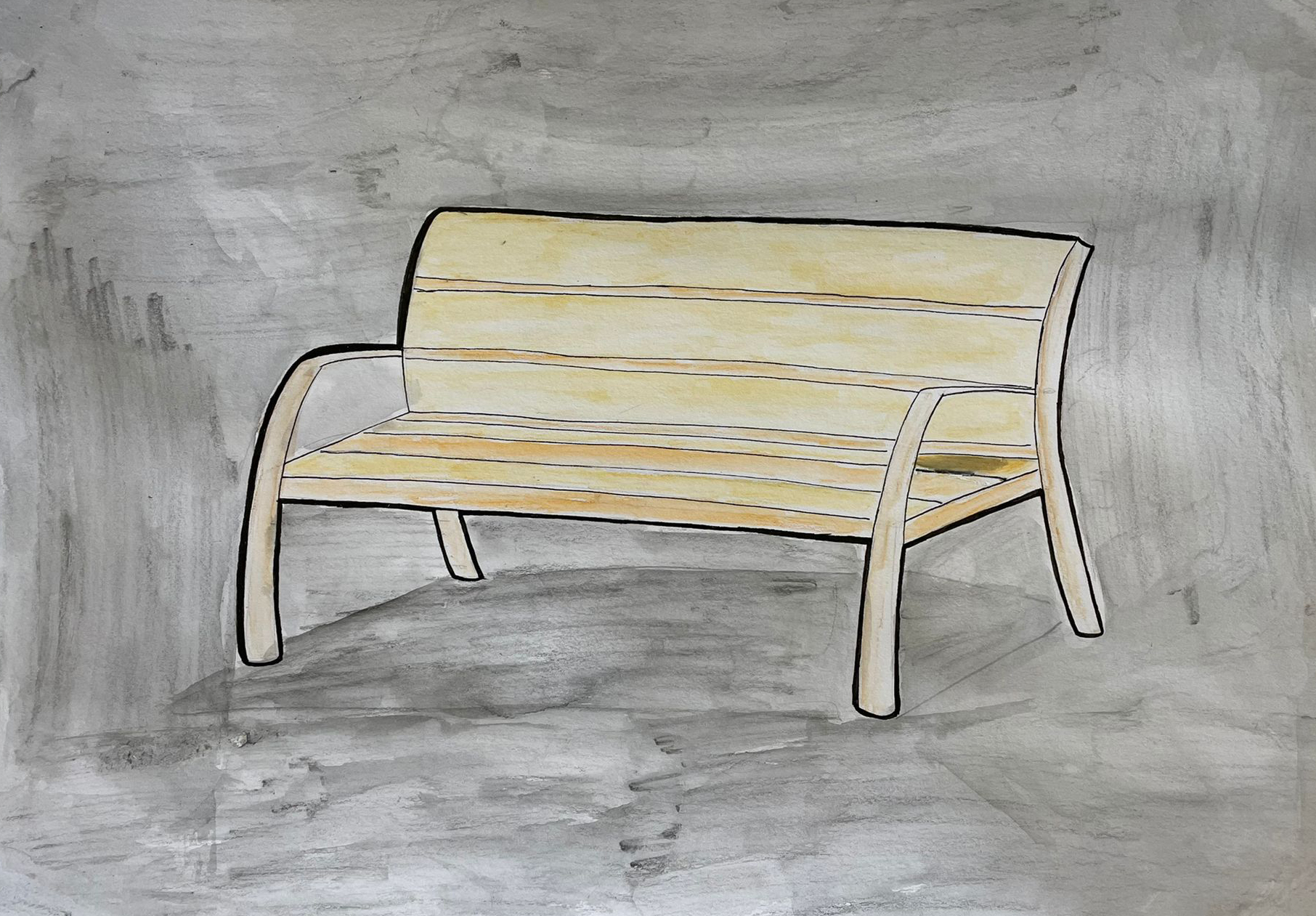 20/04/21
Banco
41.350031, 2.114439
CP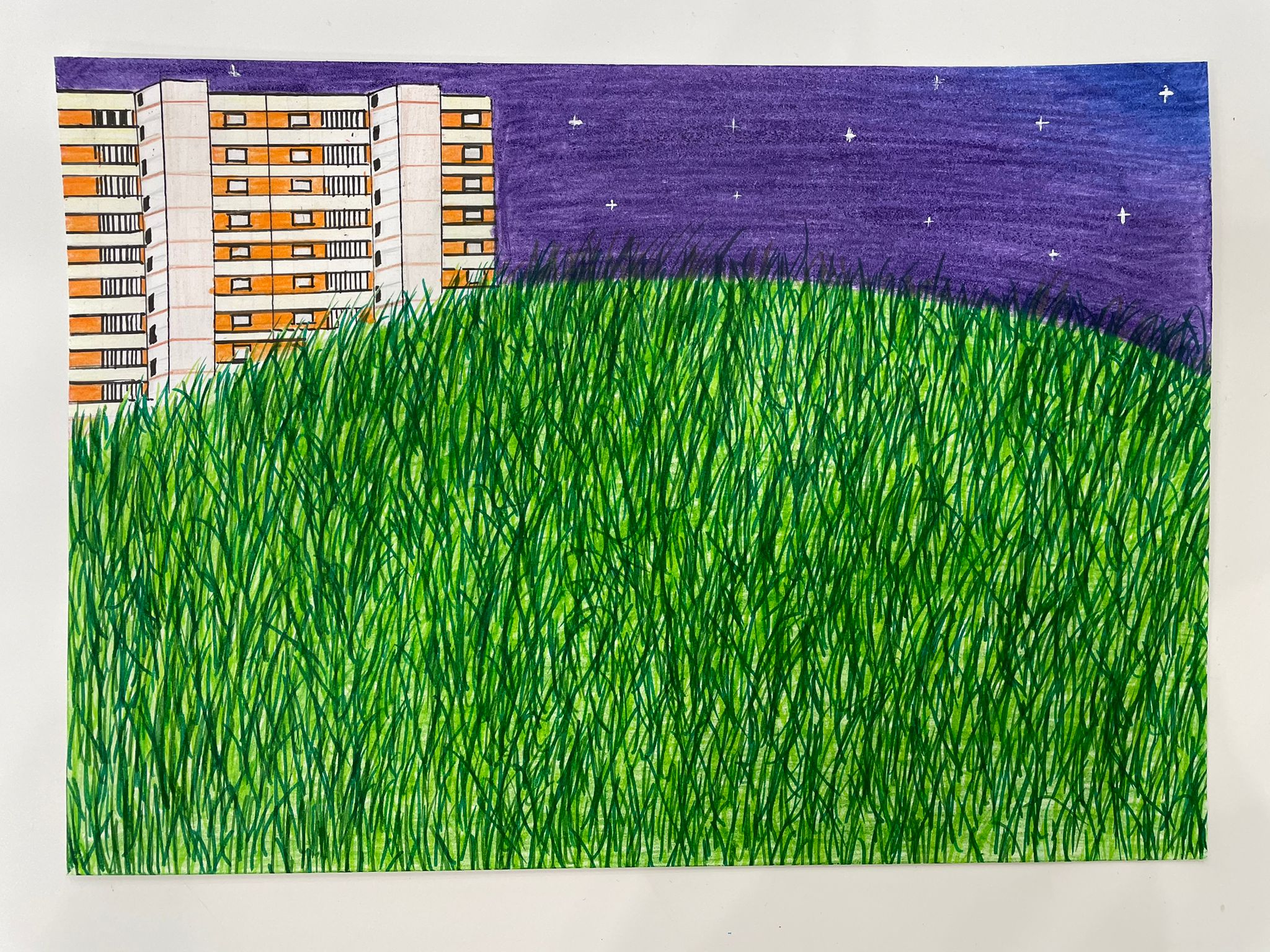 19/04/21
Gespa
41.351052, 2.111893
M.C